Hey, I thought the Panthers were looking to sign Damiere Byrd, Garry Peters and Dean Marlowe. Are they still going to sign them or not? – Colby in North Carolina
I can certainly understand the confusion, but rest assured that Byrd, Peters and Marlowe are all signed. All three showed well at last weekend's rookie minicamp, and all should be in the fold the rest of the offseason.
With all the different player additions that occur shortly after the draft, it's easy to lose track of who's who. Here's how it works. Immediately following the draft, general manager Dave Gettleman and his staff worked to sign several undrafted players. Byrd, Peters and Marlowe were among the 10 that signed, making them permanent fixtures (permanent by NFL standards, at least) on the Panthers' 90-man roster.
Those 10, along with the team's five draft picks and four veterans already on the roster, were then joined by 35 invited tryouts for last weekend's rookie minicamp. It was the tryout players who were trying to earn a chance to be signed to the roster, and five of them did.
The Panthers now have their full complement of 90 players, and the roster should remain close to stable until it is trimmed to 75 players in late August prior to the final preseason game. There could be a move made here and there, but last year after the Panthers signed tryout player David Foucault, they didn't make another roster move until the eve of training camp in late July.
Hi Bryan! I believe one of our hometown guys was at rookie camp. Keep us posted on how running back Brandon Wegher performs. - Jason in Sioux City, Iowa
Wegher starred in his hometown last season though few people seemed to take notice, setting an NAIA record with 2,610 rushing yards at Morningside College last season. Wegher was a standout at Iowa as a freshman in 2009 but left because of some "personal stuff." He returned to action at Morningside in 2013.
I featured Wegher in a notebook after the minicamp, where, among other things, head coach Ron Rivera called him a "diamond in the rough." He's landed in a good spot where he'll be given a legitimate shot to compete, but keep in mind that come the regular season, there won't be room on the 53-man roster or practice squad for roughly one-third of the players currently on the roster.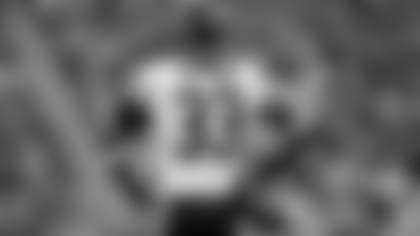 Bryan, what position group are you most excited about this year going into the 2015 season? – Richard in Fayetteville, N.C.
Even though the Panthers didn't draft a cornerback, it's going to be interesting to see how that position shakes out. Carolina signed Charles Tillman and his Pro Bowl pedigree in the offseason, and the Panthers have expressed excitement over fellow offseason acquisition Teddy Williams, a young player full of speed and special teams ability. Peters was one of the most coveted undrafted rookie free agents out there, and Lou Young – signed to the practice squad late last season – really stood out at the rookie minicamp.
That doesn't even address the four cornerbacks who spent time on the 53-man roster last season. Josh Norman enjoyed a breakout season and could be in line for even bigger things in 2015, and Bene Benwikere was outstanding as a rookie at both outside corner and nickel. Melvin White has significant starting experience, and Carrington Byndom came up from the practice squad late in his rookie season and has some serious potential.
Carolina is going to keep at least 5 WO. I have KB, DF, JB, CB, TG. Do you agree with my list? – Carl in Wilson, N.C.
Well, here's my initial response (pun intended). First to translate, Carl speculates that the Panthers will open the 2015 regular season with five wide receivers on their roster and predicts they will be Kelvin Benjamin, Devin Funchess, Jarrett Boykin, Corey Brown and Ted Ginn, Jr.
It's way too early to answer this question, but as always it should be a heated battle for upwards of six roster spots. What about Jerricho Cotchery, the "glue guy" for the position group who caught 48 passes for 580 yards last season? What about Stephen Hill, who spent last season on the practice squad, and Brenton Bersin, who staved Hill off to remain on the active roster all of last season?
As always, the possibilities at receiver will well exceed the roster spots available. The coaching staff would love nothing more than see some players emerge so strongly that the decision becomes obvious and the position group thrives as a result.