Bryan, should the coaches rest the starters that are still healthy and let the backups get some valuable reps? Maybe splitting halves like in preseason would be wise. This would be the time to save the health and strength of our best for a run next season. – Curtis in Bogue Banks, N.C.
With playoffs basically out of the picture, any chance the Panthers "tank" to improve chances for next season? – Todd via Twitter
While I understand in theory these lines of logic from fans who honestly think they want what's best for their beloved team, it's not an approach this team will be taking, nor should it be. It wasn't the approach in 2014, when the Panthers lost six straight games to fall to 3-8-1 but about a month later were treating their fans to a festive NFC Wild Card victory. At 4-7, it won't be the approach now.
I know some don't want to hear tales of epic rallies of the past, and I'm certainly not saying that because it's happened before it will happen again. But as long as there is hope – and there is still hope – this team will not stop in any way putting its best foot forward. And even if the Panthers reach a point where a fourth consecutive trip to the playoffs literally isn't a possibility, they won't just hang it up.
Find a way to get a little experience for some young reserves? Sure, and actually that will take care of itself given the ridiculous rash of injuries with which the team is saddled. That 2014 team turned to a handful of younger players down the stretch too, but strategically so with winning now and later in mind.
But give up on winning games as part of some plan to get better for the future? That's not going to happen.
Most of our fans will tell you we'd like to see our guards, Norwell and Turner, coupled with better tackles. Do you think Mr. Gettleman will try to find us a franchise left tackle by next year, and what's your opinion on our tackle situation? – Don in Bostic, N.C.
I also understand that some fans want to turn their attention to the draft – which is still five months away – and behind the scenes the Panthers have personnel that are always preparing for the next draft. In addition to Don's question about the long-term plan for the offensive line, I also got general questions in my mailbox this week asking about what positions the Panthers should target in the draft. It's way too early to offer a good answer; those charged with studying the draft for the Panthers don't even have an answer yet.
As we look at the offensive line, Pro Bowl center Ryan Kalil along with young guards Andrew Norwell and Trai Turner is a great place to start. That trio, along with Michael Oher at left tackle and Mike Remmers at right tackle, were key to Carolina's wildly successful 2015 season.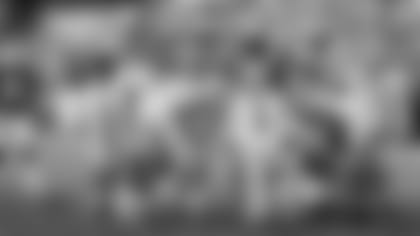 Are they to blame for an inconsistent 2016 season? No more so than anyone else. In a sport where there simply aren't enough elite-level offensive linemen to go around, stability and continuity are crucial factors. That has been torn at since early in the season with the loss of Oher and more recently decimated by the loss of Kalil and backup center Gino Gradkowski. On top of that, right tackle Daryl Williams went down last game.
The offensive line somehow hasn't fallen apart through it all (a credit to coaching and professional pride), but the group will face a lot of questions in the offseason. But honestly, that's life in the NFL, where pretty much every offseason calls for some form of rebuilding somewhere along the roster for every team. It's a challenge for which Carolina's current regime will tackle when the time comes.
I've seen Kelvin Benjamin struggle this year when being covered by the best opposing corners. I doubt this move would ever happen, but do you think KB would ever be willing to move to tight end? He definitely has the size, but I believe his speed is better suited against safeties and linebackers. Just a thought. – Dylan in Greenville, N.C.
Why do we not try and use Ted Ginn at running back some? With his speed if he would get through the line he would be gone. – Terry in Cherryville, N.C.
It isn't nearly as simple as Benjamin has the size to be a tight end or Ginn has speed that could be dangerous at running back. Like with the other questions this week, I appreciate the passion of fans who want to unearth answers that will improve things for their team. I also got questions this week suggesting the Panthers bench 2015 NFL MVP quarterback Cam Newton and one that suggested "benching" coaches for a week or so when their best-laid plans go awry.
The Panthers, too, are searching for answers, every single day. They're searching for more answers even when things are going well. Sometimes fans just have to have faith that those in charge know better than anybody else. Are they always right? That's not possible. But this group of men the Panthers currently employs has always been on the right track more often than not, and that track record should be good for some confidence in the face of consternation.
View the top photos from Carolina's loss at Oakland by team photographer Melissa Melvin-Rodriguez.