OK, at first I liked the Matt Kalil signing, but after seeing all these NFL "analysts" hating on it, I'm starting to get a little scared. Please make us all feel better. – Matt in San Francisco
Matt in San Francisco, you've come to the right place. And Matt formerly in Minnesota, so have you.
There was some initial criticism out there regarding Kalil's contract, but subsequent signings around the league showed that the market was pricey for teams intent on landing a left tackle in free agency. Some questioned Kalil being worth it given that he played arguably his best football way back in 2012 as a rookie, when the fourth overall pick made the Pro Bowl after helping Adrian Peterson earn league MVP honors. Kalil himself readily admitted he needs to get back to his previous form, but there are reasons to believe he can in Carolina.
"I think my first couple of years with the Vikings were good, but I don't think I ever progressed the way I should have," he said. "New scenery, new coaching - I think it's all for the best. It's kind of reigniting that fire that I lost a little bit.
"I'm just excited to be a part of this organization and seeing what I can do on the field, especially being 100 percent healthy and feeling the best I have in a while."
Kalil's improved health absolutely could equal improved play. He started every game his first four years before playing in just two last season and having hip surgery. Kalil said he's already noticed an increase in quickness, and he was quick to point out his belief that longtime offensive line coach John Matsko can help elevate his play.
The situation puts me in mind of Michael Oher, a former first-round pick who played every game his first five seasons before having surgery in 2014 on a toe that had bothered him for a long time and then joining the Panthers. Reunited with Matsko, Oher started every game in 2015 and was rock-solid for a 15-1 team.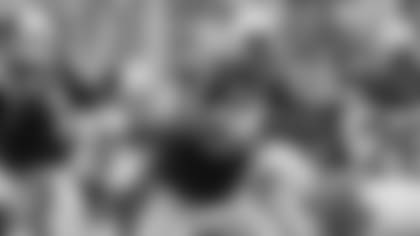 Has Daryl Williams shown enough to get placed in the starting lineup? – Zach in Maiden, N.C.
An unfortunate injury concern for Oher that sidelined him early in 2016 and has his future up in the air is among the reasons the Panthers signed Kalil and among the reasons Williams could be a key player come the fall. Williams started 10 games for Mike Remmers at right tackle after Oher suffered a concussion and Remmers replaced him. The Vikings signed Remmers as an unrestricted free agent last week. So Williams – a fourth-round draft pick in 2015 - could be called upon again.
"Daryl is starting to establish himself as a solid right tackle," head coach Ron Rivera said seven games into Williams' starting stint. "He's a big, physical young man who is learning the game. He still makes some mistakes, still gets beat, still missed some blocks, but the future is bright."
With the signing of Kalil complete, what is the status of the offensive tackles who were on our practice squad last season? Are they only camp fodder, or do they have a chance to fill roles as backup linemen? – Thomas in Las Vegas
Over the final five weeks of 2016, the Panthers signed five offensive tackles who remain on the roster about a month from the start of the offseason workout program. I'll make mention here of a couple of those tackles and one that was here before the rash of injuries spurred the signings.
Many believed Tyrus Thompson would be an earlier draft target in 2015 than Daryl Williams. Each of the two seasons before, Thompson was Oklahoma's starter at left tackle while Williams started on the right side. The Vikings eventually took Thompson in the sixth round, and the Panthers are now his fifth team. He's still working to take his first snap in a regular season game but is an intriguing prospect nonetheless.
Blaine Clausell and Dan France are big men with big-time college experiences among their credentials. Both check in at 6-6 and tip the scales in the 315-320 range, and both have been in the NFL for at least two seasons (three for France) though neither has appeared in a regular season game. Clausell started at left tackle for three seasons at Mississippi State and pass-protected for Dak Prescott, while France started two seasons at left tackle for Michigan State (plus one at right guard) and blocked for Kirk Cousins and Le'Veon Bell.
Then there's Jordan Rigsbee, an undrafted rookie last season who made a serious run at making the Panthers' 53-man roster before suffering a season-ending knee injury in the preseason finale. He started 29 games at guard, 12 at tackle and eight at center for Cal, where he blocked for Jared Goff.
As Gettleman is apt to say, sometimes the answer is already on your roster. Maybe this will be one of those cases.
Bryan, not a question, just a thank you!!!!!!! This faithful fan since 1995 living in Stuttgart, Germany, couldn't wait to see my Panthers and TopCats. KEEP POUNDING !!!!!!!! Want another SUPER BOWL PLEASE!!!!!!!!!! – Kenneth in Stuttgart, Germany
If you haven't yet, check out some of the best photos from the tour below – just one of four related photo galleries on Panthers.com.
Players visit members of the 2nd Calvary Regimen, the NCOA DFAC, observe small arms training at the Engagement Skills Trainer 2000, 15th Engineer Battalion Motor Pool, presented by American Airlines.