The offensive line is struggling to create running lanes and protect Cam, so what are some keys to improve? Will Rivera make changes along the offensive line? – Matt in Las Vegas
There aren't many significant personnel changes that can realistically be made at this point, but Pro Bowl center Ryan Kalil expects a change in the group's level of play following a pair of subpar showings.
Kalil said it must start with more efficiency in the run game, especially on early downs, to create second-and-short or third-and-short situations where the offense calls the shots.
"I'm happy with the talent we've got in our group. We're plenty capable," Kalil said. "We've just got to do a little more and get the little things right.
"I'm still encouraged by this group, and I think we're going to keep getting better as it goes on."
The Panthers have a history under this coaching staff of getting on a roll upfront after a few games with a new group. Last year's line obviously got the job done down the stretch even with left guard Amini Silatolu sidelined, and the 2012 team played strong in the latter stages with Kalil out of action.
Bryan, do you believe that using Cam as a pocket passer is hurting us? Other teams are playing man coverage without a spy. – Matt in Hamilton, Ontario, Canada
In the big picture, it's helping Cam, who made some pretty incredible passes Sunday that got lost in the narrative because the Panthers lost. When he is back to his spry self and is able to make defenses pay outside the pocket, his improvement in the pocket will make him all the more dangerous.
For now, it's up to the offensive line to keep the pocket clean in passing situations and to set up more favorable passing situations by clearing the way for productive running plays on early downs.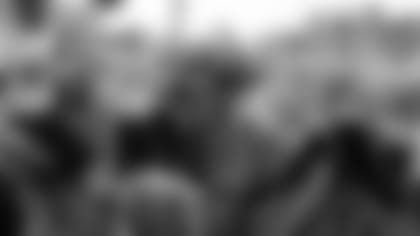 Do you believe in superstition? I can usually tell if the Panthers will win or lose on Sunday based on the North Carolina Tar Heels' performance on Saturday. This dates back for three seasons now. - Brian in Gibson, N.C.
Hate to do this to a Tar Heel fan, but I must. You have the right idea but the wrong team. It's the other shade of blue that applies best here.
Last season, the Duke Blue Devils won seven consecutive games from Oct. 12-Nov. 30, a streak that ended in lopsided fashion at Bank of America Stadium on Dec. 7. The Panthers won eight consecutive games (Duke had a bye in the stretch) from Oct. 13-Dec. 1, a streak that ended in lopsided fashion on Dec. 8.
To your point, the Tar Heels aren't far behind. North Carolina matched Carolina on five of seven weekends during last year's stretch, and the Tar Heels wrapped up their season by winning the Belk Bowl at Bank of America Stadium one day before the Panthers wrapped up their regular season with a win. So far in 2014, the Panthers and Tar Heels have had the same outcome on all three weekends in which both have played. But Duke is right there, matching the Panthers' result three of four times.
As for your comment that the Panthers have matched the Tar Heels over the last three seasons or so, Duke makes a better match in the grand scheme of things. While the Panthers (12-4) and Blue Devils (10-4) finished well over .500 last season, the Tar Heels were 7-6. In 2012, the Panthers (7-9) and Blue Devils (6-7) fell just short of .500, while the Tar Heels were 8-4. In 2011, the Panthers (6-10) and Blue Devils (3-9) fell well short of .500 while the Tar Heels (6-7) were over .500.
It might not be a bad thing this season if the Panthers continue to end up with a similar record to Duke. So far, the Blue Devils are 4-1.