Which young players impressed you this year, and which young players should we expect to see get to another level next season? – Austin via Twitter
The Panthers started the season on shaky ground when it came to cornerback play, but that shouldn't be the case come next season because of how two rookies steadied the ship. James Bradberry and Daryl Worley – the Panthers' second- and third-round picks in the 2016 NFL Draft – started nine of the final 10 games together and look like starting material going forward.
"You believe the future is going to be bright," head coach Ron Rivera said. "The thing they've got to do is continue to be committed and continue to develop their craft."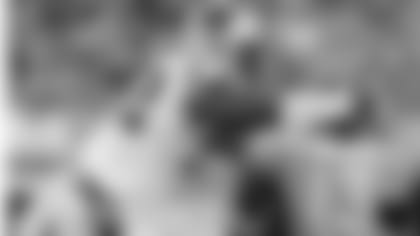 As for a young player who should make a discernable jump next season, I'd look at the one player the Panthers drafted ahead of the corners. Defensive tackle Vernon Butler showed some flashes as a rookie, sacking the quarterback a couple of times in addition to blocking a couple of kicks. But, his growth as a first-round rookie was stunted by missing five games in the middle of the year with a dreaded high ankle sprain.
"We've seen enough flashes to keep us excited," Rivera said. "You're starting to see the explosiveness, starting to see the playmaking. He still has some things to learn, but he'll learn those things as he continues to play."
Among non-rookies seeing their first NFL action, center Tyler Larsen, tight end Chris Manhertz and punter Michael Palardy put their best foot forward. A pair of second-year linebackers in Shaq Thompson (profiled here) and David Mayo made notable strides as well.
What do you think will happen to all the free agents we have? Do you think the Panthers will keep most of them? I do know some of them might go to other teams, but I hope not. – James in Charlotte
The Panthers have 15 potential unrestricted free agents heading into the offseason, a pretty average number for recent seasons. Each of the last three seasons, six of those potential free agents have either re-signed with the team or re-joined the team at some point during the next season. If I had to guess, I'd take the over this year.
There's always attrition – some guys sign with other teams, some guys exit the league all together – so no, not everyone is coming back. My guess for this group is that at least eight potential unrestricted free agents return in some capacity next season. As to who exactly? I'm not willing to venture a guess on that.
The Top 10 Plays of 2016 video was right on regarding offensive plays. Do you know if the site will offer the top defensive plays soon? Thanks and Happy New Year! – Susan in St. Louis
Susan, that was an NFL.com video that technically wasn't limited to offensive plays, but next week Panthers.com will give the defense its due. As a part of our review of the 2016 season, the look back at each position group will feature a play of the year for that unit. After we go through the offensive side of the ball this week, the defense will be center stage next week, so stay tuned.