CHARLOTTE — Bye weeks are good for the soul. There should probably be more of them, except then the season would last until March and pour straight into the combine and free agency, and we start the cycle all over again.
But for the Panthers and those around them, it was a needed break. None of them wanted to be 0-6, and none of them envisioned it. And they wear it every day, like a sack of weights strapped to their backs. They couldn't escape it.
For some of them, a weekend away with the kids, or a chance to see a relative play in a game instead of playing one of their own, or to slide away to the beach, or squeeze in a round of golf, was the mental break they needed.
They're still 0-6, and they've still got an 11-week grind ahead of them, but there are at least a few small reasons to think the week off was good for them.
For one, they're starting to get guys back, as they're another day closer to Austin Corbett rejoining the lineup (He was activated Tuesday.) Perhaps you've noticed the interior offensive line has been a problem in the first six games. Having to play a lot of different guys because your starters aren't available, and then their backups start getting hurt, doesn't help.
And with last week's play-calling change, with Frank Reich handing it off to Thomas Brown (who is, apparently, "still a G"), there's perhaps an opening to streamline things, both with the play-calling and giving Reich the chance to manage the entire operation. It can't hurt.
And the schedule eases up a bit from here on out. There are only three games in the next 11 against teams with an above-.500 record at the moment, with 4-2 Dallas and 4-3 Atlanta here, and a trip to 5-2 Jacksonville late. That means it's jury-of-their-peers season, such that opponents aren't thinking their trips here are winnable games too.
Again, it's not a lot to hang their hats on, and they're still 0-6. This situation is far from ideal. But sometimes when things get weird, taking a break is the best thing possible. There's no guarantee it fixes things, either. But here they are, in this spot, so it's at least a chance to start over.
Onto the mail, which is at least a little less hateful this week. But this is the life we've chosen:
------------------------------------------------------
Thanks for posting my question and, of course, correcting me on my spelling! I get it it; you're a PR guy, and you will not allow anything negative in your precious space. But here's the deal: if you wander around and actually check on how people feel about this team, you'd see that most people aren't quite as positive as this site makes it out to be.
Let's start with fans booing their home team, more opponent fans in the stands than supporters. This team is sooooo irrelevant that the NFL Network barely mentions them outside of a few semi-important notes here and there. I have no clue as to what's wrong. That's supposed to be left to the "powers that be" to figure out and fix!
What we as a fan base see is a high-profile, well-paid coaching staff that is paid well to coach the players. [That's not happening]. Well-paid players that are supposed to be playing to win and be their best. [Not happening either.] Yet we were sold a bill of goods by the PR team that we were going for the NFC South this year. I guess they failed to clarify that it was the NFC South cellar they were talking about.
[Editor's note: Message edited for brevity because I'm the only one who gets to go on and on here.]
I'll keep on asking you how the KOOL AIDE tastes as the losses mount, and if I'm proven wrong, I'll concede to you at the end of the year. We as a fan base want to have pride and respect for "our" team. Most of us are having a hard time with that! — Scott, Hampstead, NC
In fairness, I did say a little less hateful. And sometimes, you just need to vent.
Scott, as you may have gathered, is frustrated. There's a lot of that going around. It also means he cares about what's going on here. There's a lot of that going around, too.
No one involved in this process envisioned being 0-6 right now. And no one in this space is pretending they're anything but 0-6 at the moment.
They also didn't envision not having their two starting guards, their signal-calling middle linebacker, and their best cornerback missing after two games. That stuff matters, too. When you start stacking it on top of the natural growing pains that come with rookie quarterbacks and new coaching staffs, it creates a game of Jenga that's easy to lose when one more thing goes wrong. And this year, when that one more thing (a turnover, another injury, whatever) happens, they don't have the kind of margin of error to withstand it because they're young and thin.
But there are a couple of things I'd take exception with. One, I don't work in PR. My job is to tell you what's happening, with the context built on a lot of years on this beat and access no one else has. If you're looking for this to be an online forum or social media troll job, that's not ever what it's going to be. But if you read past the headlines (and you do, since you found your name at the bottom of a looooong Mailbag last week), I'd challenge you to find a lot of what you refer to as PR. If you see a lie with my name on it, let me know. Not going to tell you they won when they lost. Not going to tell you they're about to get on a magical run because I don't know if they are. Not going to tell you all the problems have been solved because I haven't seen evidence of it yet.
But I will push back on some of those who contend this is just more of the same as the previous five non-playoff seasons. This was the year they started breaking out of that cycle of chasing veteran patches at quarterback, of mismatched coaching staffs. This year was the first of one, not the sixth of six. That context doesn't go away, but it's also not completely pertinent to the argument at hand. This coaching staff is still experienced but needs to learn each other, and they found the young quarterback they've been looking for, and now the job is to develop him into someone who's more than a rental.
We'll see if it works. And we'll continue to tell this story honestly and hopefully with a little perspective and insight. And we'll poke Scott in the ribs for insisting on not spelling Kool-Aid right again (I gave you another chance, Scott!), and we'll make him this week's Friend Of The Mailbag for being a good sport and reading every single week, and we'll send him the appropriate honorarium, and he'll hate-wear it at first. But he'll be back because he cares.
And when a team is 0-6, being invested in the outcome is admirable.
------------------------------------------------------
OK, New season, new coach, new coaching staff, new defensive scheme, #1 drafted QB, new players. Six games in, 0-6 record. What is wrong here? Some of those games were definitely winnable. I wasn't expecting a Super Bowl contender this year, but dang it, their play is disgusting. Any light in the future that I'm not seeing? — Bill, Bessemer City, NC
Hopefully, nobody was expecting a Super Bowl contender this year. This roster isn't there yet. There are some good young parts, but not enough of them, especially when unfortunate injuries start stacking up.
And reading Bill's question, you can't help but notice how many times that word "new" came up. It's not a coincidence.
I'm not in the hope business. That's between you and your maker. But as mentioned above, they have the quarterback. There are sufficient reasons to believe he's getting better, and he started from a pretty good place. We'll see how that goes over the next 11.
The sum of those parts is still an 0-6 record, but I also understand that the level of frustration stems from the fact it was supposed to be better. We'll see what it looks like in the coming weeks when the Lions and Dolphins aren't on the other side of the line of scrimmage.
------------------------------------------------------
OK, Darin. The mailbag is probably overflowing onto the floor with this one but I'm going to ask anyway. Cause you never answer my questions, and I'm starting to take it personally. I can't help it I live in an area you guys hate cause it's too hot and boring. OK, maybe I can, but that's beside the point. I digress. Davante Adams for Burns? Raiders say no trade, but they're desperate to put someone opposite Crosby. I know, I know, . . . Burns is our defensive future, but if you can't sign the guy, then get stuck playing franchise tag. Why not get a HOF caliber WR for our rookie? Early Xmas for Bryce. As always, I'm interested in your perspective, kind sir. — Josh, Lyman, SC
Josh, where have you been? We've been waiting for you to show up. And I don't know what he's talking about; I love the Upstate. You're just down the road from one of our OGs (Every Day Susan from Training Camp), and without going south on I-85, I'd never get to take pictures of the Peachoid in Gaffney (which I clearly love).
I'm not going to get too deep into players on other rosters (especially when the Raiders have effectively shut down that speculation), but the trade deadline turns everyone into a GM, even if it's Fantasy GM. There's always a lot more talk than action, which is kind of a shame. If the NFL could match the NBA's sense of drama at the trade deadline, we'd all get less sleep. But it's a lot harder to plug one of 22 into a lineup and make an immediate difference than it is one of five.
In general, the desire to find a top target for Bryce Young is real. And while they don't have a first-round pick next year to find one, they do have a pretty good pile of available money next year. And, of course, GM Scott Fitterer remains the "in on every deal" guy, and there's a week until the deadline. So many things are possible, some more likely than others.
Burns' name gets brought up in a lot of this stuff, but he's still an ascending pass-rusher, and he's still just 25, and if you trade him, you're going to be looking for an immediate replacement. And those are probably harder to find than wide receivers.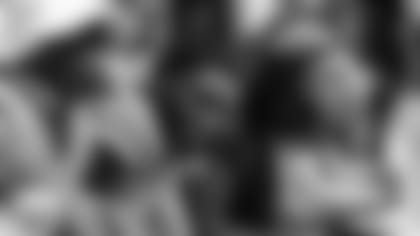 ------------------------------------------------------
After a relaxing bye week break, I'm looking forward to going to the Bryce vs. CJ Stroud showdown next week. I miss the good old days with a printed game day guide showing the rosters of both teams. Any chance you can use your substantial influence to get both game-day rosters on the website? I've sent a note to the PSL owners' email but haven't gotten a response. Thanks for all the great work you do to inform AND entertain us suffering die-hard fans. — Steve, Landrum, SC
Oh yeah, Bryce and CJ, that's happening this week. (And yes, we'll get to that.)
I have a solution for you, Steve. Each week, our digital-only program goes out in the Know Before You Go email that goes out to single-game ticket buyers and PSL holders. And if you don't get the email, it's always in the Gameday section of Panthers.com and the Panthers app. (Which we know you have already and visit many times a day because you're one of our favorites, Steve — not like that ingrate Josh.)
We went from printed programs to a digital-only copy during the pandemic, and it has all the same features in it. And this week, it has extended profiles of the newest members of the Hall of Honor Julius Peppers and Muhsin Muhammad. You'll want to check it out.
And heck, if you really want a hard copy, just print it off at work and enjoy it in its analog form. Your boss probably won't mind.
------------------------------------------------------
My question is about the Panthers Hall of Honor. Absent the All-Pro tag, does being the leadership and playmaking glue on many a great Panther defense qualify a former player for this honor? Being impactful to a team and community can come in many shapes and sizes! When will 5-foot-10 190-pound safety (who is amongst the club's all-time tackle leaders) Mike Minter become a Hall of Honor honorary? I wish I had a vote because this long-time Panther believes that Minter played a very impactful role in many Panther seasons! Your thoughts & thanks for the great work and insights per Carolina football over all these years! — Craig, Lincoln, NE
This is the second time this week Mike's name has popped up on my radar, and seeing Mike Minter's name is always a good thing. I was in Raleigh last weekend to see family, and ran into the Maine football team at the hotel. They were playing Minter's Campbell Camels that day, and it didn't go so well for the Black Bears. Minter has done as good of a job coaching as he did playing safety. The Camels get after it.
The Hall of Honor ought to be a hard thing to get into, and it is. As I'm writing this, I'm looking across Bank of America Stadium at the names Sam Mills, Jake Delhomme, Jordan Gross, Steve Smith, and Wesley Walls, and realizing that Peppers and Muhammad will be up there soon.
And when you start thinking about potential future honorees, you realize how solid the history of a soon-to-be-30-year-old team (the birthday is coming up this week, stay tuned) can be.
From older names such as Minter and Mike Rucker and John Kasay and Michael Bates and Kris Jenkins to players of more recent vintage such as Ryan Kalil, Greg Olsen, Thomas Davis, Luke Kuechly, Cam Newton, and others, there's plenty to discuss.
Minter's definitely in the group that demands discussion because he was part of the backbone of a defense that led this team to its first Super Bowl. Plus, he played in that Super Bowl on a broken foot and had a career-high 18 tackles. That's the stuff of legends.
And when you're thinking about nostalgia, the discussion can be as good as the celebration. We'll have plenty more for you this week on the coming Hall of Honor festivities, so stay tuned for the latest, and we can continue to discuss who could be next.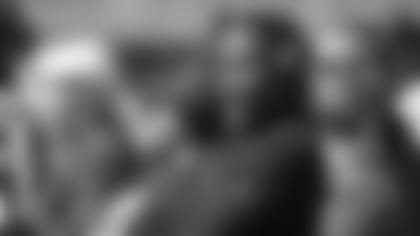 ------------------------------------------------------
Hey, I'm a 16-year-old female. Are there any flag football leagues near me that you would possibly know of? — Kimberly, Thomasville, NC
I consulted with one of my most tenacious co-workers, our youth football coordinator Elise DeLuca, and unfortunately, your county is not represented in our Panthers Flag league. Opportunities are expanding every year, though a lot of the youth programs in your area are geared toward younger players.
But here's what I can offer, Kimberly: the chance to be an advocate.
Go talk to your school's athletic director. Round up some friends. Show them a critical mass of young women who want to play, and see if you can be the start of a movement.
The sport is growing and will be part of the 2028 Olympic Games in Los Angeles. So, the time is ripe for you to make something happen.
Until you become a Davidson County sports pioneer and a legend in your own right, you can follow our Panthers Youth Football Twitter account (@PanthersYouthFB) or check in on our website for any upcoming opportunities in the area to participate in flag football. I've also passed your contact info along to Elise, another woman who is out there making things happen. Good luck.
------------------------------------------------------
Let's go lightning round, brought to you by the patron saint of the lightning round Jeff from Fuquay-Varina, to close it out this week.
I recently attended the Panthers/Lions game in Detroit with my son, which was a fantastic weekend aside from the game. One of the things that stuck with me was the Lions' fight song. It could have been the number of times it was sung or the annoyingly catchy lyrics that had something to do with a hard-charging team that would not yield (not only annoying but unfortunately true). It did make me wonder if the Panthers have a fight song. Is it "Sweet Caroline" by Neil Diamond, "Dominate The Foe" by Ked Woodley (please no), or something else - if anything at all? It's slightly embarrassing that I do not know, but I thought I would ask. — Robert, Dallas, TX
Is Scott Fitterer going to hold a press conference sometime during the bye week? Feel like its a good time for him to come out to the media and give out his thoughts on the roster and what has transpired so far this season. — Nengeh, Poinciana, FL
Barring any gigantic news, the GM usually yields to the head coach this time of year. Scott talks a lot through free agency, the combine, and the draft, but once the season starts, Reich gets most of that duty.
I'm sure if something big changes, we might hear from him (like last year after the Christian McCaffrey deal), but he generally does most of his talking in the offseason.
Hello, Darin! Since Terrace Marshall Jr. has requested and been given permission to seek a trade, I was just wondering how this negotiation process works. Does the player's agent just try to find the most advantageous deal for his/her client, or does the team set parameters that they are willing to work within and share with the agent? How exactly does this work? — Susan, Inman, SC
A little of both. If it gets to that point, teams can allow the agent to ask around, but the team isn't obligated to do anything that's not in its best interest. Of course, teams can do this independently of the agent as well. Marshall was asked about it the other day but said he didn't want to discuss it or be a distraction.
So what did you do on your bye weekend? — Will, Rock Hill, SC
As mentioned above, was in Raleigh. Went to the state fair. The red velvet banana pudding from The Peach Cobbler Factory was as good as it sounds, though the Pittsboro Kiwanis Club may have oversold the "world's best ham biscuit." It was merely excellent. I was also inspired to farm by the many vegetable-growing contests. I don't know if I have room on my homestead for a 2,124-pound pumpkin, but since there was only one entrant in the Premium Turnips contest and that guy got a blue ribbon, I feel like I have found my lane.
Michael A. Johnson, I'm coming for you. The $15 first prize will be a small token of the satisfaction I will take from becoming the Turnip King of Mecklenburg County. Look upon my turnips, ye mighty, and despair.
Sometimes, it's the little things.