CHARLOTTE — We did it, gang; we made it through the offseason!
It's always a bit of a slog to get to training camp. Sure, it's great to get away and have some vacation time because it is a long season. But it does get a little wearisome filling the hours with lists and power rankings and made-up arguments and people talking about the team who aren't quite sure if Greg Olsen and Thomas Davis or Jake Delhomme and Stephen Davis still play here.
When we tune in after this weekend, it will be go-time for the next five months, wall-to-wall football. (Actually, if you've been tuning into Panthers.com all offseason, and I know you have, you realize it's been that way for months.)
We'll get to camp and see daily reports on how the quarterbacks look, in often-ridiculous detail. We'll see what a new offensive line looks like. We'll see if a reconstructed front seven on defense is ready for a new challenge. We'll see if a revamped coaching staff is able to push this team to a different level after a couple of five-win seasons.
We'll see how explosive Christian McCaffrey and Brian Burns actually are on the field. We'll see how accurate and efficient Baker Mayfield and Sam Darnold are or are not. We'll see if all those new linemen make a tangible difference on offense.
And seeing it changes everything.
----------------------------------------------------------
Hi Darin! Going into camp, how are we feeling about our run defense? I think if we can stop the run, the defense has a real chance to be elite this season. I think part of the struggles last season was that the offense couldn't stay on the field consistently, but it was often alarming how often we were gashed on the ground by our opponents. — Shane, Charlotte
I started here on purpose, because we're going to get all of the quarterback talk soon. Like, all of the talk.
But this is a huge deal for the Panthers.
It's easy, and not just a little misleading, to refer to their "second-ranked defense" last year. That's statistically true, as measured by total yards allowed per game. But they were also 21st in points allowed as things began to spring leaks late, and 18th against the run. That they were second in the league in pass attempts allowed suggests that some people didn't bother passing, because running worked sufficiently well.
That's not to say the defense wasn't good. It has the potential to be a strength again this year. But they have to fix the run defense. (And Shane is correct that a coherent offense will help that as well.)
Part of that is going to be a matter of size. While watching a pair of sub-250-pound pass-rushers chase people around is fun, it also created some vulnerabilities. Last year featured some moments where those fast people ran through some run gaps, leaving holes for opponents.
If Yetur Gross-Matos could stay on the field and stabilize one end, that would give them a better presence against the run, and could help things. A bigger middle linebacker in Damien Wilson could also help provide some ballast on early downs. The Panthers are still largely built for speed rather than power, but especially if they add to the defensive tackle mix (and they could), being bigger won't be a bad deal.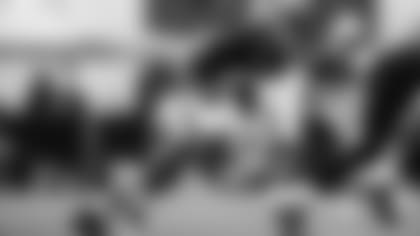 ----------------------------------------------------------
Greetings from cheese country South. Better known as Ashe County (the coolest corner of NC). Exciting times in Panther land these days. Not sure if Mayfield or Darnold is the long-term answer at QB for the team, but it is sure gonna be fun watching this unfold during camp and preseason. Hopefully, the QB1 on opening day will have more than a three-game honeymoon, as was the experience last season. I was looking forward to seeing what Matt Corral could do, but I agree with your recent article that this could be the best situation for the rookie from Ole Miss. Looking forward to your camp notes. — Chuck, West Jefferson, NC
Love Ashe County. Getting fresh, delicious cheese, while simultaneously being able to understand what the natives are saying is a delight.
Again, this quarterback thing is going to sort itself out on the field over the next month. May the best man win, and stuff.
Objectively speaking, Mayfield has been the better of the two over the last four seasons. He's thrown more picks (56) than Darnold (52), but he also has over 200 more pass attempts (1,185-972) and significantly more touchdowns (92-54).
But Darnold has a four-month head start with new offensive coordinator Ben McAdoo, and that matters too.
Mayfield will need to be better to be the starter. There are reasons to believe that could be the case. But he's going to have to do it on the practice field and in preseason games.
As for Corral, I think as long as NFL offenses remain different than the prevalent college spread systems, it benefits all rookie quarterbacks to adapt slowly. If you think Corral has the potential to be good down the road, there's no utility in rushing him out there before he's ready to move a team in and out of the huddle and get under center. We'll still get chances to see him, but I think having vets ahead of him is a long-term positive for Corral rather than a negative.
----------------------------------------------------------
Darin, thanks for all the info you give us. Let me ask for one more bit of knowledge if you can wedge it in among all the interest in the Baker Mayfield trade. There have been several comments about various ones having a better opportunity in a Ben McAdoo-style offense. In general terms (and layman's language), could you contrast the offensive systems of McAdoo and Joe Brady? — James, Rock Hill, SC
It's a good question James, and I'll do my best.
At their roots, both McAdoo (working under Mike McCarthy in Green Bay) and Brady (under Sean Payton in New Orleans) come from a West Coast offense tree. In theory, that's built on quicker, shorter, timing routes instead of the deeper vertical passing style associated with an Air Coryell offense.
But here's the other dirty secret. Most modern NFL passing games have combined aspects of both, and as the WCO has effectively become the base offense for most of the league, the distinctions aren't nearly as bright-lined as they used to be. The difference is probably more about what's emphasized philosophically rather than specific play calls.
Brady was willing to let his quarterbacks read the coverage more and make determinations based on that, while McAdoo is asking his guys to walk to the line of scrimmage with a clear idea of where they're going with the ball first, second, and third. Saying he wants them to be more decisive and quicker getting it out would be a reasonable way to describe it. And if they do something, he wants them to be accountable and able to explain why. McAdoo is putting a good bit on their plates, which is why Mayfield catching up is going to take a lot of work.
----------------------------------------------------------
With the unveiling of the all-black helmets and the allusions to the Dark Side - it only feels appropriate for you to tell us which two players on the team would, shall we say, embrace the "Dark Side of the Force" the most. If you ask me, something about Jaycee Horn gives me Sith Lord vibes. Bonus points if you identify who would be the master and who would be the apprentice? Is that too nerdy of a question for a football writer? Maybe, but I've read enough of your Twitter to know you want to answer it. — Eric, Toronto, Ontario, Canada
Too nerdy? Or is it not nerdy enough?
I actually like the idea of Jaycee as a big bad in a Star Wars movie. He's got a little of that Darth Maul intensity in his eyes (and Darth Maul, as you are obviously aware, also came back from a lower-body injury).
I almost want to make Phil Snow the master to his apprentice, but Phil's got more of a Yoda vibe.
Brian Burns' casting in the dark side video was perfect, and he embraced the role fully. He's always been more of a MCU guy, but I could see absolutely see Brian with a light saber and a black cape.
And for offering me an excuse to talk Star Wars, I'm making Eric from Canada this week's Friend Of The Mailbag, and he'll get his merch soon.
(Speaking of, a shipment went out this week to many FsOTM [And they all sound delighted]. If you didn't get yours, let me know. Have some strays out there, including Hal from Canada, who never got back to me. I hope Hal is OK, mostly, because Hal is cool and good.
----------------------------------------------------------
Darin, a question that has been on my mind for quite a long time: Is there a reason why Luke Kuechly isn't either considered for the Panthers defensive coordinator, assistant, or linebackers coach? His experience and knowledge, I believe, is proven far greater than any other, just a thought. He definitely is one of the best of all time; in my book, he is the GOAT. Go Panthers, Keep on Pounding. — Kenneth, Stuttgart, Germany
But coaching takes a lot of time, and Luke has had the opportunity to be retired. Guys who played at a high level (and have the financial wherewithal to have options) often want to find things to do that don't chew up every hour of every day for months at a time.
He's said he still isn't sure where his football journey will inevitably take him, but I doubt he'll ever stray too far from the game. He absolutely knows the material in a way most do not. But there are also ways to stay close that still allow for a more typical lifestyle.
----------------------------------------------------------
Hi Darin! With training camp, and thus plenty of interviews, on the horizon, I'm curious to know who some of your favorite players and coaches have been to talk to over the years? — Jake, Rochester, NY
Who are the top three guys you are most excited to talk to in the locker room this year? Quote-able wise, Darnold is cool as a cucumber, and Mayfield seems like he may bring some more pizzazz, but who are the others we should look forward to hearing from, just from a pure "entertainment" standpoint? Also, in Panthers history, who do you think was the greatest quote of all time? — Michael, Durham, NC
Two versions of the same question, because nothing's more interesting than media access.
As a bit of a teaser, I talked to quote-machine John Fox the other day for some stuff we've got coming up. There has never been a more impressive sayer-of-nothing-in-so-many-words than John. When he feels like it, he's engaging and approachable and capable of great insight. He didn't often feel like it when recording devices were on from 2002 to 2010. Also, George Seifert was the most interesting man in the world before the beer commercials stole his bit. He studied zoology in college, of course.
Mayfield certainly has it in him to entertain, but he's a little buttoned-up at the moment because he has a job (and a financial future) to fight for. Darnold, like Fox, often strives to say little, but is low-key funny in a way that a lot of people don't appreciate. Donte Jackson has many things to say and is good at saying them, and Brian Burns is also near the top of the current list, and JJ Jansen is fantastic at explaining things in depth, as long as you have time.
We've been blessed with interesting quarterbacks here, each in their own way, from Steve Beuerlein to Jake Delhomme to Cam Newton (and Vinny Testaverde!). Defensive tackle Brentson Buckner once said "pressure will make a monkey eat a hot pepper" and then explained in vivid detail why that was true, so he's automatically top 10.
I like talking to offensive linemen in general, and there have been a lot of great ones here over the years. Jordan Gross for sheer volume. Jeno James was an actual poet. Kevin Donnaley and Todd Steussie had diverse interests and were willing with their time. Ryan Kalil is smart and funny, but not in the way that you'd describe someone who wasn't also handsome. (He was also a little sensitive about being labeled an undersized center early on, so I once asked him about the challenge of facing bigger nose tackles when they hit a run of 3-4 defenses for like five weeks in a row. When he finally realized I was messing with him, we had a nice chuckle.) I feel like Ikem Ekwonu will someday join this group because he's thoughtful in a way a lot of 21-year-olds aren't.
There have been a lot of people I enjoy talking to, but Steve Smith Sr. remains near the top of the pile — 89 is bright and curious, and those are two of my favorite qualities in people. He's also a grudge-holder, can be petty, and will laugh at his own jokes when he thinks he's delivered a great line, and we've been able to find common ground in that over the years.
----------------------------------------------------------
Has Matt Corral signed a contract? — Leigh, Mount Holly NC
Nah, but it's not necessarily a reason to panic. There are around a dozen or so other picks around the league who haven't signed either. An old football guy told me once that rookie contracts were like potty training kids. We worry incessantly about when it's going to happen, but it always eventually happens.
In the past, first-rounders were the last to sign, but those days are gone. Now, most deals are done quickly, but they tend to clump up in either numerical order or by position. Going into this week, the three third-round QBs (Desmond Ridder, Malik Willis, and Corral) were all unsigned, though Ridder got his done Tuesday.
There's no real reason to think Corral won't get done by next Tuesday when players report to camp, so until then, it's probably not worth worrying about.
----------------------------------------------------------
Let's go lightning round to close out the week:
What do we have to do to ensure Baker Mayfield is mic'd up during Week 1? Is there a petition I have to sign? A senator I should call? Let me know! — Eric, Toronto, Ontario, Canada (with a bonus question)
From your lips to God's (and all the rest of our) ears. I'd suggest a particular politician, but most seem to be bought and paid for already.
The face of the Panthers has been on the shelf now for the biggest part of two years. To keep Christian McCaffrey on the field, should Ben McAdoo make a Deebo Samuel move, 10-12 rushes a game, and a lot of slot receiver action? — Will, Mayberry, NC
This question is rapidly approaching "How does David Gettis look in practice?" territory. McCaffrey is a running back. He's been unlucky lately, but I don't think taking one of the best players in the league at his position and making him play another position fixes things.
Do you see CMC staying healthy this season and producing like we know he can? I see him being a top 3 back in fantasy; what are your thoughts? — Richard, Thomson, GA
My crystal ball is in the shop, but I know he's healthy now, and good at football (real or otherwise) when he is. I also know that all fantasy questions are best addressed to @panthersbill because he's awesome at that stuff.
Where do you like to vacation, and why is Aruba your favorite? — Cliff, Charlotte
Way to kill the vibe by reminding me vacation's over, Cliff. That was a real Cliff move.
Have heard nice things about Aruba, though they appear to have a disturbing amount of internet connectivity. Had a friend go there who seemed unable to unplug. And this is coming from someone who once offered $100 dollars American for any English-language newspaper on day four at a pre-Twitter resort in Mexico. My kingdom for a New York Times.
Vacation is a state of mind rather than a state on a map. I've had delightful long weekends in the mountains and in a couple of very underrated smaller markets (Raleigh, Richmond) lately. The key is being with people who bring you peace. That makes every day a vacation.
And on that note (sigh), we'll close it out for this episode. See you next week from the sunny beaches of Spartanburg.