CHARLOTTE — Once upon a time, former Panthers head coach George Seifert was asked a question about some particular issue regarding the team, and he replied: "Well, I don't want to overstate it, but I don't want to understate it either."
And that gets me into this week's topical top of the Mailbag, about what you can and can't learn about a football team from watching OTA practices this time of year.
Here's what I feel safe in reporting: The Panthers' offense will look very different than it has in years. We talked about this at length in our Happy Half Hour podcast this week (complete with sound effects), but there's a very real and tangible sense that the work being done is focused and competent. We'll see if it turns out to be good.
The Panthers have been looking for answers on that side of the ball since the Pittsburgh game in 2018 and have tried a lot of different theories and people. What gives the appearance of a difference this year is the approach. By throwing a lot of smart coaches from a lot of different perspectives together (Frank Reich talks a lot about "diversity of thought"), they're creating something that seems to have several influences but a consistent theme. You can see particular plays and recognize that it's one of Reich's favorites. But you also see certain plays and identify offensive coordinator Thomas Brown's thumbprints all over it, with his Rams background that features a lot of motions and formations and the run game.
It's moving. It's fast. The ball's coming out quickly. Not coincidentally, those happen to be the things that Bryce Young was pretty good at doing in college.
But what we can't tell this time of year is too much about individual guys, or over-arching predictions about the future. Beware any declarations that Player X is really going to have a big impact, or Player Y has been really good out there. And run away, fast and far, from anyone predicting specific outcomes for February based on anything that happens in June.
These practices are a lot of things, but they're not quite football. We have yet to see the impact of actual linemen because they're not wearing pads and they're not hitting. And we've yet to see the full roster because important free agents such as Hayden Hurst and DJ Chark Jr. are only beginning to do individual drills after offseason surgeries, creating opportunities for some down-the-line players on the depth chart to stand out.
There's a general sense of improvement, which is good. But it's important to remember that a general sense is all you can honestly get from these unpadded, non-contact practices. It's good that it's better. But it's also dangerous to draw too big of a conclusion. But I can tell you, it looks different than it's looked in a long time.
------------------------------------------------------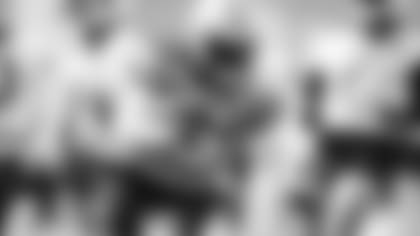 This is my first time with a submission, but I read your column regularly, as you do a great job. I'd be interested to see the Panthers run a few plays using 21 personnel with bothLaviska Shenault Jr.andMiles Sandersin the backfield - both can run well and in addition, are excellent receivers. I think it would create some interesting match-up problems for the defense. Think about how effective Deebo Samuel and Cordarrelle Patterson (originally drafted as a receiver) are occasionally running from the backfield. Will you please see if Thomas Brown can add a couple more plays to the recently completed playbook? — Dennis, Leland, NC
You know, Dennis, I was just sitting in Brown's office the other day, and we were drawing up some stuff on the board, and I said, 'Hey, TB (because we're cool like that), what if we tried this?' Actually, none of that ever happened, but even if it did, Brown was way ahead of the rest of us.
Shenault's as interesting to me as any player on this offense because of the number of different things they can do with him. And yes, they're getting him out in space. And yes, they're likely to have him in the backfield (with or without Sanders). And yes, there's probably a lot more to come out of that laboratory.
Shenault runs like a wideout, and he's the size of a short-yardage back (if he was just a runner, he'd be the biggest back on the current roster). So yes, they're going to try to tap into that potential. Comparisons are always dangerous because there's one Deebo, but the idea of some Deebo-esque stuff is not out of the question.
I'm teasing Dennis a little, but I'm assuming he's a good sport, and since he came out of the chute with a solid idea on his first try, I'll make him this week's Friend Of The Mailbag and get the appropriate honorarium on the way to him soon.
------------------------------------------------------
I'm trying to understand the shift to primarily 3-4, so my ask is for confirmation and correction as you see fit. A lot of talk is that our want is still for another pass-rushing OLB opposite Mr. Burns. I remember when a lot of talk was that young Brian Burns needed more bulk to become an elite DE and justify his draft position, so many classified him as "Edge" instead of DE. With the BIG three we now have up front and Burns joining Shaq Thompson and Frankie Luvu on the next level, doesn't that make him the prototype Edge rusher? And hasn't the book on our Marquis Haynes Sr., Amaré Barno, and Brandon Smith been that they are exceptionally fast but small for DE (or MLB)? Doesn't that make them all strong candidates to flourish at the other Edge? And on plays when Jeremy Chinn slides up between LBs, Luvu is a fine Edge, and we don't even need one of those guys to be the hot hand? Am I misunderstanding Edge? Didn't our front-middle signees position us to make better use of the talent we already had (including Derrick Brown's rushing strength)?
Part B: wasn't our super fast CB project pick a few years ago -- Troy Pride? -- cut for an injury... what has become of him, and could he be a depth piece we need now? — Dean, Zionville, NC
As someone who words for a living, "edge" still makes me cringe from time to time because it's jargon. If people would just say what they meant in exactly as many words as necessary instead of trying to prove how smart they were by making up new and confusing ways to express simple ideas, we'd all be better off. I am not a multi-platform collaborative content specialist. I'm a writer. That means I write.
But I suppose if I was feeling charitable, I'd concede that the growing popularity of "edge" as draft jargon at least came from a good place, as the distinctions between 4-3 defensive ends and 3-4 outside linebackers aren't really what they used to be, and there's no use confusing people all spring who don't pay attention to college football anyway. It's short-hand for a "person who chases quarterbacks." Maybe we could make PWCQB a thing next.
Whatever you want to call them, Burns is what you want them to look like. But there's only one of him here.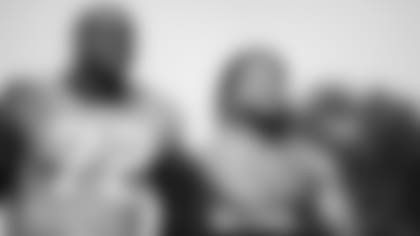 I get the temptation to put Luvu out there, but with his size and the fact he gets dinged up at times because he's always going 100 mph into harm's way, it's probably not sustainable for 17 games. He's undersized for a pass-rusher in this system, but he's good at rushing the passer, though. And with the way this defensive coaching staff has adapted to unique pieces and used the guys' strengths to create roles rather than getting locked into boxes based on preconceived notions, I could see it happening at times. But Frankie will line up inside in the base defense (though that's probably a quarter of the snaps or fewer). He's a guy who can do a lot of things, so my sense is they intend to let him.
Smith's also taking reps inside. He's a size-speed guy, but he hasn't really found a home so far. He's an interesting prospect because of his traits, but he isn't among the guys they're looking at outside at the moment.
As for former fourth-rounder Troy Pride, he's on the Saints roster now, so he's not available. There are some veterans out there in the world looking for work, but they're probably guys they'd wait to look at later.
------------------------------------------------------
Shouldn't the Panthers get the first shot at WR DeAndre Hopkins hitting the waiver wire? He has great hands and is a good route runner. Great veteran for a star rookie quarterback, right? — Tim, Snow Hill, NC
For starters, that's not how waivers work. Veteran players (with four years of experience in the league) are available to anyone immediately. Only players with less than four years are subject to waivers and being claimed. And besides, the Panthers are ninth in that order since waiver claim order follows draft position. They picked first because they traded for the top spot.
But Hopkins has already said he's not particularly interested in playing with a young quarterback, so that would seemingly take the Panthers out of the running anyway. But I'm not sure it made sense otherwise. If they were going to spend real money on a veteran free agent, it would probably be an outside linebacker, so I probably wouldn't have put this team on the destination list.
------------------------------------------------------
All-time Panthers question. If you were to have one running back and two WRs/TEs out of this group, who would you pick for best all time?
School is out, so I have all the time to write in questions now! — Zach, Charlotte
When Zach gets out of school — though he should clearly GET BACK TO CLASS — he has a bright future in sports talk radio. Because when you get to the summer months, and there's nothing organic to drive a conversation, you gin up an arbitrary list and get people to argue about it.
And this one's clearly arbitrary because he lumped the receivers and the tight ends together and made me pick just two. You can have a reasonable debate about the second wideout being Muhsin Muhammad or DJ Moore — the correct answer is Muhammad, but you could have a reasonable debate since I'm all for multi-platform collaborative content — but you can't really start drawing lines between Muhammad and Olsen since they play different positions.
Running back is an interesting one. McCaffrey remains great at a lot of things, which is why the 49ers gave up a bunch of stuff to get him. But when he was here, he wasn't always available, so he's hard to judge historically.
Stewart and Davis have a lot of similarities in terms of their rare blend of size and speed.
People forget Davis was a track star at Spartanburg High School when he used to race against (and regularly beat) some kid from Gaffney named Tim Montgomery. Montgomery went on to become the world's fastest man by breaking the world record in the 100 meters.
But though Davis is burned into the memory of Panthers fans for the work he did carrying the 2003 team toward the Super Bowl — and his ability to be a bell-cow back allowed a young guy named Jake Delhomme the time to develop as a quarterback — Davis only played 29 games here. But they were a meaningful and impressive 29.
Stewart is also big, and is also fast, and is the franchise's all-time leading rusher. Sometimes the numbers make it easy. Plus, he's strong enough to run over people, and also to break sirens at hockey games. He's a man for all sports.
Now tune in to the next Mailbag, when Zach brings the heat and asks you to pick the all-time special teams-playing wide receiver, and your choices are Dwight Stone, Karl Hankton, and Brandon Zylstra.
Hello, hope all is well with you and your family. Quick question. From sources I've read, the Panthers have approximately $51.5 million in dead cap space for 2023. How does 2024 and beyond look for dead cap space and resources for us to sign our own players after 2023? Keep up the good work writing, as I'm a huge fan. — David, Farmington, MO
Thanks, David; the family is blessed beyond measure. The boy-child's about to graduate from high school and we're all very proud of him, and the wife's having a birthday this weekend and 29 has never looked so good. So life's sublime. Wait, you were just being polite, weren't you?
The big dead cap number this year is because of the trades of McCaffrey and Moore and Chosen Anderson, née Robbie, which were done for very specific reasons.
And because of that very specific reason, the cap projections for the next few years are good. There's nothing more valuable when building a team than a good quarterback on a rookie-scale contract. Because if the most important position on the field is occupied by someone on a cheap deal, it allows you to have more stuff around him.
And there are some big checks to write. Burns is entering a contract year, and Derrick Brown's on the horizon. But if they extend Burns this year, his cap number this year will actually go down, which would allow them to possibly add some more stuff this year.
Without getting too into the weeds on cap stuff for future years (since the cap's going to continue to go up with future broadcast deals), they're in good shape there.
------------------------------------------------------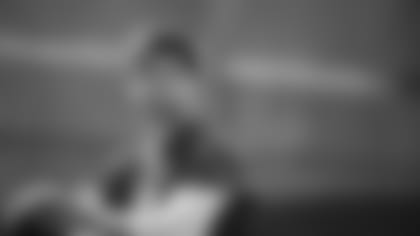 Hey Darin, it's the ole broken record here! Simple question this time: Should Matt Corral request to be traded, or should he languish with the Panthers in the #3 QB slot forever? His unfortunate injury in his rookie year has landed him in the land of the forgotten. You never hear any mention of him when a discussion of Panther QBs comes up. Does he have the skills to be a productive NFL quarterback with another team since the Panthers haven't shown much interest in developing him? Keep Pounding, my friend! — Jim, Timberlake, NC
I mean, "languish" is kind of a loaded word. It's like the difference between having to practice and getting to practice. All those cool new offensive coaches and all the experience that's good for Young is good for Corral too. And they do have an interest in developing him; that's why they cut Jacob Eason to get Corral more reps.
And with the third-quarterback rule this year, he's likely to be in uniform for every game, whether he plays or not.
While it may not be ideal to be stuck behind a No. 1 overall pick, Reich was right when he encouraged Corral to "play the long game."
Back in 2012, Washington traded up to No. 2 overall and took quarterback Robert Griffin III, and 100 picks later, they also picked Kirk Cousins. Cousins was clearly stuck and never was going to get a chance to develop. Or, Griffin's career was cut short by bad luck and injury, and Cousins has made $231 million (and counting).
None of us know how this is going to work out in the future. Like the great Ben McAdoo, I left my crystal ball in my other pants. But Corral is here and working (and looking sharper in practice) and apparently taking advantage of this situation as best he can. That's all he can do. From the team's perspective, it would be short-sighted to move him unless it was for a big return, and they're not going to get one of those now. Let him develop, and see what happens.
------------------------------------------------------
With all of the focus now on Bryce, there has been radio silence on Matt Corral, other than the change in jersey numbers. What are your thoughts on keeping Matt on the team to learn from Andy Dalton and the coaches? Andy is only on the hook for two years, and without Matt, we will be scrambling for someone to step in and up.
Also, do tell us your favorite summer drink, lemonade, sweet tea, or margarita. Appreciate ya! — Wanda, Deep Run, NC
As I mentioned above, I'm for it. There's no reason to do anything at all with Corral other than continue to let him learn and grow. Teams need backups too, and often thirds. Perhaps you remember the last few seasons of Panthers football or perhaps the recent playoff history of the 49ers (if Sam Darnold was there in January, he might have a Super Bowl ring now).
And look at that bonus question coming out of left field. I mean, if I said half-lemonade, half-unsweetened tea Arnold Palmers, that would be kind of a letdown since Wanda went margarita on us. I'd be willing to bet Wanda has her own margarita machine and that it has an odometer on it. I believe that because, as we've discussed, I've never met a Wanda in my life who wasn't trouble with a capital T. And we love 'em because of it, not despite it.
Beers on the porch are always good this time of year, but I imagine that has as much to do with the porch as the beers. Since I am committed to journalism, I will research this topic more thoroughly and report back.
And keep an eye on Wanda, y'all. We're heading into a weekend, and I can hear that margarita machine purring from here.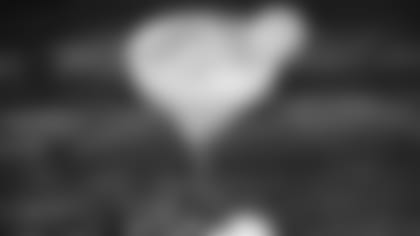 ------------------------------------------------------
Let's go lightning round, brought to you by the patron saint of the lightning round Jeff from Fuquay-Varina, to close it out this week.
Hey Darin, I was wondering if you think that Bryce Young will start Week 1? — Caleb, Stanley, NC
Caleb, as I told the nice lady at my wedding reception when she asked if I wanted another crab cake, "I do."
Do you think Deonte Brown can compete at right guard for the games that Austin Corbett will miss? I think he has gotten his weight under control. — John, Kannapolis, NC
They've got a deep and talented group of linemen around here now, which is a thing I can't believe I'm saying sometimes. Deonte's in a far more competitive environment than he was to begin with, and he's in better shape now too.
Having Cade Mays and Chandler Zavala drafted since him complicates matters, and if I had to guess today, I'd figure one of those two has a better shot in the opener.
Was not happy with Scott Fitterer's first draft. Now he's become one of the best GMs in the league. I'm confident the team now has what it needs to romp. Your thoughts? — Bob, Lawndale, CA
I'm not sure Fitterer got a lot smarter from one year to the next, though the use of possessives is probably something we could discuss. He's certainly done a good job of positioning the team to take a big swing at a quarterback and having the infrastructure in place (i.e., an offensive line) when that quarterback arrived.
But romp? Remember the top of this Mailbag, when we talked about the things we can know this time of year and the things we can't? This is one of those.