CHARLOTTE — It's frustrating for teams when they look at the tape and see a number of things going wrong — but at least then they know what to work on.
It's frustrating for fans when it's one particular thing, because then they tend to target their emotions onto one particular person, whether they're the sole cause for concern or not.
And at the moment, it's quarterback Baker Mayfield, after he turned in the worst performance of his young Panthers career in Sunday's loss to the Cardinals.
Mayfield had an edge about him after the loss Sunday, but it was hard to argue with the numbers on the page — five more passes batted down at the line, two interceptions, and another day in which they couldn't convert third downs (2-of-10 against the Cardinals, and they're now last in the league in that category).
Is it as simple as one person? In the NFL, it's almost never as simple as one anything. But Mayfield's rough night against the Cardinals came at a time when the Panthers were hoping to build on the previous week's win against the Saints, and at 1-3, tempers are short.
And with that, let's wade into the mail.
----------------------------------------------------------
Hey Darin, former Browns fan here that followed Baker south. Every year he had a different offensive coordinator; it wasn't until Game 6-8 before he started to fire on all cylinders. Do you think it's reasonable to expect the same this year? Also, seems he isn't alone, Russell Wilson and Matt Ryan haven't been exactly lighting it up either. Thanks! — Doug, Lima, OH
That is absolutely one way to look at it if you are thinking about the long view, and the stats back up Doug's assertion. (Though it would be irresponsible not to point out that Mayfield's playing at a level unlike anything we've seen so far in his career.) But fair is fair, and Mayfield's not the only quarterback not to hit the ground running in a new home.
Mayfield's career passer rating in Weeks 1-4 is 83.2, in Weeks 5-8, it's 81.5, but it shoots up to 100.2 in Weeks 9-12 (and back down to 84.3 in Weeks 13 and beyond, though his injuries last year were a part of that).
That's a numerical way of saying, yes, it's reasonable to get better at a thing the longer you do it.
As we mentioned last week, if they could go back and trade for him in April so he could have OTAs, they probably would, but that particular horse is out of that particular barn. So, for now, what they can do is try to fix the things around him and help him to get as comfortable as he can as fast as he can.
The clock's absolutely ticking, but there's at least a reason to think he ought to improve as he gets more exposure and more reps here. But at some point, he needs to show more of the 2020 version and less of the 2021 and first-month-of-this-year versions.
----------------------------------------------------------
Long-time reader; love the stories. I own a BBQ business in Missouri. Sitting here watching the game and watching Mayfield reminded me of a product that didn't go over well. After multiple tries in different cities, the same product didn't produce like I hoped it would. That being said, after four weeks of Mayfield, isn't it time for Carolina to shelve their product? I would be out of business if I didn't learn to adapt and change; just saying. What are your thoughts about $18 million holding a clipboard? By the way, mustard BBQ sauce is a huge hit in Missouri since I changed the recipe. — Doug, Farmington, MO
First off, congratulations on the sauce; I celebrate the diversity of condiments and want everyone to enjoy what makes them happy as long as it doesn't hurt other people (though I prefer a thin vinegar and red pepper sauce myself).
I imagine Doug's willingness to give chances to a new product might have something to do with the amount of inventory of said product he was sitting on. If he had a couple of tons of chicken in the freezer, my guess is he'd try to come up with a different way to cook it before he'd toss it all in the dumpster out back.
As difficult as it is watching what's happened when the Panthers have had the ball the first four weeks, it's also difficult to imagine them switching to a vegan menu right now.
----------------------------------------------------------
We just seem to be so predictable; rush Mayfield, get your hands up. What can he do differently? — Larry, Cornelius, NC
A little bit of it is him. Walker suggested adjusting arm angles, and offensive linemen are always quick to say they can do more to keep their hands down.
But they can also adjust the plays they're calling and try to put him in positions where it's not as much of a factor.
It absolutely seems like something that can be improved because even though he's gotten passes knocked down before, the current rate is outside the statistical norms.
----------------------------------------------------------
Are you ready to acknowledge yet that the Panthers' revolving door of quarterbacks isn't conducive to stability or winning? Their problem isn't one quarterback or another; it's committing to one. — Robin, Richmond, VA
I'm not sure anyone's arguing with that point. The question is how you find one to settle on.
And if you're suggesting that the Panthers might have been better off hanging onto Teddy Bridgewater for a year while they improved the rest of the roster around that position, I'll hear it. If you're suggesting they'd have been better off not spending money on Bridgewater at all and rolling with someone else in 2020, I'd listen to that too. But hindsight is always clearer, and they're also continuing to try to upgrade wherever they can (attempting to trade for multiple veteran upgrades the last few years). Bridgewater was viewed as a capable starter, just as Darnold appeared to be the first month of last year before their best offensive player got hurt and the Wheel-O-Linemen started to spin.
In a perfect world, yes, you'd find a guy, settle on him, and proceed for the next six or seven years. But finding the guy to settle on is easier said than done. I promise you, if Matt Corral hadn't gotten stepped on in the preseason, leading to a season-ending foot injury, people would be screaming to the heavens for starting the cycle again and looking at another one now. That's not going to change until they find it.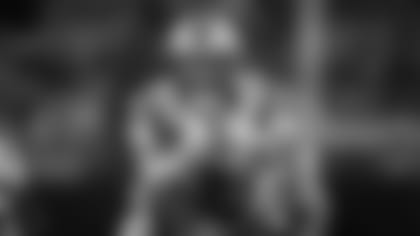 ----------------------------------------------------------
Draft Time 2023. The salary cap is not looking especially good. Looks like three quarterbacks out of contract and a rookie still needing two years to learn. Here we go: Round 1 QB, Round 2 DE, Round 3 Oops we do not have. Round 4 Too late for LB, DT, or TE. My question is, how do we ever get out of the perpetual loop of needing a QB? You can not grow or fill other needs when this is your every-season priority. How do we get past the let's take someone else's problem QB and have a miracle materialize in Charlotte? We are in a rut and need to get out of it quickly. A new QB does give me a sense of hope that the train gets back on track, although many other needs still exist. And, we do have A GM who knows how to create draft picks with the best of them and use them well! — Stephen, Columbia, SC
You get out of it by finding one. The Titans got a couple of good years out of a scratch-and-dent Ryan Tannehill, which is why a lot of people will keep trying to go that route. The Titans also went out and spent that third-round pick of theirs this year on Malik Willis, to try to grow something for the future while they have a reasonable current option.
That was kind of the plan when the Panthers used next year's third to take Corral in last year's third. He was going to sit behind a capable starter for a year, and we'll see how things unfold.
As you may have gathered, things don't always go according to plan.
----------------------------------------------------------
Any hope left for this season? — Mark, Maryville, TN
Mark put one of those smiley-face emojis on the end of his question, which means he knows my usual line about not being in the hope business. (He probably does not know that my co-workers secretly love it when I respond to texts and Slack messages by typing out the words "thumb emoji," because it's good to keep the youngs on their toes.)
I've seen a 1-3 start turn into 12-4, and a 3-8-1 turn into four straight wins and a ridiculous playoff berth, so I guess anything's possible. Of course, anything's much closer to possible when you have a young, healthy, and in-his-prime Cam Newton. But the point stands. I've seen shabbier teams go on win streaks.
I don't know if they will, especially with a tough run of games coming up against the 49ers, Rams, and Buccaneers. But there are things to hang onto about this team if you're so inclined. This defense is still a good one. They can keep the team in games. The special teams are quite good. The offensive line has more good players and is playing better than at any time in the last six or seven years. They still have cats like Christian McCaffrey and DJ Moore, who can change a game in a moment.
Can they turn it around? Not unless they get better quarterback play than they got last week. But again, I've seen stranger things. I saw a team quarterbacked by some new guy named Jake Delhomme who threw for 96 yards with two picks beat the defending Super Bowl champion Buccaneers in 2003 by blocking every kick out of the sky. I saw them almost beat the Bucs in 2002 on a day when Randy Fasani had a 0.0 passer rating. I saw them beat the Falcons while treating the forward pass with visible contempt. I saw 44-year-old Vinny Testaverde beat the Cardinals while he was still meeting his much younger teammates, when he would throw a deep ball and then need two days off to recover. A lot of things are possible.
----------------------------------------------------------
Hello, thank you very much for the stories and comments; we really appreciate it, especially those of us who follow the league from afar. I became a fan of the Panthers in a spectacular game against the Cardinals in 2015. At that time, Cam was flying with the offense, and most of us were grateful for how Cam moved the ball, something radically different from last week.
This line offensive has gotten much, much better. Is there any real chance that Darnold will give us hope this season, or do we really have to wait another year to find QB1? Greetings from Chile — Jorge, Rancagua, Chile
Taking the quarterback situation out of the equation for a second (and I know that's an impossible contextual leap), Jorge makes a point.
The five starters on the offensive line have played every snap of every game so far this year, and they've played better as a whole than you'd imagine. Regardless of what's happening behind them, that group has made incredible progress.
People are always thinking about the future at quarterback, but when you think about Ikem Ekwonu at left tackle, Brady Christensen at left guard, Austin Corbett at right guard, and Taylor Moton at right tackle, it's reasonable to think that's a few years worth of starters in place right now, and groups tend to get better with time. And as we've mentioned here before (though not everyone wants to hear it), Pat Elflein has been pretty good at center, and he's just 28, so it's not like he's so old he can't be a part of planning as well.
Considering where they were last year (14 different starting lines in 17 games), it's a remarkable amount of progress and a credit to the personnel department and line coach James Campen.
----------------------------------------------------------
There are some amazing Panthers players coming eligible for the Hall of Fame. Who do you think gets in in '23, '24, and '25? — Glenn, Swansboro, NC
Any introduction to the Hall of Fame as a topic gives me a chance to link back to some of the cool Keep Pounding weekend content that came recently, as the family of the late Sam Mills was brought back to honor his induction this summer.
Speaking of 89, he's eligible right now, and made the final 26 semifinalist cut last year. If you look at his stats compared to the other receivers in the pipeline at the moment, there are reasonable arguments to be made that he's better than players such as Torry Holt or Andre Johnson or Reggie Wayne (finalists last year).
The problem is the traffic jam, and the Hall of Fame selectors got hung up for years on Andre Reed, Cris Carter, and Tim Brown, leaving all three waiting longer than they expected, because it was hard for many to find differences between them. These discussions are often ones of art rather than science, and the fact that Smith played his career with (no offense, here comes the offense) guys such as Delhomme and Joe Flacco rather than Hall of Famers makes a difference in my mind. I absolutely think Steve deserves to be in the Hall. But it could take some time to convince others, and with the way the position has evolved, the discussions will likely only get more complicated.
The debates should get a little easier on other Panthers when they hit the ballots. Julius Peppers will be eligible for the Hall for the first time in 2024, and if Jason Taylor and his 139.5 career sacks (11th on the all-time list) got him in on the first ballot, Peppers and his 159.5 (fourth on the all-time list) should also, at least if the transitive property holds.
Luke Kuechly is eligible in 2025, and he's got seven Pro Bowls in an eight-year span and a defensive player of the year award on his resume. With Tony Boselli getting in this year, following Terrell Davis and others as precedents for shorter careers of great intensity, Kuechly should have a good shot.
I think Cam Newton will be a strong candidate as well, having done things no other quarterback has done at the same level. But he won't be eligible until at least 2026, since there's a five-year waiting period from their last active season.
----------------------------------------------------------
OK, let's go lightning round to close it out this week:
Is that fumbled handoff why Rashard Higgins has not been on the field? — Westray, Kershaw, SC
It certainly didn't help, but they've struggled to get any third receiver really involved this year, other than that one play of Laviska Shenault Jr.. Higgins is a steady vet and has a higher floor at the moment, but at some point, they need to get Terrace Marshall Jr. on the field since his ceiling is much, much higher.
Kyle Allen: 17 career starts (one season worth), 4,318 yards, 63.1 percent, 24 TDs vs 17 INTs, 7 yards/attempt. If you saw these stats for a rookie season, you would be excited about his future. Does anyone think we gave up too soon on Kyle? The second half of his one season was bad from the defense. He was pressing and made bad decisions. You know, what you expect from a rookie. — Jeff, Linville, NC
You can think Kyle caught some unfortunate breaks without creating unrealistic expectations. To steal a phrase from one of the great Eastern philosophers John Fox, he is what he is. Quarterbacks are hard to find, but projecting guys to be more than what they could be can get you into trouble too.
When we started tailgating Panthers games years ago, we wanted to stay out of the burger and dog rut. Our tailgates have the cuisine of our opponents so we can "EAT 'EM UP.' Michael from Rock Hill is a week late with his low country boil. Our Saints boils have always been popular. For the Cardinals, we had a chimichanga dish the wife concocted. I always look forward to salmon when Seahawks come to town. Finally, the question. What is your stance on tailgate foods, and your favorite(s)? — Terry, Charlotte
I dig the idea of pairing the food to the opponent; I'm just glad I never do that when Georgia Southern comes to Appalachian State because I don't know how many Stuckey's Pecan Logs a man can safely stomach. You have to have the right mix of fat and carbs in you to fuel a long day, so I like to start the day with some old-school sausage and cheese balls (literally three ingredients, heavily processed breakfast sausage, cheese, Bisquick). That lays down a solid base for whatever is to come. I like elaborate spreads as much as anybody, but it helps if you can eat it with one hand, so you have the other one free to throw a football or enjoy a refreshing beverage. Which, frankly, it seems time for.