CHARLOTTE — Yeah, the dateline's correct. I didn't immediately drive down after Fan Fest to get back in the dorm. And that's OK. Mostly, for me.
But the camp experience remains a good one and a valuable one for everyone involved. There's something about being sequestered in a place not your home to bring a team (and a digital department) a little closer together, and you can learn a lot while you're there.
For instance, we've learned that the Panthers have a pretty good offensive line, behind which a pretty sharp rookie quarterback is throwing well. We've also learned that because of that line, they ought to be able to run it this year too, as Miles Sanders has looked as advertised, and there are two guys behind him (Chuba Hubbard and Raheem Blackshear) who should contribute this year as well. They're pretty solid when it comes to pass targets, also, as DJ Chark Jr. has had a very strong camp so far.
Now, there may be more questions on the other side of the ball, but for the moment, things are shaping up reasonably well.
We'll head back to Spartanburg tonight, and the next week will tell us a little more. For instance, they'll get in pads more often (just twice so far), and then the Jets will roll in for a couple of days of joint practices, which should be instructive.
We have much more to learn and time to learn it, but what we've seen already seems decidedly non-negative. We'll get to the bulk of the mail in a second, but we'd be remiss not to debut what we hope is a semi-regular feature here in the bag. I've taken to calling it OGTV, the video companion to this humble Mailbag. And the name works since our first guest was also an OG (offensive guard, not Old Guy). Austin Corbett was a good sport, and we had a little surprise for him that will certainly have players and staffers lining up to be on the guest list. I suspect JJ Jansen of Cart Talk fame and I will be competing for guests. Thank goodness we're such big-time talents that we have producers to fight it out. Check it out, the first installment; we hope you like it.
------------------------------------------------------
Things seem quiet as far as how Bryce Young's camp performance has been to this point. I know it's early, but you hear all these stories about draft picks showing up in camp and the coaches knowing on day one that they made a huge mistake. Is there concern that he's not what we thought he was, or am I overthinking this? Please tell me I'm overthinking this, and he's going to be the greatest QB to ever live. — Jake, Spring, Tex.
You're overthinking this.
I'm not prepared to say he's going to be the greatest QB ever. But I do feel reasonably confident that he's not going to be one of the worst.
The interesting thing about Young on the field is how quickly he commanded the respect of the room.
Center Bradley Bozeman said last night after Fan Fest that even if Young doesn't have a big booming voice, he has the room. When they met to go over some exotic looks they might see over the course of the year, the rookie ended up leading the meeting.
Time will tell how it shapes up on the field. But all the current signs are positive, and at this point, no one regrets taking him instead of someone else.
------------------------------------------------------
Long-time reader, first-time question asker! Has anyone stood out since they switched to padded practices? — Edgar, Cerritos, CA
Well, there have only been two of them, so we're not in a big sample-size spot here, but there are a few things I feel good about saying. One of them is not unexpected; the others might be.
Derrick Brown is a problem for offensive linemen. You're not supposed to be as first-step-quick as he is when you're the size he is. He's always shown himself to be a disruptive player inside. Even at Auburn, he was more about pressure than sacks. And as we saw last year, he's very good against the run. So it's not necessarily a surprise when you see him making plays in practice.
But two guys I want to see more of speak to a larger issue — and an extremely positive one.
They have a couple of undrafted rookie offensive linemen in Nash Jensen and J.D. DiRenzo, who appear to — as the kids say — have a dog inside of them.
Both are big bodies with an apparent mean streak, who have caught the attention of coaches and personnel men alike. Jensen, in particular, has impressed, as he's rotated in with the ones at times in camp, pushing Brady Christensen and Cade Mays a bit, while they wait to get fourth-round rookie Chandler Zavala back.
Saying all those names, without mentioning the eventual return of Corbett, or veteran pieces like Justin McCray and Michael Jordan, indicates that this line is more deep and talented than it's been in years.
The Panthers floundered about looking for quarterbacks lately, but the one thing they didn't stop doing was looking for help up front. From locking up right tackle Taylor Moton to drafting left tackle Ikem Ekwonu and Christensen and Mays to signing free agents such as Corbett and Bozeman, there has been a concerted effort to get that position right.
Hiring and retaining James Campen as line coach was and is a big part of that plan as well, as he's one of the best in the league at developing talent once it's acquired (witness all the fourth-rounders and later he turned into Pro Bowlers in Green Bay).
Even when they couldn't see the quarterback picture clearly, they saw the importance of making things right around him when he got here. So the deliberate work of building an offensive line was important and necessary.
They've had excellent sides of the line before (Gross-Wharton-Kalil), or a strong middle with questions outside (Turner-Kalil-Norwell), but it's hard to recall a group that was as talented and stable as this one. It's been a minute, at the very least.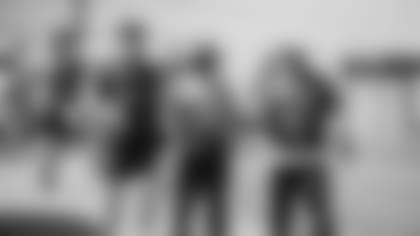 ------------------------------------------------------
How comfortable is this staff with the CB room? Some of us fans are more concerned with that group than any position group. We saw how it ended last year without Jaycee Horn. We've seen Donte Jackson stay hurt throughout his career while coming off an injury that some deem a career-killer. CJ Henderson and Rejzohn Wright have already been dinged up in camp as well. — Chris, Tampa, Fla.
Well, it depends on who you ask.
So the other day, when Henderson and Wright were out (Henderson was back Wednesday night), and Keith Taylor Jr. had a pick, Reich said he was confident in the group.
"I feel great about the cornerback depth," Reich said. "He's (Taylor) had a strong couple of good days together now, as you guys have seen, so that's what we're looking for. I mean, the play he made today in red zone was really nice. Made a couple of nice plays the other day in the stadium here.
"So we need that competition. We need that depth, unfortunately, in this league at every position. We've got to have that, and this is a time of year that we can develop that to the fullest."
The sting of the Tampa game last year made this forefront in lots of minds, and reasonably so. But the biggest part of the equation is that Horn and Jackson are back. Say what you want about their track records, but when they're on the field, they're as talented a tandem as you'll find. And while Achilles injuries are serious, Jackson's speed-based game doesn't appear to have suffered. He's moving well, and if he's still limited in practice, it's hard to tell how.
Assistant defensive backs coach DeAngelo Hall knows a little something about the business (and Achilles tears), and he said he thought Jackson looked good. And even if Jackson isn't back to his old speed, he's close enough for it to not matter.
"I mean, what, you're a 4.2 guy, and now you're a 4.3 guy," Hall said in reference to Jackson's 40 times. (Jackson ran a 4.32 at the combine but had clocked faster times). "All right, now you're a 4.3 guy. But he has so much extra speed that he could lose a step and still outrun 90 percent of the DBs, and easily."
Taylor has looked good at times in his career, and there are some other guys with value. Herb Miller made a play last night, and Stantley Thomas-Oliver III is very good on special teams. Do they need guys to stay well? Yes, but that's true of every team in the league at that position.
I think it's fair to be concerned because not everyone needs to be as positive as Reich — or is able to be. It's not worth panicking about, and even if it was, it's not like there are a lot of great ones on the street when 32 teams are carrying 90-man rosters, with 10 or 12 of them being corners. Somewhere between straight freaking out and Reich feeling great is probably a good place to be. But that's a broad spectrum. And as regular readers of the Mailbag know, I left my crystal ball in my other pants, so I don't know what the future holds in terms of player health.
------------------------------------------------------
Hey Darin, they're making moves to the front seven, except for OLB. Is that on purpose to give the guys on the team a chance to earn it? Or because the other positions are less expensive than a free-agent pass-rusher? — Dan, Venetia, PA
Some of both. It's easier to find veteran options at inside linebacker than proven pass-rushers, and trying out and signing Deion Jones gives them another experienced backup along with Kamu Grugier-Hill (one of the stars of camp, with three interceptions so far). And the turnover on the defensive line was about keeping enough bodies available so you don't run the rest of them in the ground. When they had two linemen on the PUP list, it forced Derrick Brown and Shy Tuttle and the rest to take more snaps than they would have otherwise, so they brought in some fresh legs.
The desire to see other options is genuine, especially with Marquis Haynes Sr. sidelined with a back issue. They want to see what third-rounder DJ Johnson brings once they have pads on. And Kobe Jones has flashed a bit as well.
But it's reasonable to think they're still looking for someone at that position who is not presently here. There are enough names on the market that they have some options. But what you really want is a proven pass-rusher opposite Brian Burns. A second one of those is a force multiplier which keeps you from having to tinker with the defense. Right now, they'd have to manufacture pressure by moving people around (like Frankie Luvu) and making schematic adjustments. With so much new going on, you'd rather not do too much of that.
I'd say stay tuned. The other important factor with veteran pass-rushers is, they neither need nor want (in many instances) to go to training camp. Spartanburg ain't for everybody, gang. If we get to September 12th (the week after the opener, when veteran contracts are no longer guaranteed for the entire year) and they haven't brought someone in, it might qualify as a surprise to me.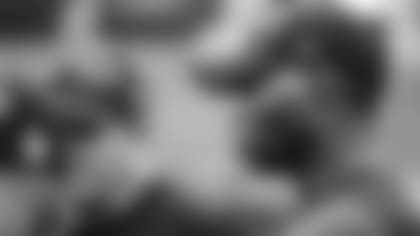 ------------------------------------------------------
I wanted to start with a feel-good story from camp this year before I ask my question.
I arrived at training camp on Monday at 9 a.m. with my 9-year-old nephew (who is a die-hard Panthers fan already) and my sister-in-law and her family. While we were waiting in line, the three kids in our group started throwing a football around in the parking lot. Soon, another boy came over and asked if he could play, too. In no time, they were running routes and playing as if they were all best friends. After we went through the metal detectors, Cairo met us, where we decided to set up our chairs. We talked for a while and found out that his mom helps park cars at Wofford every year during training camp, and they live just down the road. He's there every day watching the practices and trying to get autographs all by himself. The kids were all having such a great time that we invited him to hang out with us for the duration, and he gladly accepted with a big smile. We ran down to the Kids Autograph Zone and watched and waited for the players to come out for practice. All the while, Cairo was telling us what to expect and where to go, and what he's seen so far during camp this year. All he wanted was a Bryce Young autograph, and he hadn't been able to get one yet. We watched practice together, played over at the kids' field, and watched more practice. When the time came, he instructed us where we should stand instead of crowding back into the autograph zone. We waited there for the end of practice, and the kids took turns sliding on their backsides down the grassy hill and playing "slide receiver" - throwing and catching the football while going down the hill. He asked the police officer at the fence for his autograph on his roster sheet, and the officer was so excited! Cairo started calling to players by name as they were walking off the field, and a couple came over to that area to sign stuff for the kids. After a while, they decided to join the craziness in the autograph zone and crowded in there to get Johnny Hekker's signature and get sweat dripped on them from Spiderman (he skipped right over my nephew). Finally, Bryce came over and signed a few autographs when suddenly Cairo came bolting out of the KAZ holding up his roster sheet and yelling, "I got Bryce Young!" We jumped, high-fived, and danced excitedly, then he bolted back in there to help the other kids get more autographs. What a great kid!
It was such an honor to get to be a tiny part of his exciting day, but while we were sharing that experience, his mom was working and missed it. So my question is this: Is there any way you could do something special for Cairo that maybe his mom could be a part of? Those parking lot attendants work hard to direct everybody while standing on the blacktop all day in the 'Burg's heat and humidity, and it's tough! Either way, keep your eye out for a skinny, 5-foot-tall, 12-year-old boy wearing a Spurs hat signed by at least four players. He's an amazing kid and could show up on that roster sheet one day with that arm!
P.S. I really wanted a Darin Gantt autograph on my t-shirt from last year's camp, but it didn't work out. Maybe next year! — Stephen, Black Mountain, NC
See, this is one of the beauties of camp. Cairo and Stephen's nephew are now camp friends, and I suspect they didn't ask who the other one voted for or check each other's bank balances before they decided that. They just found a common interest and went about the business of being happy together. I dig their vibe completely.
I can't make promises I am not empowered to keep re: Cairo's mom, but I'll be on the lookout over the next week.
What I can also do is make you this week's Friend Of The Mailbag and get the appropriate honorarium on the way for sharing a cool story and reminding us what camp can be all about. And if you want me to devalue your new T-shirt by signing it, I can do that, I guess. If you're sure that's a thing you want, I mean.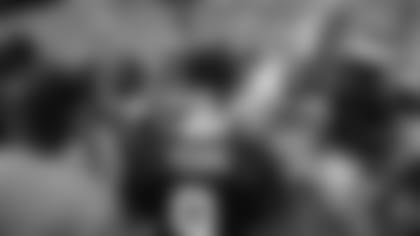 ------------------------------------------------------
I'm going to training camp for the first time ever this year! What is the best way to try to get pictures or selfies with players? — Marc, Martinsville, Ind.
Well, for one thing, find Cairo. He seems to have the hook-up and a positive spirit to go with it (Or perhaps the positive spirit enhances his karma and creates good things for him and the people around him).
Getting there early enough to get a good spot on the fence is a good first step. The crowds have been bigger than in recent years, so that's easier said than done some days. Wearing a distinctive hat or carrying a funny sign can't hurt.
But mostly, be patient, be respectful, and enjoy yourself. If you're a younger person, the Kids Autograph Zone is my favorite new invention of training camp. Steve Smith Sr. used to have a rule that he'd only sign for people shorter than him (which ruled out a large portion of the adult population), but I think it's a good rule.
Hang out by the fence, meet your neighbors, and enjoy the day. The selfies and the autographs are merely the universe's reward for your positive energy.
------------------------------------------------------
What is the VIBE, man? Best hot dog in Spartanburg? Correct way to assemble a hot dog? For me, weeny in steamed bun, mustard on both sides, chopped onions over length of weeny. Top with chili (no beans), slaw over chili. Best location for aforementioned culinary delight — Sandy's across from USC campus in Columbia, S.C. — Westray, Kershaw, SC
We like Westray, other than his insistence on spelling it "weeny," which kind of goobs me out. I've always had a soft spot for Sugar-n-Spice, but I will happily accept suggestions for the next week. I love hot dogs, perhaps a little too much. Not as much as American Hero Joey Chestnut, but a lot.
And Westray has correctly identified my favorite way to eat a hot dog — chili, slaw, mustard, and white onions. My favorite was Shell's Bar-B-Q in Suburban Hickory, but they closed a while back, and I miss it. In Charlotte, you can't go wrong at Brooks' Sandwich House.
But find your joy. If you like sauerkraut or tomato slices and whole pickles and celery salt, rock on. Who am I to tell you what's right or wrong? I mean, except about football, that's why you're here, right? It's a big world; there's room for all manners of topping hot dogs, as long as you share.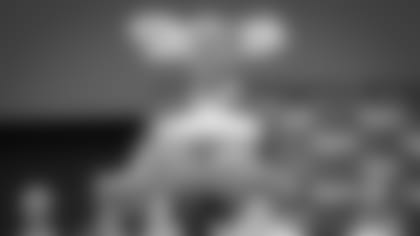 ------------------------------------------------------
Hello again, my friend. I'm proudly wearing my FOTM T-shirt! My question today: When, not if, Jonathan Taylor (Colts) becomes available, do you think the Panthers will go after him in earnest? — Jim, Timberlake, NC
Well, no coach or GM would ever comment on a player under contract to another team, but I feel OK saying this doesn't feel particularly likely here. For one, the Colts don't seem inclined to give him away.
Taylor's really good and knows Reich well. The thing is, Taylor wants to get paid, and the Panthers already have a back who got a solid contract this offseason in Miles Sanders.
Some people are running back absolutists, but I think there's a middle ground, and Sanders represents it well. You need a good back. Not every late-round lottery ticket turns into someone you trust in the fourth quarter.
Sanders is going to have a big role in this offense. It's OK to throw a little cash somebody's way if he's going to be a big contributor.
And Sanders goes about his business appropriately. Always among the first on the field, not getting caught up in other people's business, keeping the focus on what's in front of him.
------------------------------------------------------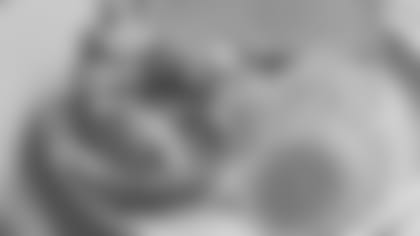 Hey Darin, haven't asked a question in a while, but just so you know, my (newly wedded) wife loves that I'm cheesy. I was going to send you some Conrad & Hinkle Pimento cheese but didn't want to give the impression that I was trying to buy my way into FOTM merch. Word is C&H Pimento Cheese, from downtown Lexington NC, is world-renowned. If you haven't tried it, I would recommend.
Anyway, I've noticed that the Panthers are working out a lot of players here at the start of camp, most notably QBs. I also remember reading that the Panthers cut the QB room down to three guys so Matt Corral could get more reps. These seem to be conflicting storylines. Could it be that the new Panthers brass are not very sold on Corral's potential? — Chris, Greensboro, NC
— Mazel tov to the Chris from Greensboros.
— Bribing me with pimento cheese is almost certain to work, even if not this week.
They signed Jake Luton to be the fourth quarterback in camp, mostly to take some reps since Andy Dalton doesn't need a bunch. Reich has already said that Young and Corral would get most of the preseason game work, but having Luton around keeps them from being overworked.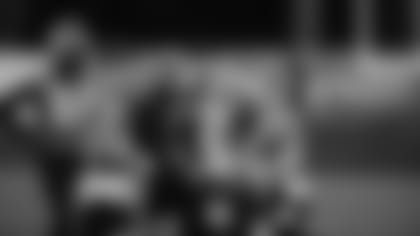 How does Matt Corral look in practice? Any chance he becomes the primary backup over Dalton? Secondly, is Ian Thomas making the roster? Only heard good things from Tommy Tremble and Hayden Hurst so far. — Kevin, Middletown, DE
Doubling up on the Weekly Matt Corral questions this week.
He's looked solid. Had a few throws behind receivers early, but on the whole, he's been good. Most of his team work comes during the third-string vs. third-string "opportunity period," and sometimes it's hard to tell how to accurately place credit or blame with a mixed bag of personnel.
He's not going to be the backup this year unless something weird or bad happens. Dalton was brought here for a specific reason before they even knew Young was going to be the guy (though they were always leaning that way). He's your backup.
Yeah, Ian seems reasonably safe to make it. He's a really good blocker and a nice complement to Hurst. Thomas gets a lot of online criticism, but that's more about his contract (which pays him among the bottom third of starters in the league) than his play. He has a role and is good at it. He's not going to catch as many passes as Hurst, but he's made a few plays in camp.
------------------------------------------------------
I'm interested in the 2023 NFL practice squad rules. I know that with COVID-19, temporary adjustments were partially retained, and the roster numbers have bounced back and forth. Did the league decide on a 14-man practice squad roster? Did they retain the four protected players? How about the third QB being elevated, and does it affect the current two practice squad players that can be elevated for game days? I've read a couple of conflicting reports and would appreciate a clear picture of where this all stands. Thanks for your assist. — Randall, Branchville, SC
We're getting in the weeds this week, and I like it.
The practice squad remains at 16 players for this season, which is helpful.
There's no more protecting four players a week, that was a COVID mechanism to protect teams from potential last-minute absences, and the league did away with that prior to last year.
You can elevate two players from the practice squad a week for game days, for a maximum of three times for each player. They have to be accounted for on the game-day active list. Teams can activate up to 48 players each week (as long as eight of them are offensive linemen).
The third quarterback is effectively a free activation this year. But that quarterback has to be on the 53-man roster; he can't be a practice squad call-up.
In Corral's case, it probably helps his chances of making the team, though it's not a certainty. He still needs to play well enough to justify a roster spot, though there are signs he's doing that and will benefit from developing under this deep and talented coaching staff.
------------------------------------------------------
I've been wearing my Friend Of The Mailbag shirt, smiling from ear to ear with the news that Moose and Julius will be inducted into the Hall of Honor on my birthday. Nice present, Mr. Tepper.
So Darin, who else from the first 15 years of the Panthers alumni should be considered: John Kasay, Brad Hoover, Mike Rucker? Any others you'd like to see? If we wanted the most entertaining from that period, it would have to be Brentson Buckner and Kevin Greene. What do you think? — Omer, Wilkesboro, NC
We did that just for you, Omer; we're glad you enjoyed it. See you in October to celebrate.
Adding Muhsin Muhammad and Julius Peppers to the Hall of Honor made all the sense in the world, and we did our part for the sports talk radio industry by creating fresh July content (it beats another Mount Rushmore discussion).
As for who might be next, there are no shortage of qualified candidates.
Kasay and return man Michael Bates are deserving, as the franchise's all-time leading scorer and a five-time All-Pro special teamer should be. Rucker and his partner Mike Minter are worthy of discussing, as is Kris Jenkins. There are plenty of more recent names, including Cam Newton, Greg Olsen, Luke Kuechly, Thomas Davis, Ryan Kalil (to my mind, one of the most under-appreciated players in franchise history, and most interesting), and more.
It creates lively discussion, which is fun. But it also honors the franchise's past, which is important to fans, to feel that connection to what long-timers like Omer have been investing their hearts and minds and wallets in for years.
------------------------------------------------------
OK, there's a lot happening, and I've got to get back on I-85, so let's go lightning round, brought to you by the patron saint of the lightning round Jeff from Fuquay-Varina, to close it out this week.
So they announced the jersey schedule, but where's the helmet schedule? — Nate, Grand Prairie, TX
I committed a journalism, and have confirmed, in an EXCLUSIVE report, that they will, in fact, wear helmets in every game this year. You're welcome. I do it for the people.
Long-time reader, but first-time out-of-pocket questioner. What is your favorite/most interesting piece of minutiae that Panthers fans are obsessed with and yet isn't really that big of a deal? — Hugh, Proctorville, NC
It's either jersey color schedules or snap counts. Probably jersey colors. Unless you're one of the fortunate and committed fans who have jerseys in every color and just want to match the team that week, I can't imagine why it's important. Make your own fashion statement. Wear your clothes, don't let them wear you.
Are canopies allowed at training camp? — Tim, Bessemer City, NC
Nah, sorry. Too many people to accommodate to allow big tents, as is spelled out in our handy FAQ. However, if you want to bring canapés, help yourself. As long as you bring enough to share.
We all remember Bill Voth's love of the white chicken chili at camp, but what do you most look forward to? — Amanda, Kannapolis, NC
Who? Never heard of him. Hard for me to get down with soup when it's this hot outside, but I have heard it's quite nice if you're in the mood. I usually grab the wrap of the day and a couple of pickles because I'm in a hurry writing after practice, and then follow up with a salad. I rarely look to see what's inside the wrap, just going for the most efficient vehicle to transport food inside my face-hole. That said, the chicken salad is a big favorite, and having enjoyed it recently, I can confirm it's a solid choice.
On a lighter note. What is the absolutely funniest thing you have been involved with or witnessed this year so far? Looking forward to reading your story. — David, Farmington, Mo.
I've learned that Bryce Young is a big fist-bump guy. So to be standing there when the adorable child left him hanging the other day, that was pretty solid. Still my favorite piece of viral video I've been standing near this camp. I can't get enough of it.
But there's more camp to come, so something may top it. That's why you show up, because you just never know what you're going to see.