OAKLAND, Calif. – Trai Turner hadn't played a snap at right tackle since high school. Tyler Larsen hadn't played a snap at center in an NFL game.
Yet there they found themselves, Turner for the entire second half and Larsen the entire fourth quarter in a game in which the Panthers already were missing two offensive line starters from the start.
"We switch guys around at practice," Larsen said, "but you can't ever prepare for everything."
The Panthers might not have been prepared per se in terms of having taken many snaps with that specific group, but each individual along the line was prepared.
It showed, as the Panthers preserved and overcame a 17-point deficit only to eventually come up short against a Raiders team on a roll.
"It's the NFL. Injuries happen. Mistakes happen. You have to be able to overcome adversity," Turner said. "Ultimately our team didn't get the win today, but I'm proud of my team and the way we fought, especially the guys who came off the bench."
Turner at right guard and Andrew Norwell at left guard had been the only constants along the line this season, and half of that equation got shaken up by circumstances Sunday. Leading up to the Oakland game, the Panthers placed left tackle Michael Oher – who had been in the concussion protocol for nearly two months – on injured reserve. In addition, Pro Bowl center Ryan Kalil was ruled out for the third time in four games with a shoulder injury.
The Oher injury had forced right tackle Mike Remmers to move to the left side and second-year pro Daryl Williams to hold down right tackle since Week 4, but then Williams went down with an ankle injury late in the first half.
The Panthers, who waived offensive tackle Donald Hawkins last week, opted to move Turner to right tackle and insert veteran Chris Scott – who played center in the second half last game after Kalil went out again – in Turner's spot.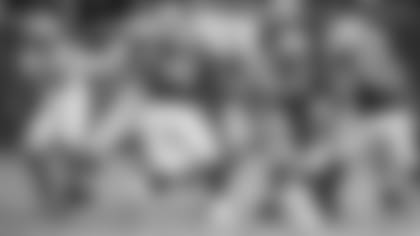 "It was different," Turner said of playing right tackle. "But my number was called, and I went out there and gave it my all."
Late in the third quarter, Larsen heard his number called for the first time as a pro. Veteran Gino Gradkowski returned from a one-week absence caused by a knee injury to start for Kalil, but when Gradkowski went out late in the third quarter with another knee injury, the Panthers turned to Larsen. Scott was busy playing right guard this week, plus head coach Ron Rivera had hinted days earlier that Larsen could get a look.
"We say that everyone is a starter in our room, and I just had to have that confidence and mentality," said Larsen, who logged a school-record 52 consecutive starts – all at center – at Utah State. "You hold yourself accountable like that because you're fighting for every single one of your brothers in that room.
"It means a lot. I love this game – have been playing it since I was eight years old – and I love this team and being a part of this organization. I had to go out there and make an impact for this team, and it was a great experience."
A great experience, and a relatively successful one. The offense caught fire in the third quarter with Turner at right tackle and kept it going early in the fourth quarter with Larsen at center.
"It's tough, with your third or fourth center out there and starting right guard at right tackle. It's tough, but it's the nature of the game. You just have to keep going," Rivera said. "Coach (John) Matsko and Coach (Ray) Brown did a great job trying to piece together a group of guys that would fight for us, and that's what they did. They came out and gave their best effort and gave us an opportunity.
"With a piecemeal line to be able to do what we did and be that close to winning that football game as we were against a very good Raiders team, that's a credit to the players for fighting and coaches for doing the best they could with those guys."
View game action photos from Carolina's 35-32 loss to Oakland.