CHARLOTTE — Running back Christian McCaffrey has not been activated to the 53-man roster, but that move could be coming soon. The All-Pro made it through Wednesday's practice fine and continued to move well on Thursday.
Head coach Matt Rhule didn't want to get too far ahead of himself, but barring a setback, McCaffrey appears on track to play against the Chiefs.
"If we played right now, I feel like he'd be able to play," Rhule said. "We had a good workout yesterday. He handled it well. We had a good workout today. He practiced well and hard. So we'll see where he's at tomorrow. So, (it's) day by day. But at the same time, things are trending and moving in the right direction."
The deadline for Carolina to place McCaffrey on the 53-man roster to face the Chiefs this weekend is Saturday at 4 p.m.
During the portion of Thursday's practice open to the media, McCaffrey sprinted down the field, looking near or at full speed.
"You can tell that he's just eager to just get back out there," quarterback Teddy Bridgewater said. "I think he just gave you all some eye candy or something."
During his media availability before practice began, offensive coordinator Joe Brady told reporters McCaffrey has looked like himself this week.
"I think kind of answers it — exactly what you guys expect out of Christian is Christian," Brady said.
As McCaffrey gets closer to officially returning, Brady will have more options for personnel groupings, formations, and plays to best attack an opponent.
"I think whenever you just have everybody available, there's a lot of possibilities," Brady said. "Everything is on the table this week for sure."
If McCaffrey returns, Rhule will work with the Panthers' training staff to determine if the running back will have a playing-time limitation. McCaffrey rarely takes a play off, as he was on the field for 91 percent of Carolina's snaps in 2018 and 93 percent in 2019. This year, that figure was 97 percent in Week 1 before he suffered his high ankle sprain in Week 2.
"Just like when can he come back, when he comes back, how much he can do early on, I think that would be something I'd rely heavily on the medical staff with," Rhule said. "And also, I want to see Mike Davis continue to play and continue to play at a high level. So there will be a football part to that where, hey, we have two guys we know we can win with."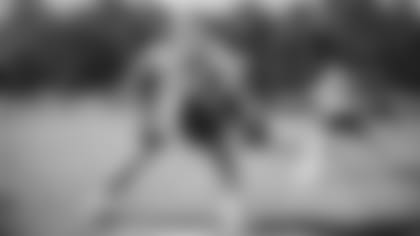 Davis is grateful the coaching staff feels he's earned a spot within the offensive rotation, even with McCaffrey starting games again. Davis has recorded 594 yards from scrimmage this season and is tied with McCaffrey for the team lead with four total touchdowns. Davis is also second on the club with 38 receptions.
"It just shows they trust me a lot," Davis said. "It shows that I've done enough for them to believe in me to be on the field no matter what."
But even as the offense potentially gets back one of its most critical pieces, Bridgewater feels Carolina must use all of its skill players.
"We don't want to make it all about Christian. We don't want to do that to him. Mike has been playing well for us," Bridgewater said. "We want to make sure that we just keep a balanced approach. The flow of the game will dictate the rest.
"We're excited to get Christian back, excited that we still have Mike Davis, Robby Anderson, DJ Moore, Curtis Samuel, those guys, (and) Ian Thomas, Chris Manhertz. So we're excited to just get out there as a group, as a unit and see what's in store for us."