The Bears edged Carolina 34-29 at Soldier Field last year, but from a defensive perspective, defensive end Julius Peppers doesn't have fond memories of the victory over his former team.
"That was our worst game of the season," Peppers said in a conference call. "We really didn't play well against those guys last year."
The Panthers racked up a franchise record 543 total yards in a losing effort.
"When you watch that tape, there are a lot of explosive plays, some of the things that we are missing on this year," Panthers head coach Ron Rivera said. "We had a couple of really big runs in that game. You look at those things and it would be nice to get back to them, and that's what we're looking at."
Quarterback Cam Newton threw for 374 yards and accounted for three touchdowns (one passing and two rushing), and Newton, along with running backs DeAngelo Williams and Jonathan Stewart, combined to rush for 169 yards.
"We have seen the best," Bears head coach Lovie Smith said in a conference call. "You look at our game against Carolina that we had last year, we saw the best of those running backs and everybody else."
Carolina's 543 total yards were far and away the most recorded against Chicago last season. The Lions produced the second-highest total in Week 5 with a 395-yard outing in a game Detroit won 24-13.
"They (Panthers) really took it to us," Peppers said. "We're actually looking forward to getting back out there and getting another chance at redemption.  If I can pinpoint one game that we got out-played in, it was (against) this team."
Peppers felt the Bears were out-played, but they weren't out-scored.
As a result, the Panthers' explosive offensive performance wasn't enough to earn a victory. Special teams' lapses – specifically two missed field goals and Devin Hester's 69-yard punt return for a touchdown – contributed to the narrow defeat.
And while a 500-yard performance would be nice to repeat on Sunday, Panthers tight end Greg Olsen, who spent his first four NFL seasons with Chicago, knows the Bears have the ability to end drives when opponents near the red zone.  
"The one thing Chicago hangs their hat on is they are not really concerned about yardage," Olsen said. "They are a points-based team. They are not going to break, they are not going to give up a lot of big (scoring) plays.
The Panthers must maximize every scoring opportunity this time around.
"When you get in the red zone, you have to get points," Olsen said. "When you do get chances to score, you can't hurt yourself."
---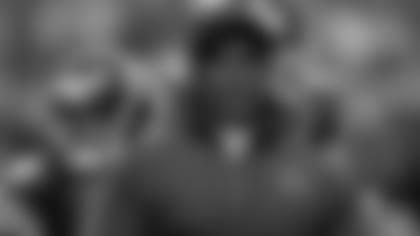 SMITH ON NEWTON: Before concluding the conference call, Smith, whose own quarterback Jay Cutler has often been criticized for the way he handles defeat, shared his opinion on quarterback Cam Newton's demeanor following losses.
"This is what I see: in the NFL, it's tough when you lose a football game and some of the guys are put up there right away after a game. Most of the time it's a quarterback.  When it's a tough loss, it's hard to be just happy and everything is cheery and stuff.  It's tough sometimes. You can't just focus in on that too much.  There are natural emotions that you go through.  Everybody has them.  Some guys you just see (the emotions) more than others.  
"I know around here every little thing that Jay (Cutler) does is focused in on.  That's how it is always.  I say there is nothing wrong with natural emotion.  You just have to move on, and it's as simple as that.  When you lose a football game, it's tough.
"Cam Newton is an excellent football player. He's going to lead Carolina to a lot of wins, I know that."