CHARLOTTE – Linebacker Jon Beason took the next step Sunday toward being ready for action when the Panthers open the regular season, fully participating in practice for the first time.
"It was encouraging to see him out there moving around with the guys," head coach Ron Rivera said. "He looked good. I watched some of his individual work and then went over and watched him in some of the team stuff. It's encouraging."
Beason, who missed the final 12 games last season, has been rehabbing from knee and shoulder surgeries and has been particularly careful with his repaired right knee. He declined comment Sunday, wanting to reserve judgment until he sees how his body responds to his first practice.
Rivera said time will tell if Beason suits up when the Panthers visit the Baltimore Ravens for their third of four preseason games Thursday.
"We'll see how the week goes," Rivera said. "We've got to see how he responds tomorrow morning. Hopefully it will be a good response, and we can just keep rolling from here."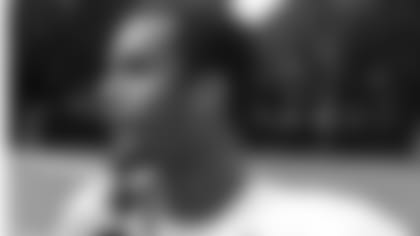 HIXON MIXING IT UP AGAIN: Wide receiver Domenik Hixon also made his return to practice Sunday, getting back on the field for the first time since suffering a strained hamstring Aug. 2.
"Sitting out these last couple of weeks has been long," Hixon said, "but thank God I'm back."
A lot has happened at wide receiver since Hixon last practiced, especially in regards to the race involving him for the No. 3 wide receiver spot behind Steve Smith and Brandon LaFell.
Rivera called receiver Armanti Edwards the surprise of training camp, and Ted Ginn appeared to hit his stride in last Thursday's preseason game at Philadelphia. Then there's David Gettis, who has been battling injuries for two years but is now battling for playing time after totaling eight catches for 138 yards in the first two preseason games.
"I've used these first couple of games to knock the rust off," Gettis said. "It's been a long battle back for me. I'm very excited about the opportunity given to me, and I'm trying to take full advantage."
That's also the plan going forward for Hixon, a productive receiver when healthy who has missed exactly half of his teams' games in his first seven NFL seasons. Hixon hopes to make his Panthers debut against the Ravens.
"It's football. You're going to get injured. You just have to come back and not get down on yourself, not let it be a negative thing," Hixon said. "I'm never complacent. I was told once by John Lynch, 'Once you get complacent, that's when you get replaced.' I try every time I get an opportunity to play well."
BOWL SEASON: The Panthers showed up at Bank of America Stadium on Saturday to kick off what they thought would be a full weekend of practice, but after reviewing tape of the Eagles game, Rivera surprised the players with a trip to a local bowling alley.
"He definitely got us," defensive tackle Dwan Edwards said of the surprise. "It was a good thing to do with the team. It brought us together to get off our feet and have a little fun."
Edwards had as much fun as anyone, averaging a robust 200.