CHARLOTTE – The Panthers' defense performed admirably with linebacker Jon Beason and cornerback Chris Gamble sidelined for the last two games.
They now know for certain those two veteran starters won't be coming back this season.
Gamble suffered a torn labrum in his right shoulder in Week 4 against the Falcons and was placed on injured reserve on Monday. Beason -- a five-time team captain -- joined him on injured reserve Wednesday with knee and shoulder injuries.
"Those guys have been around, they know the defense," linebacker Luke Kuechly said. "The biggest thing is not having that experience out there. Guys have to step up now."
An MRI on Beason's right knee revealed cartilage damage that will require surgery. Head coach Ron Rivera said the injury – which is not related to last year's season-ending Achilles injury – occurred in Week 3 against the Giants.
Beason will also have surgery to repair a torn labrum in his left shoulder, which occurred against New Orleans in Week 2.
With Beason and Gamble lost for the season, the Panthers claimed linebacker Doug Hogue off waivers from Detroit and signed cornerback James Dockery to provide necessary depth.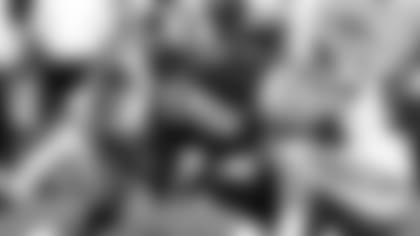 But its Kuechly and cornerback Captain Munnerlyn who are most affected. With Beason and Gamble inactive against Seattle and Dallas, both players had some time to get used to the changes that are now permanent.
Keuchly, who played WILL linebacker when Beason was healthy, will shift to the middle linebacker position for the rest of the season.
"It's all MIKE now, so I have to get in and study," Kuechly said.
Rivera believes the permanent position switch will bring out the best in the rookie linebacker.
"He's better suited as a middle linebacker. That's what I've truly learned," Rivera said. "He has a natural feel and some natural leadership instincts as far as being in the middle. That's probably the best spot for him."
Munnerlyn will be the team's starting cornerback opposite rookie Josh Norman for the rest of the season. He's already had a significant impact in the starter's role, returning an interception for a touchdown in his first start against the Seahawks.
And Munnerlyn will continue to play the nickel, meaning Josh Thomas will play cornerback opposite Norman in those situations.
"Chris is a veteran, and it hurts to lose him this early in the season. I know we really could use him. He's one of the best corners I've ever been around," Munnerlyn said. "It's sad to see him go, but now I have to step my game up and play at a high level."
Rivera has been encouraged by what he's seen from the young corners in Gamble's absence thus far.
"We've played a couple of times without (Gamble), and the young guys have stepped up and played pretty good," Rivera said. "We're losing a veteran player, but we've got some young guys that are stepping in and playing pretty good football."
The Panthers have been dealt another painful blow with Beason and Gamble's season-ending injuries, but it's a challenge the defense must accept and overcome as the year continues.
"It's unsettling at first," defensive end Greg Hardy admitted, "but hopefully a good week of practice will settle everybody down and we'll play some good defense."