CHARLOTTE – Jon Beason loves the middle linebacker position. It's where he prefers to line up in the Panthers' defense.
But performing in the middle is not his No. 1 priority, and following Luke Kuechly's emergence at the MIKE spot, Beason is prepared to play outside linebacker.
"I want to do whatever it takes to help the Carolina Panthers," Beason said Tuesday on the Panthers Pulse. "And I want to win. That's just what it boils down to."
Beason, a three-time Pro Bowler who is currently rehabbing after knee and shoulder surgeries, has served as the Panthers' starting middle linebacker in 61 of 69 career games played. In the other eight games, he started at outside linebacker, a position he played at the University of Miami.
"I was drafted as an outside linebacker. I can play the position. I am familiar with the position. Some people may think I'm built for the position," Beason said. "But what we did not know before moving to the MIKE, was that my personality is geared toward being a MIKE linebacker.
"I'm greedy – I want every play. Being in the middle allows me to have that freedom. Everybody else has to be more disciplined and be where they have to be. I enjoy (playing the MIKE), and I've done it at a high level for a long period of time."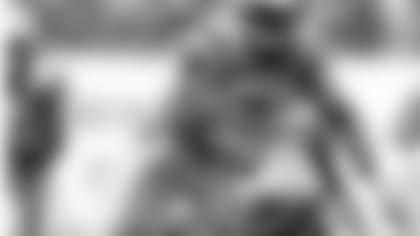 After Beason went on injured reserve prior to Week 5, Kuechly shifted over from the WILL linebacker spot and stepped into the middle for the remainder of the season, where he flourished.
And Beason helped prepare his rookie replacement.
"I don't believe Luke would have been where he was this year without Jon Beason," defensive coordinator Sean McDermott said. "Jon was very unselfish, went to every meeting just about, even though he was on IR. He helped Luke in his transition."
Kuechly led the NFL in tackles and claimed the Associated Press Defensive Rookie of the Year award. He emerged as the leader of the defense, making the calls, lining up his teammates and producing tackles at a record-setting pace.
"Luke is such a great player, such a great person," Beason said. "What makes (Luke) special is the instinctive plays where (he) saw something and didn't hesitate, just shot the gap to make a tackle in the backfield. He just goes, and that's how you have to play the game."
During the season, head coach Ron Rivera spoke about the inevitable Beason-Kuechly middle linebacker conundrum that awaited the coaching staff.
"When you look at the different skill sets, Jon has skill sets to play inside and outside a little bit more than Luke does. Luke, his skill set lends more toward being an inside guy," Rivera said in December. "I think we may have found something here. It's one of those things where you do what's going to be best for us."
Beason understands the Panthers defense may work best with Kuechly in the middle. He's open to the idea and is willing to adjust.
"Playing on the outside is no biggie for me," Beason said. "I'll have the same approach to how I play the game. I think if anything, it's going to make me more motivated, because now I have to fight a little harder to make more plays."