On Sunday, December 31, Carolina Panthers fans were assured of one thing: the team was in the playoffs. Location TBD. While fans watched the Panthers game in Atlanta unfold in the second half, they also had to monitor New Orleans' matchup at Tampa Bay and the Rams game in San Francisco.
In a span of an hour as games unfolded across the country, Carolina was going to Los Angeles, then potentially could be staying home as division champs, then ultimately going back to New Orleans to become the first team in NFC South history to face its division rival in the playoffs.
It was a rollercoaster afternoon for fans. But for Panthers Director of Football Operations Bryan Porter, it was time to go to work.
"As soon as the game was over, I started sending emails. A lot of emails."
Among other duties, Porter is in charge of directing the team's travel and overseeing the logistics of getting a travel party of around 130 to and from the Panthers road games.
Typically, Porter begins making travel arrangements for the 10 road games of the preseason and regular season in April and May when the league releases the schedule. He typically has every charter plane, hotel and bus lined up in every city more than three months before the season begins. This time, he had to confirm it all in a matter of days.
"When it started to look like there was a possibility of us going to the playoffs, probably mid-December, I started looking at all the different cities that we could possibly go to," Porter said. "I know a lot of people around the country, we get together once a year, all the hotel people and those that do what I do at other clubs. I've got a lot of relationships with hotels around the country so I started making calls and sending emails.
"Unfortunately, when it's last minute, you kind of lose your leverage from a negotiating standpoint so you hope you're dealing with someone who gets it and wants to work with NFL teams. It's definitely a little more stressful situation because a lot of these hotels get booked up six months to a year in advance and we're dealing with, in this case, a week to two weeks to find 150 hotel rooms, an airplane, buses and everything that goes into moving a team."
The possible pool of hotels is already somewhat limited, especially on a quick turnaround. Unlike some other professional teams, NFL teams require a number of meeting rooms for meals, position group meetings and a training room. They also need to help with the team's meal needs, while providing a level of security and accessibility to the buses for arrival and departure.
Porter already had an option lined up for staying downtown in New Orleans, in a hotel that Carolina last stayed in during the 2015 season. He was able to secure that pretty quickly.
The team's flight was a little bit harder.
"Air travel has become a bigger issue for all professional sports, not just the NFL," Porter said. "We work with American Airlines and they do a great job for us, but this week was a little touch and go. We were finally able to get a deal struck and got the airplane nearer to the middle of the week. But that was, I'll say, a little bit stressful."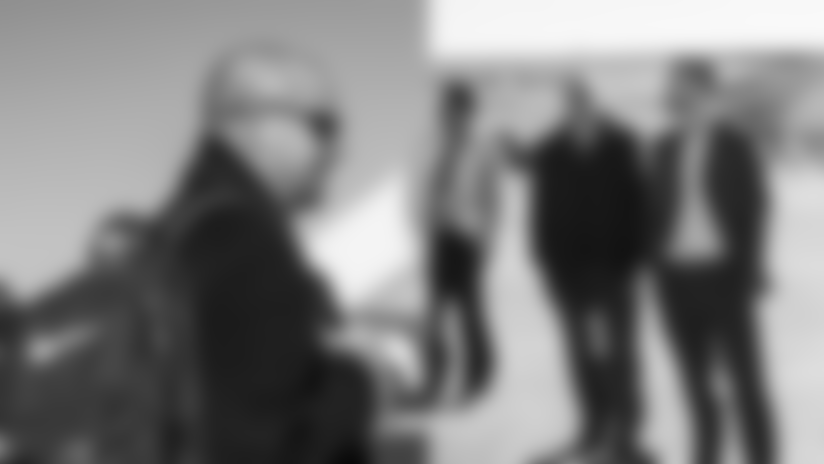 As the week progressed, Porter stayed in town to handle any logistical issues that could occur in Charlotte, while Mike Anderson, the team's assistant director of operations, hit the road.
"On Thursdays, I'll fly down there, meet with the hotel, go to the stadium, make contact with the airport, bus company and the police escort," Anderson said. "I just make sure everyone is on the same page with what our weekend will look like and what it will consist of." Anderson is known as the team's "advance guy."
It's a role that Porter played for 10 years before he became the Director of Operations. A successful advancer requires organization and quite a bit of patience.
"It's constant communication with other parties," Anderson said. "When the team finally arrives on Saturday, I'm depending on other people to make me look good. These things are out of my control at the airport. You can communicate with them and tell them here's what we need, but I can't do it all without their help. It's constant communication. When we leave the airport I'm in touch with the hotel so they can prepare for our arrival. When we get to the hotel, hopefully we can get the guys up to their rooms quickly – 10 minutes hopefully."
Moving 130 people and equipment and luggage down to New Orleans takes coordination, but this playoff trip will largely feel nearly identical to every other trip this season. That's by design. Consistency is key and so is familiarity and repetition on the road.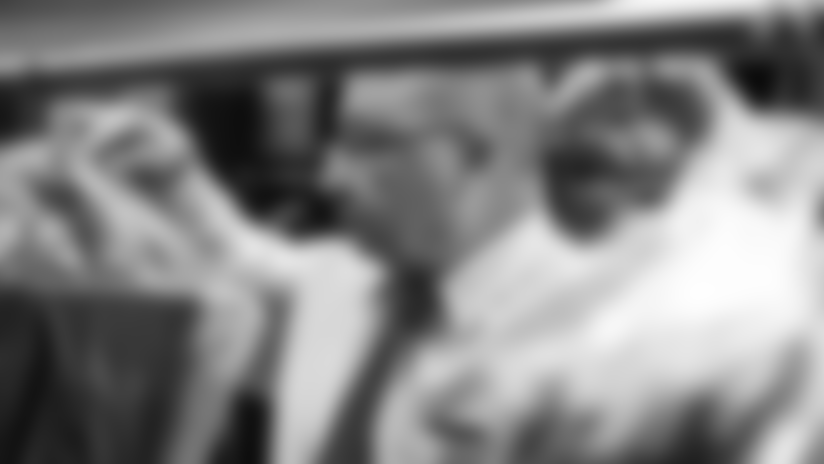 A large cog in keeping consistency also lands on the Panthers equipment staff, headed by longtime Equipment Manager Jackie Miles.
Miles and his staff presumably had a lighter week ahead of them with a trip inside the dome rather than potentially variable weather in Los Angeles.
However, weather at home threw a bit of a wrench into the week's equipment preparation. Highs in the 30s moved practice from the team's nearby practice fields onto the stadium field.
"My assistants Don Toner and Greg Almond did a great job of getting the guys prepared for practice this week with all of the changes in the weather and getting our cold gear going," Miles said. "We broke out our destroyer cleats this week which you use when the ground is pretty frozen. We haven't used those in quite some time."
While practice preparation was ongoing, the equipment staff essentially kept the travel bags near at hand for most of the week.
"We went from unpacking on Monday to repacking stuff from Tuesday on through Friday," Miles said. "Since we are going from one dome to another, it's fairly easy with the same equipment. There's essentially just one pair of shoes that you wear in the dome rather than all the variations you might have outside in the cold."
While they may save some space on the shoes, there's still quite a lot of stuff that gets packed. Miles estimates 10,000 pounds of equipment was sent on an advance truck that left on Thursday. Then there's another 6,000 pounds of equipment that was loaded onto the team's flight on Saturday.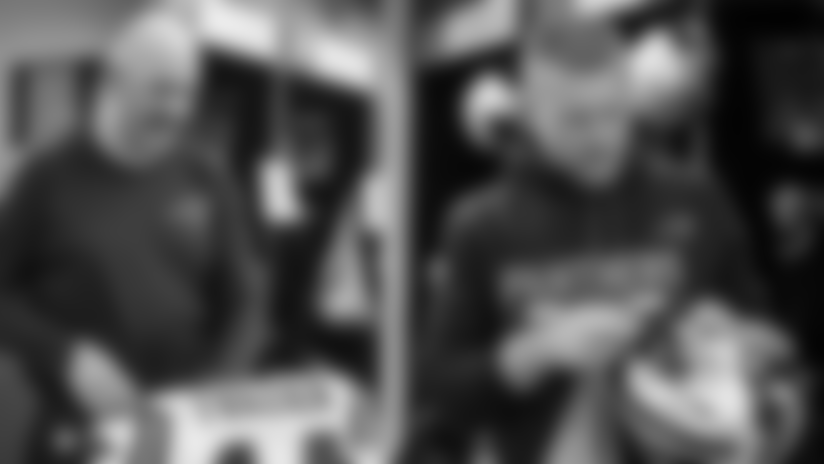 When the team landed in New Orleans, the gear and equipment were loaded onto another truck to go straight to the Superdome while the team went to the hotel.
Along with Miles, Toner and Almond, staff members Danny O'Toole, Austin Bergstrom, Jonathan Fields, Greylin Cleary and Bug Rivera teamed with local clubhouse managers to spend part of the evening setting up lockers for players and staff, hanging up clothes and setting out shoes and helmets and pads. They also set up the equipment for the sideline and coaching areas.
The Panthers will wear their white uniforms on Sunday, each one meticulously cleaned and taped onto shoulder pads before the team even leaves Charlotte. But Miles and his staff have backups for everything.
"I have three backup uniforms for the quarterbacks, kickers and wide receivers and two sets of uniforms for everybody else," Miles said. "That's in case something tears and we have to switch. And that's rare. But we essentially pack backups on backups for everything that the team might need."
An NFL road trip is an exercise in logistics. From the flight to the hotel to the buses to security and equipment and everything in between, the trip requires meticulous attention to detail and constant communication. The Panthers staff is top-notch in replicating a trip experience that feels streamlined and consistent every week. Because at the end of the day, it's all about preparing for 60 minutes of success on the field.
View photos of the Panthers' equipment team as they prepare to move the team to New Orleans for the wild card playoff game against the Saints.