SPARTANBURG, S.C. – Panthers head coach Ron Rivera is hoping the Buffalo Bills put their best foot forward in Carolina's preseason opener Friday so that he can get a foothold on where some of his team's key position battles stand.
"We've got three positions we really have to find out about – offensive line, wide receiver and defensive back," Rivera said. "I'm hoping we get a good dose of their good pass rushers and wide receivers and defensive backs. That's the only way to really and truly evaluate."
Rivera said that Byron Bell, the Panthers' starting right tackle the past three seasons, will start at left tackle as Carolina works to replace staple Jordan Gross. Bell and Nate Chandler, expected to start at right tackle, are considered the early leaders for that spot and are looking to secure starting jobs on either side of the line with veteran Garry Williams in the mix as well.
Amini Silatolu, who missed the final 11 games last season with a knee injury, will start at left guard despite missing practice Thursday. Wide receiver and return man Kealoha Pilares, also coming off knee surgery, sat out Thursday's practice but should play Friday.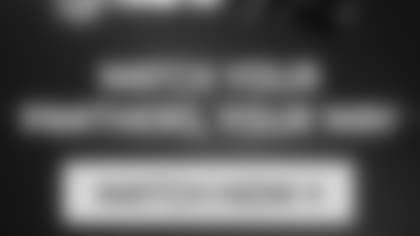 ](http://now.nfl.com?icampaign=rospanthersnflnowarticleembed200x150launch&cvosrc=ros.nflnow.launch_articleembed200x150)"Those are two guys coming back from knee surgeries, and they were a little worn out yesterday so we gave them rest today," Rivera said. "They were in the meetings and walkthrough, so they should be fine."
Rivera ruled out defensive end Charles Johnson (hamstring) and safety Roman Harper (toe) for the Bills game after they again sat out practice. Rivera said that Frank Alexander, who will sit out the first four games of the regular season for violating the NFL policy and program for substances of abuse, will start in Johnson's spot.
"Frank has earned it," Rivera said. "Frank has gotten an opportunity, and he has grabbed it.
"When I talked to the whole group yesterday about being consistent, he's guy that has practiced very consistent."
The Panthers aren't sure if kicker Graham Gano will be able to play against the Bills because of a sore back, but Jordan Gay is ready to fill in. Gay, in training camp with the Panthers for the second consecutive season, is officially listed as a punter behind Brad Nortman but also handled placekicking duties at Centre College for three seasons.
"Graham might have overdone it a couple of days ago, so he's a little bit tender," Rivera said. "If we have to hold him out, Gay will take all the kicks, and he'll get to punt as well."
The preseason is all about opportunities for not-yet-established players like Gay, a message Rivera hammered home to the team's rookies at the end of Carolina's final practice before its first game.
"I talked to them about their opportunities," Rivera said. "I said, 'Today, a bunch of you guys looked like you were tight. Part of that is not knowing what to expect, and part of it is probably being concerned about whether you know what you need to know.'
"I told them the best thing they could do was continue to study and prepare. If you're prepared, you'll play a lot more relaxed."