CHARLOTTE – Kelvin Benjamin's smile on the first day of offseason workouts said it all.
"It felt good to be back out with the guys running around with the team," Benjamin said. "I had fun."
After spending a year tucked away in the training room rehabbing his surgically repaired knee, Benjamin was working right alongside his teammates as they began training for the 2016 season.
"I think it was a good first day for him to finally not be working out by himself," tight end Greg Olsen said. "I can only imagine it's been a lonely six, seven months for him. Rehabbing during the season can be mentally exhausting. Hats off to him. He's had a great attitude. He's been here all offseason working hard. He looks great.
"It's almost like we got another pick this year – to get a young guy like that who had such success his rookie year, to add him to a mix of guys who played well last year is pretty exciting."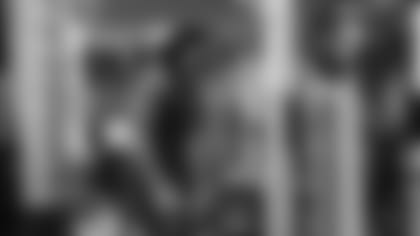 The Panthers' No. 1 wide receiver is eager to make a difference on the field, something he couldn't do when Carolina advanced all the way to Super Bowl 50.
"The guys had a great run, and we came up short. It sucked," Benjamin said. "I wish I could have been out there. But the reality is I had to sit on the sideline and watch. Like I said, we have to piggyback on what we did last season and get back this season."
Benjamin is still limited as he works back to full strength, and while he admits he's counting down the days to training camp, he's learned the importance of patience through this process.
"We have time – so why rush it?" Benjamin said. "I am coming back off an injury, so I just want to get back out there and get the pace of the offense again and get real comfortable with the plays. They did a lot of things different last year than my first year. I just want to get back out and get into the offense."
Like the rest of us, Benjamin can't help but start thinking about the ways in which he'll help the league's top scoring offense from 2015.
"Oh definitely, add me to the mix, and I live in the red zone – that's my playground," said Benjamin, who recorded nine touchdowns as a rookie in 2014. "Like I said, like Coach (Ron Rivera) said, we don't want to because I'm coming back, put more on me. It's a team effort, and we will spread the ball around. I think that really played a big role last year."
View photos of Panthers players as they take part in strength training workout.