CHARLOTTE – One moment you're arguably the best player in training camp, making eye-popping catches left and right.
The next, you're carted off the field, listening to doctors explain the surgery you'll soon undergo that will repair a torn anterior cruciate ligament in your left knee.
Football isn't always fair. Life isn't always fair.
Kelvin Benjamin had never missed significant time due to injury. The massive wide receiver had never needed assistance to leave a football field.
That all changed during the next-to-last training camp practice, when Benjamin collapsed in a heap during a non-contact one-on-one drill.
"At first I just kept thinking, 'Dang, what did I do to deserve this?' What did I do to deserve this?'" Benjamin said. "I was really just down."
Benjamin was putting on a show in his second camp. After hamstring issues during offseason training activities prompted questions about his weight, he arrived at Wofford College in the best shape of his life.
"He took that to heart and he came to training camp in great condition," head athletic trainer Ryan Vermillion said. "Of the wide receivers, he was probably in the best condition.
"He went home and busted his tail to make sure he was ready to go when he came back."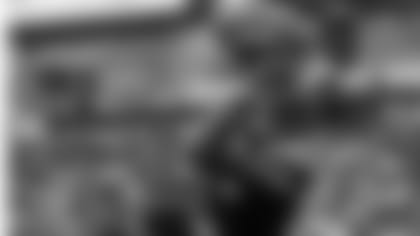 Benjamin was seeing the fruits of his labor. Carolina's No.1 wide receiver couldn't be stopped. Veteran Jerricho Cotchery was so impressed with Benjamin's sharp mental focus at practice, he and the other wideouts started referring to Benjamin as the lead dog.
In the preseason opener at Buffalo, he reached up high for a short touchdown catch that looked like the first of many to come.
It can all be taken away so quickly.
"Start all over basically," Benjamin said.
For a 24-year-old getting ready to play a huge role for a two-time defending division champion, that reality is difficult to accept.
"It was hard on him – all that work he had done," Vermillion said. "That feeling is normal and natural."
Instead of attacking defenses, Benjamin is now tasked with attacking his rehabilitation. The surgery was performed four weeks ago, and that process has begun.
"I didn't stay down long," Benjamin said. "I've been through so much in my life, you can't stay down. You have to live through it. There is somebody out there in the world going through worse."
It's all about small steps in this humbling, challenging process. Benjamin works right alongside fellow wide receiver Stephen Hill, who also suffered a major knee injury during training camp.
"They can draw on each other for strength," Vermillion said. "They are not alone. I have them both come in at the same time every morning. They do a lot of the same things."
Benjamin is still using crutches for a couple more weeks, but once he gets off the crutches, Vermillion believes the rehab will really start to pick up.
Benjamin recently returned to the weight room for the first time for some light upper body work.
"It felt real good to be back in there," Benjamin said. "The rehab is going pretty good."
Step by step, Benjamin is getting more comfortable and building strength.
"I talk about next season," Vermillion said. "I don't tell them a specific date when they'll be sprinting, when they'll be making cuts. This far out, I don't do that. But we focus on being in the lineup for the opener next year.
"Time heals all wounds. Time will heal this."
And Benjamin will be back.