CHARLOTTE – If anyone had forgotten about cornerback Bene Benwikere while he nursed a hamstring injury during organized team activities, he reminded everyone of his playmaking potential on the first day of minicamp on the very first play of team drills. Quarterback Cam Newton reared back and fired a pass to his left for wide receiver Kelvin Benjamin, but he didn't see Benwikere lurking in the throwing lane. The second-year cornerback reached up with one-hand to pick off the pass and his teammates erupted.
"Cam put a good ball out there – Bene just went up and made a play," head coach Ron Rivera said. "It was a nice read, great technique, hinged into his drop and was right in the throwing lane."
It was a play that encapsulates Benwikere's growth in the Panthers' system. The coaching staff hopes to see more plays on the ball from Benwikere. They know he has that ability. But in order to make those plays, Benwikere needs to understand where he needs to be and what his responsibilities are in coverage.
"What he did on that play is a great example of his abilities and his understanding of what's going on," Rivera said.
It's what coaches hope to see when players enter their second season.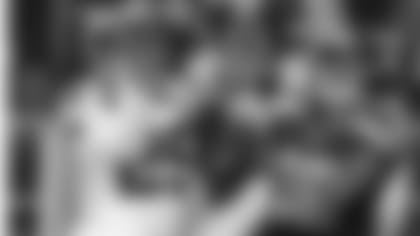 "I feel more comfortable and I'll be able to play faster," Benwikere said. "When Luke (Kuechly) or TD (Thomas Davis) or Roman (Harper) communicate with me on the field, I understand what they are saying. I don't have to process it first and then go from there. It's becoming second nature. I'm talking and pointing something out sometimes before they are doing it."
Benwikere's recall of Tuesday's one-handed interception sheds some light on his progress.
"The offense gave us a freaky formation and me and Roman Harper were unsure what to do, but we talked through it," Benwikere, who was lined up at nickel, explained. "I decided to take the receiver and leave him on the tight end. My receiver flared out to the backfield, and our coaches preach not covering a dead weight. He was behind the line of scrimmage, so I played deep to short.
"It's a high-low combination," Rivera added. "Cam saw Bene going out to the flat so he thought he had the high (read)."
But he didn't. Benwikere dropped into the perfect spot and made him pay.
"He's done a nice job," Rivera said. "He's come back off that hamstring tweak and shown what he can do."
Rivera said Benwikere is the team's first option at nickel, but he'll compete with veteran free-agent acquisition Charles Tillman for a starting spot in the base defense.
"For me, I look at (myself) as being an every down guy," Benwikere said. "That's what training camp is for. I'm going out there with the intention to practice at outside corner and rotate inside when they bring in somebody to play corner. Everybody is battling for a spot."
Benwikere battled an ankle injury that limited him to 10 games with six starts and one interception as a rookie. But if he can stay healthy, the former fifth-round pick feels more big plays are going to come.
"Last year, there were a lot of bullets coming at me," Benwikere said. "I was just getting in the flow of things and letting other guys create opportunities.
"But I know now that I can create those opportunities."
INJURY UPDATES: Defensive ends Charles Johnson and Frank Alexander missed practice with groin injuries. Rivera said both could possibly return by the end of week.
Cornerbacks Teddy Williams and Garry Peters remain out with hamstring injuries.
Guard Tyronne Green suffered a right leg injury and was carted off the practice field.