CHARLOTTE – Last year, when wide receiver Corey Brown arrived at Bank of America Stadium for the first time as an undrafted rookie, he seemed a bit agitated.
He was getting fitted for equipment with the other undrafted rookies, and it was obvious he didn't feel he belonged with that group.
He firmly believed he should have been drafted. So, from the moment he arrived, he played like he was. He acted like he was a high draft pick, too – full of confidence with a bit of swagger. He knew he belonged, and he proved it.
Brown played in 13 games with three starts as a rookie, recording 21 catches for 296 yards and two touchdowns.
His speed became a critical piece of the Panthers offense, so much so that Brown's emergence forced veteran wide receiver Jason Avant out of the equation.
During this year's offseason program, we saw more of what we saw at the end of last season – Brown getting behind the defense and quarterback Cam Newton launching passes into his waiting hands.
"We are definitely picking up where we left off last year," Brown said. "We have a good relationship off the field, and you can tell that on the field with the way we're clicking.
"He trusts me," Brown added, "and I trust him."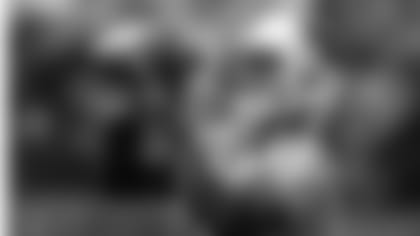 And with that trust established, Brown's game has expanded. He's improved his intermediate route running and has been crisper in and out of his breaks. Veteran tight end Greg Olsen has taken notice.
"Last year at this time, Corey was a guy where we said, 'Wow, he's fast.' This year he is a receiver," Olsen said. "The guy can play. He's not just a one-trick pony, a guy who is just going to run deep. He has a lot of natural instinct to him. He has a good feel."
Brown's instincts fueled his offseason plan. As an undersized wideout, he knew he needed to get bigger and stronger to maintain an NFL career.
"I worked on gaining weight and keeping that weight," said Brown, who now weighs 185 pounds, up from 180 last year.
But for speedy players with a slender build like Brown's, the questions become how much can be gained and how much should be gained.
"It's about getting enough lean muscle mass so you are able to absorb the punishment," strength and conditioning coach Joe Kenn explained. "He had to gain (weight). He can carry mid-180s consistently and not have any detriment."
And he can add that weight without losing speed. In fact, he's faster.
"Which means he's gotten stronger," Kenn said. "He's a conscientious kid. The weight he's put on is quality muscle mass. That's what you want."
Like Brown, the Carolina receiving corps got bigger and better this offseason. Devin Funchess was drafted in the second round, speedy veteran Ted Ginn, Jr. returned after spending a year with the Arizona Cardinals, and Jarrett Boykin joined the team after three seasons in Green Bay.
"This whole group is really, really good," Brown said.
Competition will make it even better, and Brown understands that. Since he arrived in Carolina he's been full of confidence, steadfast in his belief he belonged on the field.
The stronger, faster, more polished version of Brown is eager to prove it once again.
"I can't control who they bring in or what they do," Brown said. "I can only control what I do on the field and leave them no choice but to play me."