CHARLOTTE – It's usually best to avoid reading comments. But the reaction to a couple of Instagram posts featuring Christian McCaffrey this offseason has been rather entertaining.
Which led to stuff like this:
izeekiel Is it just me or did he get alot more massive over the offseason
jay_does_ things Somebody found the weight room...
luvnhair08 Somebody's been eating their spinach!!! #popeyetherunningback
McCaffrey, though, doesn't get the commotion.
"Everybody's acting like I was tiny last year and now I've had this big growth," he said after the Panthers wrapped up their first week of OTAs. "It's not like I've transformed."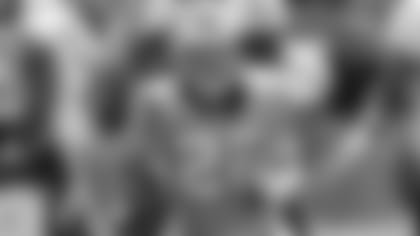 But McCaffrey has added some bulk to the 203-pound frame he played in last season.
"I've gained about five pounds of good muscle," he said. 
And not just in his arms. 
"My core strength, my upper body strength and my lower body," McCaffrey continued, "I'm just trying to increase all those. Make sure I can break tackles in the second level and be able to turn those three-, four-yard runs into some bigger runs." 
Not surprisingly, McCaffrey found more success in space than he did between the tackles as a rookie. According to Football Outsiders, he broke 27 tackles on receptions, tied for fourth-most in the league. But as a runner, McCaffrey tied for 36th with only 20 broken tackles, and his 3.7 yards per carry ranked 32nd among backs with at least 100 attempts. 
That's a big reason why his highly regimented training program this offseason zeroed in on strength. 
"It's not like I've found some secret sauce that's going to make me break tackles. It's really just continuing to train and continuing to get better in every area and eventually that stuff will come," McCaffrey said. "It's nothing I haven't been doing. It's just continuing to work."
There has been one difference, though. Beginning with the week and a half McCaffrey spent away from any training immediately after the playoff loss in New Orleans, this has been the most laid-back spring he's had since high school. It just looks look like he's lived the past few months in the gym.
"I think I rested more, and that's something I really have to teach myself to do is not overwork myself," McCaffrey said. "That's definitely tough, but I've learned over the years that the more I rest, the better I feel, and the faster I am."
But speaking of speed, how much bigger can McCaffrey get without sacrificing his most essential trait?
"We'll see. I just want to play where I feel fastest, where I feel most explosive, where I feel most comfortable," he said. "I don't want to be too heavy or too light. I just go off comfort. If I grow, I grow. 
"I think I'm definitely still growing. I'm 21 still, so hopefully, as I get older and older, I'll continue to grow physically and mentally."
That's right, McCaffrey is still just 21. That number will increase by one next Thursday, but including this year's rookies, he's the sixth youngest player on the Panthers' roster. So he has plenty of time to continue lighting up comment sections.  
tre.comm Did CMC eat CMC? Dude's twice as big. #ripped
jamison357 Damn @run__cmc done got them curls for the girls going nuts in the off-season!!! 
thestaroftheshow_ Excuse me @run__cmc don't you need a permit to carry those guns?
"I just got 'em out, I guess. I don't know. It might be a tan, I'm not sure," McCaffrey said of his arms before pivoting to a very McCaffrey finishing line. 
"I'm just trying to win games."