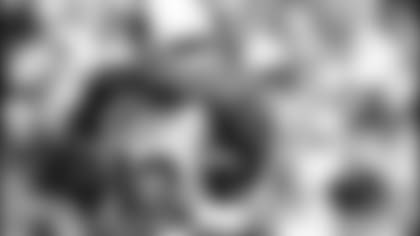 Kurt Warner is crucial to Arizona's efforts, but the Cardinals' work on theground last week helped create balance, which adds a dangerousdimension to the Cardinals' offense. (PHOTO: KENT SMITH)*
CHARLOTTE -- Flying footballs defined the Arizona Cardinals' existence for most of the season.
Onoffense, the Kurt Warner-led passing offense ranked second in theleague, as Warner threw for an average of 286.4 yards per game, a pacethat would have been good enough to lead the league in all but 11 ofits 89 seasons -- including this year, since New Orleans' Drew Breescame within 16 yards of the all-time single-season yardage record.
Ondefense, Arizona finished 22nd against the pass, allowing opponents toamass 221.3 yards per game through the air.  But they allowed moretouchdown passes than any other -- 36, nine more than the next-highesttally permitted by the New England Patriots -- and were singed for 17scoring passes in their final six regular season games -- an average of2.8 per contest.
Everything changed last Saturday againstAtlanta, as the Cardinals out-ran a Falcons ground game that had beenin the league's elite throughout the season, and then held Atlantaquarterback Matt Ryan to 199 yards and forced two interceptions.
"This team has grown since the last time we've seen them," said Panthers defensive tackle Damione Lewis.
Tobe certain, the Cardinals meandered down a frustrating cul-de-sac ortwo during the nine games that followed their 27-23 loss to Carolina atBank of America Stadium on Oct. 26.  But one can't quibble with wherethey find themselves after their wild-card win last week.
Anoffense that had relied heavily on the pass -- its season-long pass-runratio was nearly two-to-one, with 658 pass plays against 340 rushes --decided to turn to the ground attack on its second possession, withWarner handing off to Edgerrin James on three consecutive plays,softening the defense and setting up a 42-yard touchdown strike toLarry Fitzgerald.
The 28 rushes against Atlanta were the most forthe Cardinals since Nov. 2, and more than twice as many as theyaveraged in the six games leading into the playoffs, when they ran theball 14.7 times for 51.5 yards per contest.
"To keep teamsoff-balance and to keep them guessing and to be able to attack adefense with what they're giving you, I think it's instrumental,"Warner said. "Most good teams and great teams that have been in thisleague have had the ability to take advantage of what a defense givesthem. That becomes so important, especially at playoff time. I thinkit's extremely important for us."
The biggest individual difference last week was the return to prominence of Edgerrin James.
InWeeks 12-16, James only carried five times for 18 yards, as runningduties were ceded to rookie Tim Hightower -- who handled goal-line workfor the Cardinals in Week 8 at Carolina -- and J.J. Arrington.  ButJames stepped back into the spotlight in the regular-season finaleagainst Seattle, and sprinted through the Seahawks for 100 yards ononly 14 carries.
Six days later against the Falcons, his threeconsecutive carries burst him forward for a 73-yard day.  Hightoweradded 23 yards on six carries and scored a touchdown, and the Cardinalshad the offensive balance that had proven so elusive for much of theregular season.
"One thing he'll probably say is that (James) isfresh, because they haven't run him (in the second half of theseason)," said linebacker Jon Beason. "He's used to taking a pounding. So we'll look for them to run the ball."
And that, in turn, openshorizons for the Cardinals' powerful passing game, as was the case lastweek when James' runs set up the Warner-to-Fitzgerald strike.
"Itgets to be difficult when you are throwing it a number of times andguys can get a beat on you with the pass rush. So that helped us," saidCardinals head coach Ken Whisenhunt. "It also opened up some things inthe play action game for us. That is something that we said we wantedto work on at the end of the season and we have done it a little bitbetter here at the end."
And that means the Cardinals are cresting as they come to Charlotte for their first divisional playoff game in a decade.