SPARTANBURG, S.C. – Counting out Chase Blackburn is a mistake that's been made by many during his nine years in the NFL.
It'd be foolish to count him out again as he competes with A.J. Klein to start at strongside linebacker in 2014.
"Chase is a warrior. He's a great leader. He's a smart player, and I'm very confident in Chase," linebackers coach Al Holcomb said. "He still brings a lot to the table for our defense."
The Blackburn battling for that starting job in training camp is not the same player we witnessed at the end of last season.
Blackburn was off to a great start in 2013, fitting in nicely alongside Luke Kuechly and Thomas Davis in his first season with Carolina. But he suffered a foot injury in the Week 10 victory over the San Francisco 49ers, and as a result, missed the next three games.
Blackburn fought through the pain to return to the lineup in Week 14, but the pain in his foot limited him significantly. All told, he finished the season with 28 tackles in 13 games with seven starts.
"It was nagging throughout the whole year. It was one of those things that just wouldn't go away," Blackburn said. "On offense you can plan your steps out. You can plan which foot you are going to plant with and how you are going to react. On defense, you are in a back pedal and you have to come out and break on a running back that's coming at you. You can't plant on the opposite foot. It's just the natural reaction of playing football, and it kept getting worse and worse."[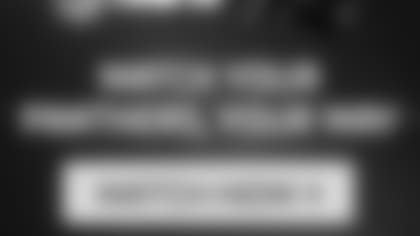 ](http://now.nfl.com?icampaign=rospanthersnflnowarticleembed200x150launch&cvosrc=ros.nflnow.launch_articleembed200x150)
In the offseason, Blackburn was devoted to making sure his foot healed completely.
"That was my main goal this offseason – to make sure my foot was feeling right," he said. "A lot of treatment, a lot of rehab. Rest. It took a long period of time."
But his foot finally healed, and Blackburn has been full-speed ahead on the practice field. He's had to be with Klein, who performed well in Blackburn's absence last season, pushing for more playing time.
Said Holcomb: "It is a great battle. They sit next to each other in the meeting room. They are competitors, but they help each other. They're friends."
It's the kind of position battle Blackburn has gotten used to during his career, and he embraces the challenge.
"I am not taking a vet day. I'm not doing any of that. I'm taking every rep I can," Blackburn said. "Any time you get competition it helps. You never feel like you can lull or slack or not run to the ball. When it's that situation where it is me and A.J., every rep matters."
Blackburn may be in the midst of a heated competition, but he is committed to helping Klein and the defense any way he can – even if it means helping the promising young linebacker who is fighting for the same job.
"You're teammates first. The way I look at it, we are going to compete," Blackburn explained. "I've been in training camp battles, I've been in position battles, I've had draft picks come in behind me. That's just the way it is. It's part of the NFL.
"I'm going to teach him everything I can, because I want our team to be the best. If it is him that is in there and that's the best thing for our team, then he needs to be prepared in every aspect. If he's going to be the guy he needs to be ready."