CHARLOTTE – At the time, linebacker Chase Blackburn couldn't fathom a reason why he wasn't employed by an NFL team.
But in time, Blackburn came to call his time away from football in 2011 his "season for a reason."
And now Blackburn, who has spent his entire eight-year pro career in a New York Giants uniform, sees that there's a reason he's now wearing Carolina Panthers blue.
"I came here because I feel like we have an opportunity to win, because I feel like this team is headed in the right direction," Blackburn said. "At the end of the season with the way these guys played and how they responded after a rough start, that said a lot to me when I hit the free agency market.
"I've won two championships; I want to win more."
Blackburn's second Super Bowl ring seemed even more unlikely than his first one, and that's saying something. His first one came at the end of the 2007 season, when the Giants eked into the playoffs, won a trio of road games and then stunned a previously undefeated New England Patriots team in Super Bowl XLII.
The Giants' path to victory over the Patriots in Super Bowl XLVI following the 2011 regular season also defied the odds, especially for Blackburn. With six games remaining in the regular season, he wasn't even on the roster.
"I had led the team in special teams tackles six straight years and had been a Pro Bowl alternate, so honestly it didn't even cross my mind. But the way the lockout unfolded with rookies and everybody hitting free agency at the same time, it just didn't work out," Blackburn said. "Then I saw a couple of guys get picked up, and I thought, 'OK, here we go,' but then nothing happened. It was stressful, but the Bible group at our church called it my 'season for a reason' because our second son was born November 1, and I got to be home for that.
"I ended up getting picked up by the Giants a month after he was born, which was just perfect, and I was fresh at the end of the year and was starting. It was hard watching games, but when I got back, it was like I was never gone."
Blackburn, in fact, took over as starting middle linebacker shortly after his return and made one of the most pivotal plays of the Super Bowl, an interception of Tom Brady some 50 yards downfield.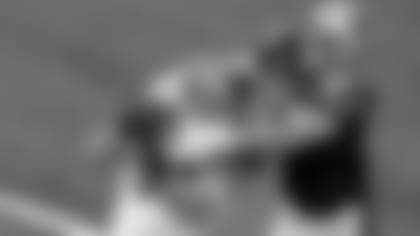 That catapulted Blackburn into beginning the 2012 season as a starter for the first time in his career, and he responded with a career-high 98 tackles and four forced fumbles. Following the season, however, the Giants didn't re-sign him, and now he's a part of the Panthers' loaded linebacker situation.
"It's a fresh beginning, coming down here, and that can be really good," Blackburn said. "It can give you a little bit extra drive. Complacency is the bigger killer of NFL careers. You can be really good but get a little too happy where you are.
"Here, I'm working hard every day to get a spot. If I was in New York, I'd have the mindset that even if I had a bad day, they know what I really can do. Here, you're proving yourself, and you're getting better."
Blackburn has been anything but complacent so far in Carolina. With Jon Beason, Thomas Davis and Luke Kuechly entrenched as starters, Blackburn worked at all three linebacker spots throughout the offseason training program and also spent plenty of time in special teams situations.
"We have a lot of talent, obviously," Blackburn said. "I would love to start – don't get me wrong. I enjoyed that thoroughly the last couple of years, but being out there as a part of special teams is just as big a deal.
"I've started at WILL and started at MIKE in the NFL. I played a little bit of SAM in college and am playing a little bit of it now. Playing all three positions helps you at each position because you understand where guys are. I want to get the comfort level up and just be as versatile as I can."
Panthers head coach Ron Rivera has been impressed by Blackburn's versatility, and first-year general manager Dave Gettleman has been impressed, period. Gettleman is no stranger to Blackburn, having worked for the Giants throughout Blackburn's career.
"He's one of those guys when you put him between the white lines," Gettleman said, "you understand why he's been in the league for nine years."