CHAPEL HILL – This time last year, Carolina Panthers offensive lineman Travis Bond was North Carolina Tar Heels offensive lineman Travis Bond.
Decked out in a long sleeve T-shirt emblazoned with "Carolina" and the NFL logo across his chest, Bond took part in North Carolina's pro day last March. This March, he took in pro day as a spectator, on hand to support some of his former Tar Heel teammates.
"The biggest thing I told them was when it comes to your position specifics, it's going to be very intense and non-stop," Bond said. "Now you don't have 30 guys in your group like at the combine. With me, it was three. It was very intense, very high-tempo, and we went for about an hour-and-a-half. It was very tough."
But Bond survived the gauntlet and made a positive impression, one that put him in position to have his name called during the 2013 NFL Draft. The Minnesota Vikings selected him in the seventh round, and he spent the first 10 weeks of the season on the Vikings' practice squad before the Panthers signed the North Carolina native to their active roster.
"I got an opportunity to come back to North Carolina, so I took it," Bond said. "Now I've got a great opportunity this upcoming year with the Panthers."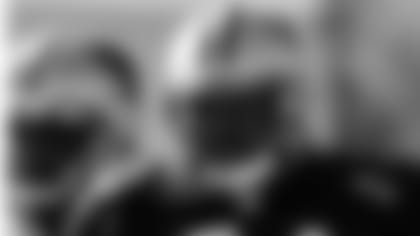 Like the dozen or so Tar Heels that fought through less-than-ideal weather conditions Tuesday, Bond arrived at his pro day intent on improving his chances of landing an NFL job. The 6-7, 330-pounder's two years as a college starter paved the way, then he closed the deal first with his showing at the NFL Scouting Combine last February and then with his pro day performance.
"The pressure with the combine was that everybody was there. There were a lot of people at the pro day, but at the combine, everybody was there," Bond said. "There was more pressure, more eyes on you, and you're competing with guys from all over the country to get this great job.
"The combine and pro day are similar, but there's less pressure at your pro day. You're more in your comfort zone with friends and family there as opposed to the combine, where everybody is a stranger. Some guys perform better when they're home."
Bond returned to his college home Tuesday as a big man on campus, as an example to the prospects that all the sweat can pay off. That's not to say that Bond is in any position to take it easy. He's among 14 offensive linemen currently on the Panthers' roster – a number that will likely grow through the draft, free agency or both - that will be competing to keep their roster spots throughout the offseason.
One thing Bond has going for him is versatility. Twenty-five of his 29 college starts were at guard, and all were on the right side of the line. But the Panthers brought him in believing he could help shore up the team's depth at left tackle behind veteran Jordan Gross.
Gross retired last month after 11 standout seasons.
"He was a great player. He made me compete even harder, helped me get a chip on my shoulder to try to do what he has done," Bond said. "When I first came to the Panthers, I was thinking I'd be playing guard. But the first day that I came to practice, they tell me, 'You're playing left tackle.' It was an eye-opener, but the veterans told me that when you come into the NFL, you don't really have a position. You have to be open-minded so that you can go in anywhere.
"Wherever they want me to play, I'm willing to play. I just love playing on the offensive line. That's my calling."
Tuesday, Bond was able to relax and enjoy himself a bit as some of his former college teammates tried to prove that they deserve the chance he already has in hand. But soon, Bond will again be the one trying to prove something.
"My mindset now is to show the coaches that I'm ready, that I can be that guy they can call on when the time comes for the first game in September," Bond said. "I want to hear them say, 'Travis, you're up. It's time to play ball.'
"My mindset is to attack every day with all I've got."