CHARLOTTE – Coming off a strong finish to his rookie season, it looked like a starting safety spot was Tre Boston's to lose.
That's exactly what happened, but Boston is determined to not let history repeat itself.
"It's my spot. I need that to be known around here," Boston said. "The coaches know that, and they see it in me. They see the leadership, see the guy who is out there making the calls for our defense.
"I want to make when this year comes around that there's not even a doubt who the starters are."
Late in the 2014 season, Boston took over for Thomas DeCoud in the starting lineup, teaming with veteran safety Roman Harper to help the Panthers win their final four games and repeat as NFC South champions. Both Boston and Harper returned interceptions for touchdowns in a season-ending romp at Atlanta that earned the Panthers a playoff berth. A week later, Boston picked off a pass in the end zone to seal the franchise's first playoff victory in nine years.
It was assumed Boston and Harper would pick up where they left off in 2015, and that perception didn't change much last March when the Panthers signed safety Kurt Coleman, who had started three games the previous two seasons.
But things soon turned when Coleman started turning heads.
"Kurt came in and had a phenomenal training camp. I didn't have a bad one – even the coaches can tell you I was up on the production charts – but Kurt played his butt off," Boston said. "He deserved the role. That put me in the back seat again, learning from the vets. It wasn't a bad spot, but it wasn't where I would like to be."
Coleman flourished as a starter, setting the franchise record for interceptions by a safety with seven – the second-most in team history regardless of position. He added two more interceptions in the postseason.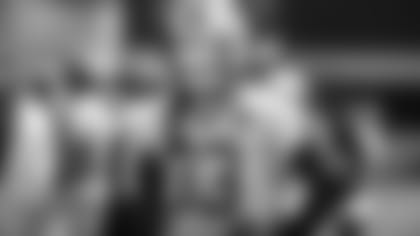 Boston played well as a reserve, often subbing in for Harper and teaming with Coleman. Now with Harper no longer on the team, Boston is in position to make it a permanent assignment alongside Coleman.
"That's my guy. He's a great guy to be out there with," Boston said. "I almost feel like we're the same guy when we're out there. We're elusive guys, guys who will hit, guys who can fly around and make plays.
"Me and Kurt, when we're out there, it's kind of like having twins out there – we just don't look it. We do a great job of communicating with each other."
Boston was the Panthers' fourth-round draft pick in 2014 out of the University of North Carolina, where he ranks third in school history with 13 interceptions. In addition to leading the Tar Heels in interceptions three times, he twice led the team in tackles.
After a preseason injury sidelined him the first five games of his rookie year, Boston became a bigger contributor as the season wore on. This year, new competition comes in the form of free agent acquisition Trenton Robinson – who started seven games for Washington last season – but Boston is bound and determined to stave off all comers this offseason.
"I wanted to be a starter last year, especially coming off the rookie season I had. I think I got a little complacent and didn't go as hard as I should have," Boston said. "I'm happy now that I'm able to get that spot again."
View photos from the second week of Carolina's organized team activities.