CHARLOTTE – For weeks, defensive coordinator Sean McDermott has spoken about the improved play of the Panthers defense.
The unit was playing well, but they weren't being rewarded with wins. That changed Sunday when Carolina dominated the Saints and earned a 41-10 victory in New Orleans.
"It may not have shown always on the scoreboard the last five or six weeks, but I've mentioned it – I think we are playing good ball," McDermott said. "It's a credit to the players. We've made some personnel moves, and so far I think they've worked out."
Everything worked out for Carolina in New Orleans.
The Panthers forced two turnovers on the Saints' first three plays and limited the league's third-ranked offense to 310 total yards, including just 84 in the first half. New Orleans converted just 5-of-14 third downs, and their lone touchdown came late in the fourth quarter.
"Being able to hold that operation to what we were able to – you don't come across that often," McDermott said. "When you work hard on something it's good to see it come to fruition."
McDermott always says the NFL is a game of contested throws, and the Panthers took that to heart against the Saints. Carolina recorded 11 passes defensed, coming from all three levels of the defense.
The secondary, which knew it was going to be challenged by quarterback Drew Brees and the Saints' explosive passing game, was particularly impressive. Rookie cornerback Bene Benwikere had one interception and two passes defensed, rookie safety Tre Boston had two passes defensed in his second career start and veteran safety Roman Harper finished with a game-high three breakups against his former team.
"They went in there and they were mentally tough. I like where we're going," McDermott said. "It feels good for our players."
It feels good for the coach, too.
---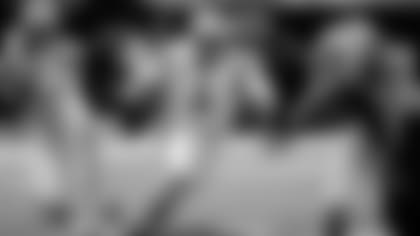 The Panthers didn't win the game on the opening drive, but it sure felt like it afterwards.
Fullback Mike Tolbert reached out to make a juggling catch on the first offensive play, and from there Carolina never looked back. Six plays later, quarterback Cam Newton fired a 9-yard touchdown pass to wide receiver Kelvin Benjamin.
The Panthers overcame the red zone hurdle that had long stood in their way and produced a season-high 41 points and 497 total yards, the third most in franchise history.
"Everybody played better, and we got off to a good start. We got it going right away," offensive coordinator Mike Shula said. "Tolbert makes a really good catch. He makes a good play, and we're off. All of the sudden, we are getting into a rhythm."
Quarterback Cam Newton had one of his best games of the season. He completed 21-of-33 passes for 226 yards and three touchdowns with no interceptions to generate a quarterback rating of 114.0. He also ran 12 times for 83 yards and one touchdown.
"Everybody did a better job and that helped him do his job better," Shula said. "When quarterbacks are playing well the ball is coming out fast and they make good decisions and they are accurate – all of that together."
Shula also credited the work of the offensive line, which has gelled in recent weeks. The run game has prospered as a result. Carolina rushed for 271 yards against the Saints and 178 the week before at Minnesota.
"Playing with the same line two weeks in a row has helped," Shula said. "It's good to see some of these young guys getting better. They are getting better with experience. They can make quicker reactions, which helps the guys in the backfield."
There's a lot for the offense to feel good about after such a dynamic performance, but Shula knows it won't always be that seamless from start to finish.
"Moving forward, it's not going to happen like that all the way," Shula said. "If it doesn't we have to find a way to put plays together."