Following a season opener in which wide receiver Steve Smith recorded the 700th reception of his remarkable career, a reporter asked the 33-year-old how he keeps doing it year after year.
"You know, fountain drinks are for free. But when you go to a nice, fine dining, five-course restaurant, what do you order with your meal?" Smith asked. "Wine. And what's the best wine? Aged."
After digesting Smith's awesome answer, I turned back to the task of analyzing the Panthers' disappointing loss and came up with some food for thought.
So in tribute to Smith, here are some things the Panthers should bottle up for future use and some things they should simply can.
BOTTLE IT
Defense's swagger: After a blocked punt in the fourth quarter set up Tampa Bay 42 yards from the end zone, several members of the Panthers' defense trotted onto the field and motioned for the Buccaneers' fans to make more noise, a sign they didn't feel like they could be denied in their pursuit of making another defensive stand. They were pretty much right. In the second half, the Buccaneers managed more than one first down on a drive just once.
CAN IT
Defense's slow start: The Buccaneers had their fans cheering early on, setting the tone by opening with an 80-yard touchdown drive that ate away more than seven minutes. One big play allowed Tampa Bay's next drive to produce a field goal, and the next one went 90 yards and took nearly nine minutes off the clock before a goal-line stand finally changed the momentum – too late as it turned out.
---
BOTTLE IT
Vertical passing game: Smith continues to be an invaluable vertical threat, and he had company Sunday. Wide receiver Louis Murphy showed why the Panthers traded for him with a remarkable 51-yard reception, and Brandon LaFell continued to show that kind of ability by averaging 21.7 yards on three receptions. The Panthers produced seven pass plays of 20 or more yards.
CAN IT
Running game inefficiency: The long gains in the passing game were nice, but they weren't enough to overcome the running game's inability to even produce short gains that would have put the offense in better down-and-distance situations. Credit Tampa Bay for the Panthers tying a franchise low with 10 rushing yards, but those numbers simply aren't acceptable.
---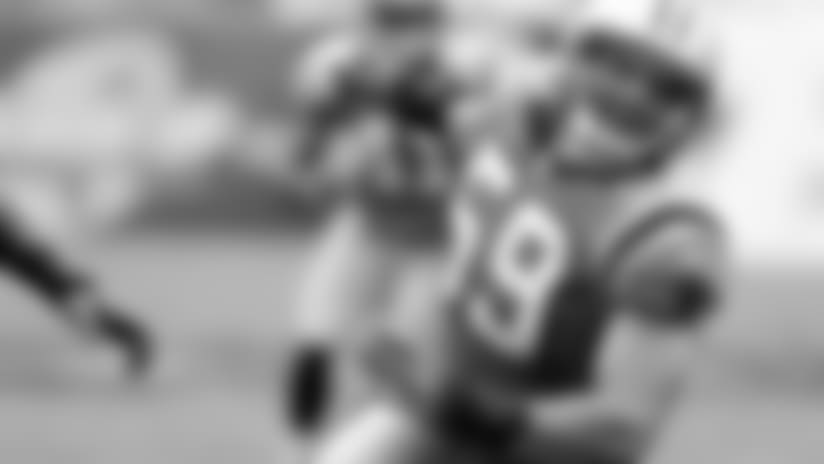 BOTTLE IT
Rookies' potential: Luke Kuechly cleared the way for fellow linebacker Jon Beason to clean up on numerous occasions. Cornerback Josh Norman blanketed receivers at times, and defensive end Frank Alexander batted down two passes. Left guard Amini Silatolu is a physical specimen with unlimited potential.
CAN IT
Rookie mistakes: They're inevitable, but they hurt just the same. Kuechly got burned on Tampa's opening touchdown drive by being too aggressive, and Norman drew a shaky pass interference flag on the Buccaneers' 90-yard field goal drive. Silatolu got flagged once in each half and lost some one-on-one battles.
---
BOTTLE IT
Special teams bumps: Rookie Joe Adams' 21-yard punt return midway through the third quarter was longer than any return all of last season. New acquisition Colin Jones showed off his speed by combining with fellow safety Sherrod Martin for a sweet stop on the second-half kickoff, and Thomas Davis short-circuited a punt return as both coverage units showed immense improvement from the preseason.
CAN IT
Special teams blips: Adams muffed a punt after having trouble fielding a couple of punts in the preseason, and the Buccaneers' punt block was enough to negate most of the positive plays by the units. The block set up a fourth-quarter field goal, just as Captain Munnerlyn's penalty for fair-catch interference did in the first quarter.
---
BOTTLE IT
Attitude: The Panthers to a man know they blew a golden opportunity to start the season strong, and they're now more determined than ever to steer the ship in the right direction.
CAN IT
Outcome: The New Orleans Saints will visit Charlotte on Sunday in much the same boat, but the Panthers must win the battle of wills – and the game. Simply playing with resolve won't resolve the Panthers' situation if they don't come away with a victory.