CHARLOTTE – Looking back after the preseason finale, offensive lineman Brady Christensen can see how far his chemistry with rookie Ikem Ekwonu at the left side of the line has come.
At the same time, there's plenty of room to grow, he said.
"You get to the point where you just know what the other is going to do," Christensen said. "That's what you have to get to. (I) know exactly where he's going to be. He knows exactly where I'm going to be, and then the communication just has to be crisp. No confusion is the biggest thing. I think we're starting to gel and get that."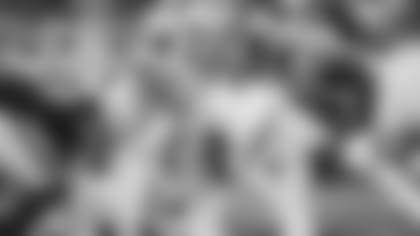 Head coach Matt Rhule named Ekwonu the starting left tackle by the second week of preseason action during joint practices in New England. Christensen, who Rhule called "one of the most improved players" in the preseason, slid over to left guard.
In the next preseason game against the Patriots, Rhule rested most starters – but not Christensen and Ekwonu, who anchored the left side of the line with Carolina's second-team unit.
The matchup came with its highs and lows, especially for young Ekwonu at the end. But Rhule saw the snaps against pass rushers like New England's Matthew Judon and Deatrich Wise as essential moments for their development.
That work continued against the Bills along with the rest of the Panthers' starting offensive line, which included center Pat Elflein, right guard Austin Corbett, and right tackle Taylor Moton against the Bills.
"I feel like we're definitely growing together," Ekwonu said. "Obviously, on the offensive line, you have to work as a unit. On the left side of the line, we have to work as one, so I feel like the more reps we get together, the more we're going to keep growing that chemistry."
Christensen heads into his second year of league action after playing in 16 games last year, starting at both left and right tackle in six games. He was a third-round pick in 2021 out of BYU, where he garnered accolades at left tackle.
With Ekwonu's arrival, Christensen started the move to guard, one of the multiple positions he'd prepped at throughout OTAs and minicamp. Now, Christensen has gotten the chance to help with the rookie's growth, and he's impressed with what he's seen so far.
Ekwonu, naturally a gifted run blocker, is growing in his pass sets, Christensen said. And he has been giving him plenty of advice to push his development forward.
"The biggest thing for him is just trusting the process," Christensen said. "That's what I keep telling him, 'Just trust it, it'll come.'… He's gotten so much better just in a short time."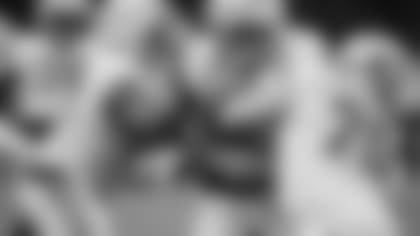 Christensen has trusted the process as he moves positions along the starting offensive line, and he said he has seen that trust pay him back. He said he had fun throughout camp, getting to know his teammates and building that all-important chemistry with the offensive linemen on and off the field.
But Christensen also knows the real stuff is coming soon, and he's ready for the Week 1 matchup against Cleveland.
"This is not even step one of the season, but it's a good step," Christensen said. "It's been like, 'OK, here we go. Now the real season begins. This is what counts.' (We) had a good six or seven weeks to prepare for this, and we're excited to roll."