Franchise records tumbled left and right this year for the Panthers, whose running game ranked third in the league as DeAngelo Williams and Jonathan Stewart combined for 2,351 rushing yards -- 146.9 per game -- and 30 total touchdowns.  The duo got stronger as the season progressed; they combined for two 100-yard games in the first half of the season and eight in the second half.




Together, they helped the Panthers set a new single-game rushing record with 264 rushing yards against Detroit in Week 11, then surpassed that standard just three weeks later in leading Carolina to a 299-yard night against Tampa Bay.
"I think these are both very good running backs just scratching the surface," quarterback Jake Delhomme said.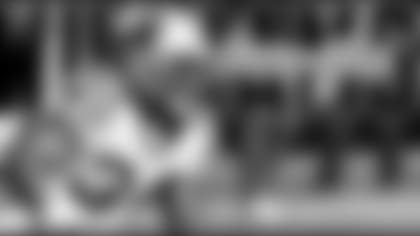 Individually, the only thing missing from Williams' third NFL season was a Pro Bowl appearance -- which would have been more than justified after he led the league with 20 touchdowns, finished third in with 1,515 yards and averaged more yards per carry (5.5) than anyone who had more than 200 runs last season.

Williams shrugged at the notion of missing Honolulu, even if his performance meant he was deserving.  A week there wouldn't have added any more luster to a season that was resplendent by his own accomplishments.
In the season's last nine games, Williams averaged 122.3 yards and 1.6 touchdowns per game, delighting everyone from Panthers brass to their fans and to fantasy-football owners from shore to shore and beyond, as Williams became the league's most reliable high scorer in the final two months.
The offense flourished after Williams got going, and did slightly better as a whole when he broke the 100-yard mark.  Carolina averaged 30.8 points when he hit triple digits and 21.2 when he didn't.
He knew all along, however, that success in 2008 was going to depend on how well he meshed with Stewart -- and how he handled sharing the load.  With three months still remaining before the season opener, he already had the right mindframe.
"One or two, it really doesn't matter if 1's getting 14 plays and 2's getting 14 plays, he said in June. "It's the same whether you look at it at as 1-2 or 2-1. At the end, if we're winning games, it doesn't matter. One or two are just numbers. You've got to get out there and actually produce.
"Nothing really bothers me when it comes to having another tailback come in, because I'm out here having fun, and playing football."
And with Stewart around, it got a whole lot more fun in Williams' third season.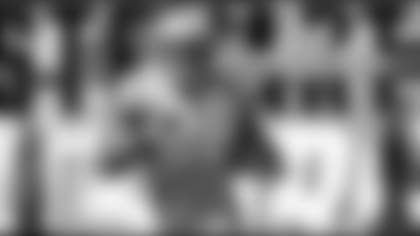 The best thing that could happen for Stewart was for Williams to look out for and guide him, knowing that the key competition would not be with each other for playing time, but with the defenses they faced each week
"It means a lot more to a player coming from a player than coming from a coach, because they have that relationship with you; you're doing the same thing," Williams said. "As a young guy coming in, a lot of guys have the stereotype that when you get to this level, nobody wants to be your friend, it's you against him.  It's not like that in the National Football League, because team stands for 'together everyone achieves more,' and I think we definitely proved that to be right this year."
Williams said Stewart has become "like a little brother," which speaks to the depth of the character each showed this year.  Both are top-level runners.  Both possess the power with which to gain the inside yards and the speed that allows one to break away for lengthy sprints.
But neither had any complaints about sharing the load.   That not only propelled Williams to among the league's leading rushers, but resulted in a splendid season for Stewart, in which he gained 836 yards, averaged 4.5 yards per carry and scored 10 touchdowns – including four in the season's final four weeks.
Stewart's busiest stretches last year were in late September/early October and the season's final month.  He had 34 carries in the Weeks 4-5 home sweep of Atlanta and Kansas City, and then carried the football 57 times in December – an average of 14.25 per game, 3.67 more than his pace in the first 12 contests.
Performance in the present, and promise still to come.
"With Stewie, the surface hasn't even been scratched yet," said Delhomme.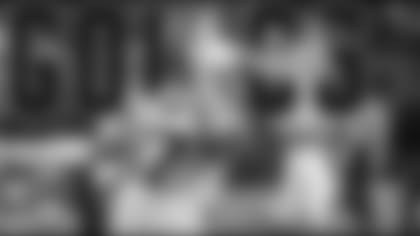 The most encouraging aspect of the eight-year veteran's campaign was that it was injury-free, as he played in all 16 games after missing 17 over the previous two seasons because of a thigh injury, a shoulder injury, and a concussion incurred in Week 4 of the 2007 campaign.
Goings' return to health allowed him to establish himself as a leader on Carolina's special teams; he finished the year with 11 total tackles there, placing him third behind Richard Marshall and Donte Curry.
With Williams and Stewart remaining healthy throughout the season, chances for Goings to contribute beyond kickoff and punt coverage units were scant.  Seven of his nine carries in 2008 came in the fourth quarter of the 34-0 win over Kansas City, by which point the Panthers had already established their final margin.
Goings ended the season with 10 yards on nine carries and one yard on three receptions – including a three-yard grab on the game-winning drive at San Diego in Week 1.  Three plays after that catch, Dante Rosario cradled the game-winning reception in the end zone.  Goings was also there; he was one of the four other targets on the play, which Jake Delhomme said was simply "five verticals" – i.e. five receivers running straight ahead, as far as they could go without traipsing over the touchline in the back of the end zone.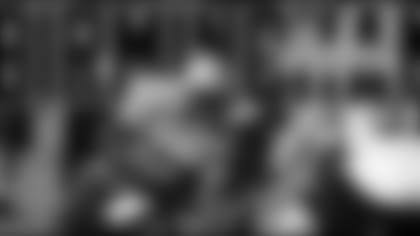 After spending the entire season on the practice squad, the Panthers signed Birmingham to a reserve-future contract last month.
Birmingham finished second behind Williams in preseason rushing last summer, picking up 117 yards on 29 carries.  His summer performance was punctuated by his efforts in an overtime win over the Indianapolis Colts, when he gained 33 yards on seven carries in sudden death, helping drive the Panthers to a game-winning John Kasay field goal.
Carolina represents the sixth team on which he has been a practice-squad member, but the first with which he stayed for an entire season.  He has never carried the football in a regular-season game.
The success of Williams and Stewart likely wouldn't have been possible without the work of the man who often lined up in front of them -- fullback Brad Hoover.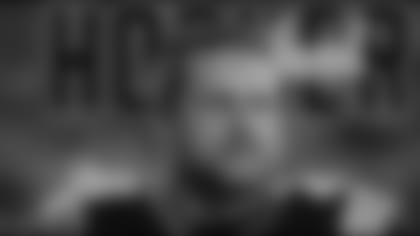 Twelve months ago, Hoover entered the offseason under the specter of uncertainty, with his contract expiring and unrestricted free agency on the horizon.  To leave the Panthers would have meant playing for a team based outside of North Carolina's borders for the first time in his life.
This year, Hoover's situation is more settled after he re-signed with the club last Feb. 29.
"That's one less thing I have to worry about," he said. "I can just concentrate on getting ready to come back in here and work hard through the offseason."
Hoover made it through all 16 games, helped blast open holes for Williams and Stewart and contributed some key short-yardage runs.  Of his six third-down carries, five picked up first downs, giving him an 83.3 percent success ratio that tied him with Minnesota's Adrian Peterson for sixth in the NFC.
"There's always things you can improve on, but I felt like I did a pretty good job blocking for those guys," he said.