The Panthers open the 2015 regular season on the road Sunday, September 13th as the team travels to Jacksonville to take on the Jaguars. Kickoff is scheduled for 1:00 p.m. Since entering the NFL as expansion teams in 1995, the Panthers and Jaguars have met just five previous times in the regular season. Jacksonville holds a 3-2 advantage in the all-time series, but the Panthers won 16-10 in their last meeting, a game that featured quarterback Cam Newton's first career game-winning drive.
---
TELEVISION BROADCAST:FOX, DIRECTV 710
On the call: Chris Myers (Play-by-Play); Ronde Barber (Analyst); Jennifer Hale (Sideline)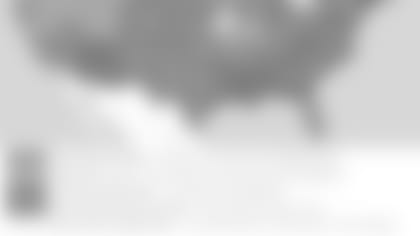 Panthers Postgame Show (immediately after all games on the Panthers Televition Network): The postgame show is a live simulcast of the Panthers Radio Network's broadcast featuring a game recap, highlights with radio calls, interviews and analysis by special guests from the Panthers and around the league. For more information on the Panthers Television Network on Time Warner Sports Channel, click here.
---
On the call: Mick Mixon (Play-by-Play); Jim Szoke (Analyst), Eugene Robinson (Color Analyst); Jordan Gross (Sideline)
---
ONLINE: New for the 2015 Season, NFL Game Pass is your way to access more football. NFL Fans can watch live games in the preseason, and watch all regular season and postseason games on-demand. NFL Game Pass comes loaded with features including:
•    All 256 Regular Season games on-demand, in HD and commercial free
• The 2015 NFL Playoffs and Super Bowl 50, on-demand
• Thousands of games available in the game archive, dating back to the 2009 Season
• An expanded Super Bowl archive allowing you to relive classic Super Bowl matchups
• NFL Films and NFL Network exclusive content, on-demand, including shows like Hard Knocks and A Football Life
Watch games anywhere with availability on desktops and select connected TV devices. Also available on smartphones and tablets with the NFL Game Pass app or within the NFL Mobile app. Visit nfl.com/gamepass to learn more and start your free trial today.
SOCIAL MEDIA:Fans can stay connected and get the latest news by following the Carolina Panthers on Facebook, Instagram and twitter.
MOBILE: Fans can download the Carolina Panthers official mobile and tablet app for live scores and stats, news and more. Fans living inside the region of North Carolina and South Carolina can also listen to the radio broadcast for free. To download the app,click here.
---
View photos from the Panthers' week of practice leading up to their game at the Jaguars.