CHARLOTTE – To different extents, wide receivers Philly Brown and Brenton Bersin travelled rocky paths to become contributors for the Panthers last season.
Neither player feels like he's reached the finish line.
"It took a lot of hard work, and it's not over with yet," said Brown, who went from undrafted rookie to Carolina's leader in yards per reception. "I'm excited about what the future holds for this team and excited about coming back next year bigger, stronger and faster and ready to make a lot more plays."
That's similar to the sentiment shared by Bersin, who finally earned his chance three years after his college career concluded.
"It was a dream come true," Bersin said. "But now that I've done it, I've got to work on it this offseason and become a better player in order to help the team out next year, too."
Both Brown and Bersin faced uphill battles last offseason but were two of the five receivers Carolina kept on the 53-man roster out of the 12 receivers that attended training camp. In addition to being the Panthers' primary punt returners, Brown emerged as a big-play threat and Bersin as a reliable possession receiver.
To the surprise of many, including himself, Brown wasn't drafted out of Ohio State. Carolina signed him shortly after the draft, and he blossomed in the preseason to secure a roster spot.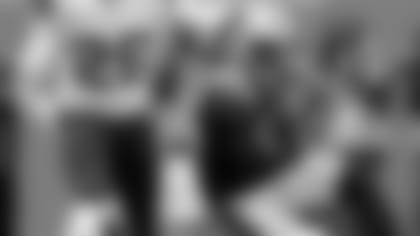 Brown got an opportunity to start in Week 3 when Jerricho Cotchery was out with a thigh injury and responded with seven receptions, and he made the heads-up play of the year in Week 5 with a 79-yard punt return for a touchdown against the Chicago Bears.
Still, Brown didn't truly find his niche until after a concussion sidelined him for three games. When he returned in Week 11, the Panthers routinely added him to their three-receiver sets to stretch the field. The speedster hauled in a 47-yard touchdown in his return and was a major factor the rest of the season, with the threat he posed helping open up things for the entire offense.
With Brown in a prominent role, the Panthers recovered from a six-game losing streak to win their final four games and capture the NFC South title.
"It was good to win the coaches' trust, and a lot of people helped me out along the journey – Jerricho, Kelvin (Benjamin), Cam (Newton)," said Brown, who finished the regular season with 21 catches for 296 yards and two touchdowns. "The little streak we went on and the way this team never gave up, I give a lot of credit to the whole team. There wasn't a single point in the season, even when we lost six straight, that anybody quit."
Speaking of not giving up, Brown was a sophomore at Ohio State when Bersin's pursuit of an NFL roster spot began, a dream at last realized this past season.
"It was a fun season," Bersin said, "especially for my first one."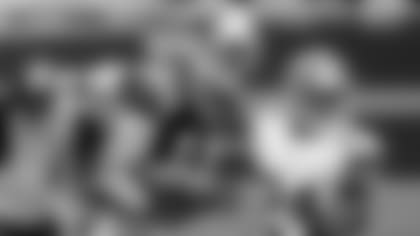 Bersin, who grew up in the same neighborhood as Panthers Owner/Founder Jerry Richardson, joined Richardson this past season as the only players from Wofford College to make an NFL roster.
While Richardson was selected in the 13th round of the 1959 NFL Draft by the Baltimore Colts, Bersin wasn't drafted in 2012. He attended training camp with Carolina before being waived, but the Panthers brought him back in 2013 and he spent the entire season on the practice squad.
In 2014, Bersin played in every game but the season opener, often replacing Benjamin when the standout rookie needed a break. Bersin took over punt return duties when Brown was out with his concussion and kept the role the remainder of the year. Outside of a muffed punt in the NFC Wild Card victory over Arizona, he was a steady contributor.
"I think I did well," said Bersin, who finished the regular season with 13 catches for 151 yards and one touchdown. "I definitely can improve on some things. I made some mistakes that I won't make again, especially on special teams with what happened in the Arizona game.
"It's a learning experience. I need to learn from the things I did poorly, but I also think I did some things well. I didn't get too many opportunities. Hopefully I can get some more in the future."
Bersin and Brown plan to spend the offseason getting better in anticipation of their second seasons.
"With the overall experience, getting a year under my belt, now I go into the offseason knowing what to expect and what to work on," Brown said. "I'll be able to work on perfecting my craft and coming back that much stronger."
Added Bersin: "I'll be in Charlotte working out, but I can't wait until April when we start back up as a team."