CHARLOTTE – The Carolina Panthers showed remarkable resiliency to overcome a start Sunday in which everything that could possibly go wrong did.
Unfortunately for the Panthers, just enough time remained on the clock at the bitter end for the Tampa Bay Buccaneers to show that they know a thing or two about being resilient.
"We did some really good things, but when we look back at it we'll realize that there were too many things that we missed," head coach Ron Rivera said following a painful 27-21 overtime loss. "If we could have made something happen in the four-minute offense and gotten another first down, game over. If we could have made a play at the end of the game, game over.
It looked like the game could well be over when a Panthers defense that had kept the Buccaneers completely off the scoreboard since the first quarter recovered a fumble by running back Doug Martin in the end zone early in the fourth quarter.
The offense followed with an 80-yard touchdown march, putting the Panthers ahead 21-10 with six minutes to play.
It looked like it might be over when the defense held Tampa Bay to a field goal on the ensuing possession. It looked like it might be over when the offense picked up a pair of first downs on gutsy pass-play calls to whittle the clock down to 62 seconds before Tampa got the ball back.
"We got two first downs. We needed three," tight end Greg Olsen said. "That's kind of been the story of the season."
From there, Tampa Bay quarterback Josh Freeman and wide receiver Vincent Jackson torched the Carolina defense in a way the often-dynamic duo had failed to do all day. Jackson had just three catches for 49 yards before catching a pair of passes for 41 yards in the final 30 seconds of regulation, including a 24-yard touchdown with 12 seconds left. He followed with the two-point conversion catch to force overtime.
Martin took it from there. After grinding out 88 yards on 19 carries in regulation, he had five carries for 48 yards in overtime to set up Freeman's play-action touchdown to tight end Dallas Clark to end it.
"We weren't able to make enough plays toward the end of the game," linebacker Luke Kuechly said. "You don't get any credit for playing half the game. You've got to play the full game. That's what it comes down to."
The Panthers probably should have known what was coming after the coin toss to begin overtime.
Having already lost the opening coin toss to remain "perfect" on the season in that regard, they lost it yet again in overtime. The odds of losing 11 consecutive tosses are 1-in-2,048. That might not happen again until 2048.
After the overtime coin toss, the Panthers played much like they did after the pregame toss, when they simply couldn't catch a break.
Captain Munnerlyn's second-longest punt return of the season ended with a lost fumble, allowing Tampa Bay to drive just 29 yards for the game's first touchdown. The Buccaneers made it 10-0 when Brad Nortman shanked a 35-yard punt and Tampa drove just 19 yards for a 51-yard field goal that split the uprights. Opposing field goal kickers are now 27-of-29 against the Panthers.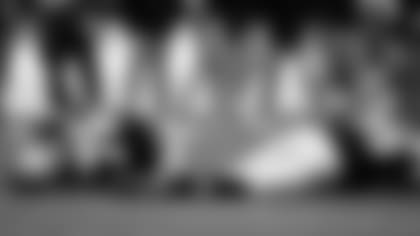 Shortly after came an image that typified the game to that point: defensive ends Charles Johnson and Greg Hardy virtually motionless on the turf right beside each other, Johnson's head having slammed into Hardy's leg just as Freeman unloaded the ball before they could unload on him. To boot, Martin turned Freeman's short pass into a 15-yard gain, a third-down conversion that put the Buccaneers right back in field goal range.
Both Hardy and Johnson eventually returned to teh game, but at that moment, it was hard to imagine what else could go wrong for the Panthers. Yet that's when the Panthers began to show some remarkable resiliency, jumpstarted by Munnerlyn picking off Freeman and returning it 74 yards for a touchdown two plays later.
"That was definitely a tough situation. We needed to do something to turn around the game," defensive tackle Dwan Edwards said. "I got some pressure on the quarterback, and Captain was able to make that great play and take it for a score. We needed that, needed that spark."
Beginning with that play, everything turned around. Suddenly, the Panthers were the dominant team, scoring 21 unanswered points to all but seal the victory.
"It's frustrating," Edwards said. "We feel like we had them right where we wanted them."