... is the number of tackles amassed by linebacker Jon Beason in his two seasons as a professional, which is not only the best two-season tally in Carolina history, but is a result of the two highest-tackle campaigns in team annals -- 160 as a rookie and 159 last season, when he earned first-team All-Pro plaudits.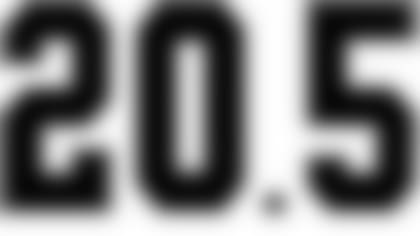 ... is the number of sacks for which Peppers and second-year defensive end Charles Johnson combined last season, the most for a pair of Panthers since Peppers and Mike Rucker combined for 23 sacks in 2004 -- 12 for Rucker and 11 for Peppers.
The Peppers-Johnson and Rucker-Peppers duos are the only pairs of defensive linemen to combine for at least 20 sacks in the same season; linebacker Kevin Green was also a part of two 20-sack tandems -- with fellow linebacker Lamar Lathon in 1996 and defensive end Sean Gilbert in 1998.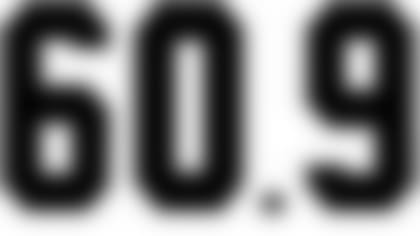 is the percentage by which the Panthers sack total improved last season, as Carolina rebounded from a franchise-low 23 sacks in 2007 to notch 37 the following year.  This was the third-best single-season sack improvement in franchise annals, behind only the 2002 season -- when the Panthers doubled their sack total from 26 to 52, an even 100 percent boost -- and 1996, when the Panthers shot up from 36 sacks in their inaugural season to a franchise-record and league-leading 60.
Carolina finished ninth in the league in sacks and fifth in the NFC.   Every one of the top nine teams in sacks finished with winning records, with seven of them -- the Steelers, Eagles, Vikings, Titans, Giants, Dolphins and Panthers -- earning playoff bids.
Of course, sacks are often interconnected with victories because the best opportunities for sacks come when holding a lead of two or more scores or otherwise having forced an opponent into an obvious passing situation.   It is therefore worth noting that the Panthers averaged 1.75 sacks per game in their four regular-season defeats, while they averaged 2.5 sacks in their 12 wins.
The Panthers' only game without a sack came when they absorbed their largest margin of defeat -- the 27-3 loss at Tampa Bay in Week 6.  The second-biggest defeat of the regular season was by 17 points at Atlanta in Week 12; the Panthers had just one sack that day -- for no yards.
Carolina's increase in sacks also ran counter to a league-wide trend, because ...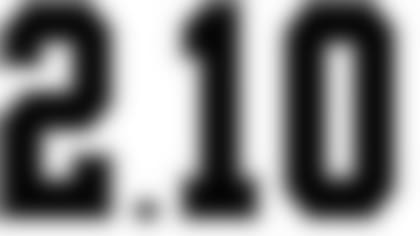 ... is the average by which teams' sack totals dropped last year, from 34.4 to 32.4.   Further, the ratio of sacks to passes declined precipitously league-wide, from one sack per 15.4 passes to one each 16.4 last season.