Rhys Lloyd more than justified his place on the Panthers last year. (PHOTO: ANDREW MASON / PANTHERS.COM)
is the number of touchbacks Rhys Lloyd hammered into the end zone on his 88 kickoffs last year, the most for anyone since the "K-ball" was introduced in 1999.  That's the obvious measurement of his first 16-game season in the professional ranks – one that was four years in the making as he battered around training camps and practice squads before finally sticking with the Panthers.
But a closer look reveals just how rare Lloyd's season was compared with others – and illuminates the uniqueness of the weapon that is his right leg.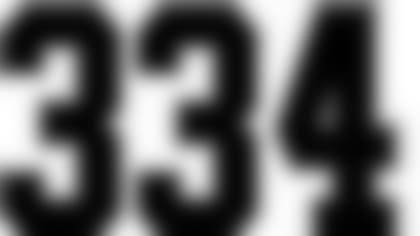 is the number of times since 1999 that a kicker has amassed at least 25 kickoffs in a season.  It doesn't take a John Nash to quickly calculate that this number translates to 33.4 per season.
Twenty-five is a minimum standard for evaluating a season-long performance; otherwise, Lloyd's 40-percent touchback ratio in 2007 would make it.  Impressive, yes, but it was compiled in just one game -- a season finale at Tampa Bay.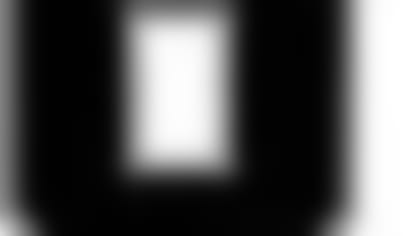 is the number of times since 1999 that a kicker averaged more than 67.5 yards per kickoff.  Lloyd's average of 67.81 yards per kickoff last year places him fifth in that group, behind Neil Rackers (68.78 yards with Arizona in 2005), Dave Rayner (68.26 yards with Kansas City in 2007), Josh Brown (68.14 yards with St. Louis last year) and Paul Ernster (67.87 yards with Denver in 2006).
Of these, Lloyd was the only one to not sail a kickoff out of bounds.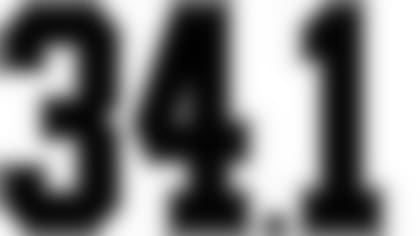 is the percentage of Lloyd's kickoffs that went for touchbacks.  While his overall touchback tally is the best under current conditions, the percentage ranks third, behind Rackers in 2005 (36.1 percent) and Olindo Mare of Miami in 2006 (35.8 percent).
A touchback ratio of 30 percent is the gold standard here; that has been achieved just nine times in the "K-ball" era by only five kickers – Mare (2003, 2006 and 2008), Rackers (2004 and 2005), Oakland's Sebastian Janikowski (2007 and 2008), Lloyd and, in 2002, Wade Richey with the San Diego Chargers.
At the other end of the spectrum ...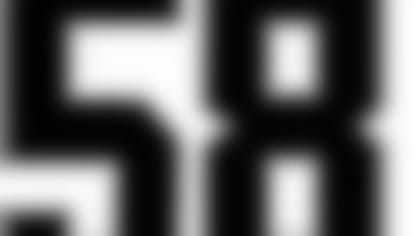 is something of a Mendoza line for kickoff average, in that this is the demarcation point at which a lack of kickoff distance clearly begins to impact a team's overall fortunes.
There have been 25 kickers who averaged 58 yards or less on their kickoffs in the last 10 years.  Of those, only 12 percent of them (three of 25) had winning seasons and just eight percent (two of 25) made the postseason.   By comparison, when teams featured a kicker who averaged between 58.01 and 60 yards per kickoff, they finished above .500 39.5 percent of the time (15 of 38) and made the playoffs 31.6 percent of the time (12 of 38).
But long kickoffs are no assurance of success: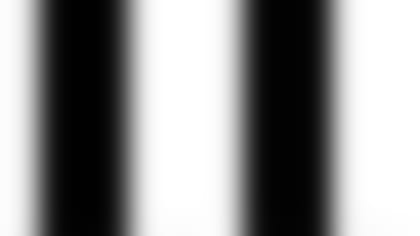 is the number of times that a team featured a kicker who averaged at least 67 yards on kickoffs for a season.  It obviously doesn't hurt to have that kind of weapon – six of those 11 teams (54.5 percent) finished with winning records, and five of the 11 (45.5 percent) were in the playoffs and won 10 or more games.  But the St. Louis Rams went 2-14 last fall in spite of Josh Brown's 68.1-yard average on 66 kickoffs, a pace that was the best in the league last year and third-best since the "K-ball" arrived.   St. Louis' finish last year dropped the record of teams featuring such lofty kickoff averages to 7.91 wins; toss out the Rams, and the average is 8.5 wins against 7.5 losses.
The key is having an offense good enough to take advantage of a cannon-foot on kickoffs.  Six of those 11 kickers with a 67-plus average amassed at least 75 kickoffs in their seasons, leading to five winning seasons and four playoff appearances – including the Panthers' 12-4 finish last year.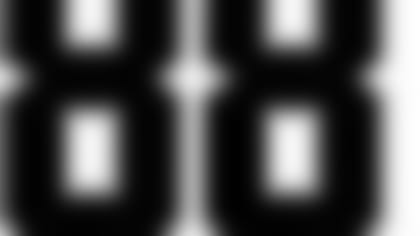 is the number of kickoffs Lloyd had last year, the most for anyone in franchise history. Lloyd is one of 30 players to have at least 88 kickoffs in a season since 1999. Twenty-six of those 30 ended the season in the playoffs (86.7 percent) and they averaged 11.5 wins apiece.
Lloyd is a weapon unto himself, but it takes a powerful offense to make him devastating to an opponent.