CHARLOTTE – Without fail, anyone around the Panthers locker room that is asked about offensive lineman Jeff Byers refers to him as an "effort guy," including Byers himself.
This week, they're all talking about the good effort Byers turned in Sunday at San Diego – and not just his physical effort.
"So much has been put on his plate, and for him to step in and play starting center in this league – especially with the philosophy we have on the offensive side of the ball – it's a lot on a person," quarterback Cam Newton said. "Me and him are kind of the captain and the co-captain of the offense. He has a very big part of the pie pre-snap as far as how much he means to this offense.
"He's doing great. Obviously he's learning while he's going, but he's a guy that gives unbelievable effort. That's the only thing you can ask from a person."
The Panthers asked more of Byers against the Chargers, and he delivered. And with center Geoff Hangartner missing practice Wednesday with the foot injury that sidelined him against San Diego, Byers could again be making the offensive line calls when the Oakland Raiders visit Bank of America Stadium this Sunday.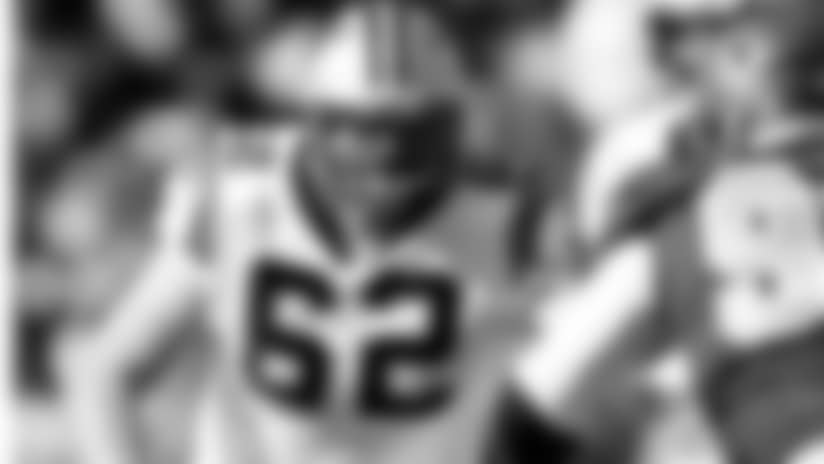 "It was an honor to be out there, a great opportunity," Byers said. "I thought I played OK, but there's definitely a lot of room for improvement. I had a couple of snaps that needed to be better, but I have great teammates around me that helped carry some of the weight."
One of his most helpful teammates wasn't even on the field. Three-time Pro Bowl center Ryan Kalil played five games this season before landing on injured reserve with a foot injury, but he made the cross-country trek to his home state of California.
"Ryan was very proud of me," Byers said. "At times, he is my psychologist. Obviously whenever you have a guy in that position who is a friend, that has achieved so much at the position you're playing, anything he says is golden. He knows a lot. He's smart. He sees things that other people don't.
"Having a guy like that pat you on the shoulder and say, 'Nice job' or 'Move onto the next play. Don't worry about it,' that goes a million miles when you're out there fighting and scratching."
Kalil has observed Byers' gritty game upclose for a long time now.
Kalil was Southern California's starting center when Byers joined the program in 2004. A dominant offensive and defensive lineman at Loveland (Colo.) High School, Byers arrived at Southern Cal as reigning Gatorade National Player of the Year, but injuries limited his effectiveness early in his six seasons with the Trojans.
While Kalil was the Panthers' second-round draft choice in 2007, Byers went undrafted in 2010. He spent most of 2010 and 2011 on practice squads in Denver and Carolina and didn't play a down, but this season he's started five games for the Panthers.
"Everybody has a different path," Byers said. "Some guys are first-rounders, some guys are late-rounders, some guys are undrafted. Some guys bounce around and take a while to stick, and I'm very fortunate that the Panthers stuck with me. I'm very fortunate for the opportunity. I'm just trying to make the most of it."
Byers' first shot came when the Panthers needed a right guard after Kalil suffered his injury and Hangartner moved to center. Byers made four starts at right guard but was used sparingly in the next three games.
Sunday, the coaching staff came calling again.
"Jeff Byers did an outstanding job of controlling our offensive line for us. He made some good calls, put us in some good protections," Panthers head coach Ron Rivera said. "He's more of a pure center than he is a center/guard guy. He seems to have a little more balance and awareness there. He did a nice job setting the fronts for us and calling out the protections."
Despite playing mostly at guard this season, Byers was ready.
"When I was playing guard in games, I actually was probably taking equal the number of reps at center every week. They needed to rest Hangartner, and I was the next guy," Byers said. "I can improve on staying low in the run game, staying more square in the run game, but I thought I gave great effort.
"I've always tried to outwork them. I've always tried to be an effort guy."