CHARLOTTE – Damiere Byrd doesn't need to be told how many wide receivers are on the roster. He doesn't need to hear about the impending battle for spots.
Byrd, 5-9 speedster from South Carolina, is approaching his second season the right way. He's just trying to play to the best of his ability, and he'll let chips fall where they may.
"As a player, if you get caught up in the numbers game then it's never really going to go in your favor," Byrd said after rookie minicamp. "You never know what's going to happen, you never know how the numbers will shift. If you just worry about playing the game and playing well, they can't deny you."
At rookie minicamp, Byrd was one of four players participating who had previously spent time with the team (he was on Carolina's practice squad during the 2015 season).
So it goes without saying, Byrd was expected to stand out amongst the rookies and tryout players. Mission accomplished.
"He did a nice job," head coach Ron Rivera said. "One thing that was real interesting too was he assumed a leadership role out here, which was really neat to see. Very rarely do you see a wide receiver step up like that."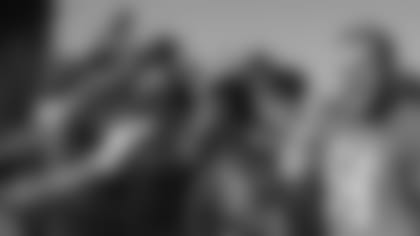 Byrd was vocal during drills, helping guide all the newcomers. He made plays when he was targeted and flashed his trademark speed on several occasions. On one occasion, when he was handed the ball on an end-around, he exploded past defenders and went nearly untouched.
Speed has long been an asset for Byrd. But Rivera said there is something different about him this year.
"Probably about eight pounds," Rivera said. "He'll love the fact that you guys think he looks bigger. He's got a lot of confidence right now and has done a nice job working hard for us during the workout and conditioning phase."
As wide receivers coach Ricky Proehl said, Byrd is ready to "make some noise," and he's doing everything he can to give himself a chance to stick with the reigning NFC champions.
"Studying tape, getting a little faster, getting a little bigger and stronger," Byrd said, "I think it's all translating onto the field now."
View photos of 2016 rookies as they participate in drills on the second day of minicamp.