CHARLOTTE – Whether you're a member of the practice squad or the 53-man roster, practice is pretty much the same experience.
But for rookie linebacker Horace Miller, his first practice as a member of Carolina's 53-man roster felt different even if it didn't look different.
"It was definitely exciting, knowing that my hard work has been noticed," said Miller, who was promoted along with cornerback Carrington Byndom on Tuesday. "When you really think about it, it's all still football. I was playing football on the practice squad, and I'm playing football now.
"But I was all smiles. It was pure enjoyment."
The Panthers are hoping that type of youthful energy will pay off come game time for a team mired in a six-game losing streak. Miller said he got first-team reps on kickoff return and was in the rotation on the punt team Wednesday, while Byndom said his role was more up in the air.
"The same things I did on the practice squad, I'm doing now," Byndom said. "I'll continue to work hard, continue to do the things I need to do to get better so that when I get the opportunity, I'll feel like I'm ready."
Starting roles on defense aren't likely in their near future, but the Panthers' decision to waive cornerback Antoine Cason and linebacker Jason Williams and promote Byndom and Miller will impact the lineup.
Head coach Ron Rivera said rookie Bene Benwikere, who has started at nickel corner when healthy, will move into Cason's starting spot on the outside. Safety Colin Jones, who played at nickel corner when Benwikere missed six games with an ankle injury, will reassume that role.
On special teams, the speedy Miller could fill some of the roles previously occupied by Williams.
"We just felt like this would be a good opportunity to take a look at Carrington and Horace and see how they do for us," Rivera said. "This was not a knee-jerk reaction. We've evaluated over a period of time. A few weeks ago, I had everybody (on the coaching staff) give me their evaluations. I read all the evaluations and looked over some of the things we were doing.
"We've talked about these things over a few weeks, about looking for situations and opportunities for guys. We feel good about some of the young guys we have on the practice squad, guys that you'd like to see. Look at Horace Miller's measurables. This is a kid that runs 4.55, 4.6. You want to put guys like that on the field and see what they can do."
Miller ran a 4.44 in the 40-yard dash at his pro day at the University of Texas-El Paso, while Byndom ran a 4.37 at the University of Texas pro day.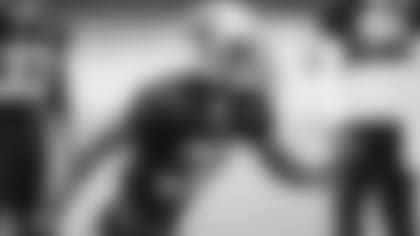 Many were surprised that Byndom wasn't drafted – marking the first year since 1937 that no Longhorn was drafted - but he's made that piece of trivia moot.
"I heard a lot about my size (6-0, 180) and some of the techniques we played in college, but now that I have the opportunity with the Panthers, none of that stuff matters," Byndom said. "I've learned a lot of things from the guys in front of me and from the coaches. Going against our offense and seeing different things, different combinations and how people try to attack you, all of that has helped. All of that has helped me continue to grow."
Byndom said he's a smarter, more fundamentally sound player than he was during training camp. Miller, too, learned from spending training camp with the Seattle Seahawks and the last two months on Carolina's practice squad.
Both now feel like they belong. Soon enough, they'll find out if they're right.
"When you're in college or even further back in high school, the NFL seems like something unreal and almost unattainable," Miller said. "But when you really think about it, they're people. A lot of people have gifts, and I've been fortunate to be blessed with some of those gifts."