Not paying any attention to "expert" predictions: Head coach Ron Rivera jumps at every opportunity to play the underdog card and he won't have any problem finding those opportunities ahead of the 2017 season.
Quarterback Cam Newton, on the other hand, isn't listening to the noise this time of year.
"I don't understand what they see. We're all undefeated right now. That's meaningless. That's just irrelevant offseason talk," Newton said. "I can tell you one thing: If you go in that cafeteria right now or even in that locker room, we're not looking for any handouts. We're not looking for anybody to pick us. We're not expecting anything from anybody. Our mentality is to get back to having that edge."
Trash-talking Luke? Linebacker Luke Kuechly is known for his polite, cheerful demeanor. Some people have suggested they can't even imagine him getting mad. But Newton says Kuechly isn't always so courteous on the practice field.
"As each year goes by, Luke is slowly but sure getting into that 'must talk crap to' list for every day at practice," Newton said. "Luke to y'all is the golden boy. He's Captain America, alongside TD (Thomas Davis) the Charlotte mayor. Mr. Panther. But those guys, they're not as good as you think they are. I'm OK with that. I like that. I look forward to that.
"Does he talk (trash)? Let's just say it's not words adequate for a children's book."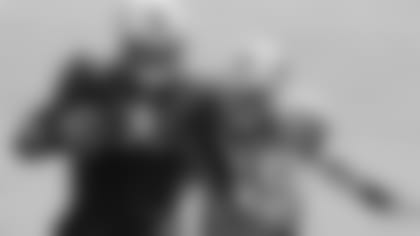 In awe of Peppers: Newton and Julius Peppers are two of the most physically gifted athletes the game of football has ever seen. And Newton is relishing the opportunity to team up with the future Hall of Fame defensive end.
"It's big. That's really monumental for this organization as a whole. Seeing Pep back, probably the biggest human being I've probably seen in my life on the football field," said Newton, who is almost always the most imposing figure in the room.
And don't forget about cornerback Captain Munnerlyn – another original Panther who came back home this offseason.
"And Cap is probably the smallest human being I've seen in my life – just teasing," Newton said. "They bring an aspect to this team that we've had in the past, but right now is when we need it the most – people that are drafted Panthers, are core guys that get the gist of what this organization is all about."
Likes what he sees in the rookies: Newton is always eager to test the rookies' meddle, and he's been impressed with the way the group has approached their first NFL training camp.
"We've all been waiting for C-Mac (Christian McCaffrey) to step on the field, as well as Curt-Co (Curtis Samuel)," Newton said. "But I really am excited about the whole gamut of this rookie class. The reason I say that is after a week of the whole group back at OTAs, you can get a sense. What type of group is this? Is this a childish group? Is this a group that feels they're entitled? But for me, I got a good vibe from them.
"You see the Kruegers of the world – Fred Ross – and Groundhog, Austin Duke. These guys are coming in and aren't just conforming to their draft spots. They're making big plays early for us."
---
Stay connected! Sign up for the Panthers Pulse e-mail newsletter for daily updates and news about the team, sent straight to your inbox. Subscribe Here