CHARLOTTE – Head coach Ron Rivera believes medical personnel and game officials took the proper steps to make sure quarterback Cam Newton could safely continue to play in the waning moments of the Panthers' physical season opener Thursday night in Denver.
Rivera just wishes that game officials would have taken more steps – and had the power to take even more steps – to protect Newton from so many bone-jarring hits in the first place.
Multiple hits to Newton's head didn't draw flags, but they did draw the attention of personnel charged with looking for concussion-like symptoms on the fly, and it was deemed that Newton could continue playing.
While Rivera understands the daunting challenge facing referees in real time, he wouldn't mind seeing the referee given a chance to slow things down, especially when dealing with a quarterback as physically unique as Newton.
"If there is an opportunity to go back to review things as far as big hits to the quarterback, hits to the helmet, I think that would be important," Rivera said, suggesting that the ability to go to replay review in some instance might be warranted. "It's a very difficult thing that the referees have to do. They've got to be able to get all the angles, and if they don't have a good angle, they may not see what the folks viewing it on TV see or the people covering it see in slow motion.
"This is about player safety at the end of the day, so we've got to come to a better solution."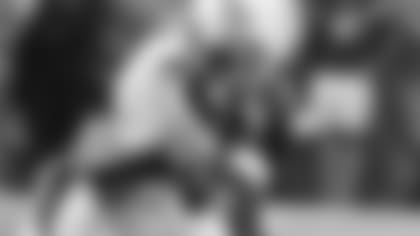 While Rivera recognizes the difficulty of the task facing game officials, he would like to see officials successfully fight human nature and not swallow their whistles because of the unique physical qualities Newton brings to the quarterback position.
"He's a big guy, and I just think that they think sometimes, 'Oh, he can take it,'" Rivera said. "Yes, there's a little bit of prejudice, kind of like what happened with Shaquille O'Neal. He was a big, physical basketball player, and when he goes to set a pick and the guy falls down, they call a foul on them. Then when he goes to shoot a layup and gets hacked and hammered, they don't call it."
While typically sized quarterbacks more likely would have drawn flags on some of the hits delivered by Denver, many of those quarterbacks likely wouldn't have been able to physically remain in the game under such a barrage.
That was particularly the case in the final minute when Newton, scrambling to get the Panthers in position for a potential game-winning score, took a hard hit to the head from safety Darian Stewart that drew the first flag of the game for such a blow. Newton briefly collected himself on his knees before returning to his feet, and while game officials met to discuss offsetting penalties, people charged with evaluating concussions went into action.
"If anything happens in the game that looks questionable, our doctors and the independent (doctor) come together and look at it immediately on instant replay," Rivera said. "That's what happened, and based on what they saw on instant replay and looking at him on the field, the independent determined that he was OK to continue.
"And remember also that there are people up in the box that are looking down and the head referee. None of them felt that he was under duress at that time, and they allowed him to continue. These are people working together, trying to get it right."
Apparently, they did get it right because Newton underwent more testing after the game and was not placed in the concussion protocol. That's good news for the Panthers once they turn the page Monday and begin preparing for their home opener against the 49ers.
"The doctors went through the initial steps during the game, and then afterwards the doctors followed up with him," Rivera said. "My understanding is that he had several exams by the doctors, and all them he passed. So as far as my knowledge, he's no longer in the protocol or never was in the protocol.
"The last time I talked to Cam was last night, and when I talked to him, he was feeling pretty good."
View the top photos from Carolina's loss at Denver by team photographer Melissa Melvin-Rodriguez.