CHARLOTTE – Cam Newton doesn't often travel down memory lane with the media, but he indulged Wednesday with some entertaining perspectives on a couple of Kansas City Chiefs that he played with or against in his past.
Chiefs safety Eric Berry is one of the most accomplished and inspirational figures in the NFL in recent seasons, a four-time Pro Bowler in six pro seasons who only missed out after a major knee injury and a battle with Hodgkin's lymphoma.
Newton has a healthy respect for Berry and has a unique tale about how he first began building that respect. Visualize Newton and Berry in their early teens squaring off for a basketball showdown between rival Atlanta area schools – middle schools.
"The first time I saw him was in middle school. He went to Bear Creek, and I went to Camp Creek," Newton said. "It was kind of like when two rival gangs see each other and are fighting, and the head of one gang sees the head of the other one, and you go the other way out of respect.
"We share that thing of being labeled the best in your district, your county, your area, and then we went onto share the same conference in the SEC and tried to dominate that.
"I've always had respect for Eric."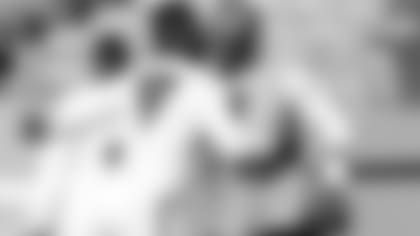 While Newton and Berry have always been rivals, Newton and Chiefs outside linebacker Dee Ford have been on the same side of the fence. Ford was just beginning to emerge as an impactful defensive end at Auburn in 2010 when Newton led the Tigers to a national championship on his way to the Heisman Trophy.
Ford is now coming into his own on the pro level, with nine sacks already this season after totaling 5.5 his first two seasons.
"He was like a professional athlete then," Newton said, reminiscing about their year together at Auburn. "I remember he had a weight problem, different than me – I tried to lose weight, he tried to gain weight.
"He was a very speedy guy who was always yearning for some sort of edge. I respected him then for being that type of person, and for him to have as many sacks as he does is a result of his determination and discipline in his craft."
After Newton talked about players he crossed paths with in high school and college, he showed respect for an elder when asked about another former SEC standout from another era. Newton was asked about teammate Thomas Davis' athletic interception last Sunday against the Rams, the 12th career interception for the 12-year NFL veteran.
Newton and Davis are known for relentlessly but playfully taking jabs at each other in practice.
"I'd like to credit a lot of that to me, in a way," Newton joked. "Ever since I've been here, I've been telling him that his hands are questionable. He just got a promotion – from question mark to finally a comma. Mine are more of an exclamation point.
"For him to realize that the father of time is not on his side but to have the mentality of a warrior and one of the leaders of our team – with that approach, you can't lose. When the young guys and myself see plays made like that, you've got to tip your hat."
View photos of Carolina's week of practice leading up to their game against Kansas City.