CHARLOTTE – Quarterback Cam Newton needs no reminder of the quality of Minnesota's defense, but the stat sheet takes care of that.
In 2017, the Vikings rank:
2nd in total yards allowed per game (289.1)
2nd in points allowed per game (17.0)
1st in third down efficiency (27.2%)
2nd in rushing yards allowed per game (77.7)
The film study reveals a defense that is as good as the numbers suggest.
"They are very, very comfortable in their scheme," Newton said. "When you are playing a team like this, as far as how they disguise, how fast they play, how they rally to the football – you just have to make sure that you are on your 'A' game and firing on all cylinders."
Newton and Co. certainly didn't have their "A" game in last week's loss against the Saints, who took sole possession of first place in the division. The task only gets tougher this week against a Vikings team that boasts a defense wide receiver Russell Shepard characterized as "the best the Panthers have seen from top to bottom."
Newton's film study surely included a review of last year's meeting with Minnesota, and while things often change in the NFL from year to year, the Vikings defense looks awfully similar.
Aside from cornerback Captain Munnerlyn – who obviously left Minnesota to rejoin the Panthers – every member of the Vikings' starting lineup from that Week 3 matchup a year ago is still on the team.
And that matchup didn't go very well for the Panthers, especially Newton, who was sacked eight times and tossed three interceptions in the 22-10 defeat at Bank of America Stadium.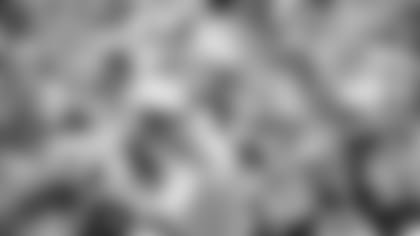 "We still want to attack those guys," Newton said. "They exploited some mismatches we had last year and they got after the quarterback – myself – a lot. I have to do a better job of getting the ball out of my hands, and I plan on doing that and just having a better plan this year.
"We have to be very alert with everything that they are throwing at us. We just have to have answers for it."
The Vikings throw a lot of pressures at opposing offenses, and as Newton said, one of the solutions to that problem is getting the ball out quickly.
Another answer is staying out of negative plays on first- and second-down, which is easier said than done against disruptive defensive linemen Everson Griffen and Danielle Hunter (12 and six sacks respectively) and athletic linebackers Anthony Barr and Eric Kendricks (seven and five tackles for loss respectively).
Knowing that points will be hard to come by, playing clean, field-position football is imperative this week.
"Both teams have good defenses. Both are aggressive defenses," head coach Ron Rivera said. "Offensively, we both want to try to run the football and control the clock. This is going to be a field position battle. It's probably one of the most obvious statements I'm making."
Another obvious statement is the importance of home field for the Panthers during this critical three-game stretch as teams make or break their plans for the postseason.
"It's rather nice," Newton said of playing the next three at home. "We just have to keep that as being our edge, playing in front of our fans and giving them things to cheer about – making sure we're holding up our end of the bargain."
View photos from the week of practice leading up to the Panthers' game against the Vikings.