CHARLOTTE – It was there for the taking.
The Panthers' offensive performance left a lot of be desired, but they had time for two drives in the final six minutes to erase a five-point deficit and beat the Eagles on the Thursday Night Football.
"We had opportunities to win," Newton said. "And we didn't."
Opportunity No. 1 was squandered on third-and-10 from the Philadelphia 41-yard line with 3:16 remaining. Newton, who tried deep shots each of the previous two plays because the Eagles where in zero coverage with no safety, tried to connect with wide receiver Kelvin Benjamin deep down the right side. Instead, Eagles cornerback Jalen Mills looked like the intended target after miscommunication between Newton and Benjamin sent the pass Mills' way.
"We weren't on the same page and it showed," Newton said.
But the Panthers defense forced a three-and-out on the ensuing possession, allowing Carolina to get another crack at the comeback with 2:03 remaining.
Those comeback hopes expired when Newton's pass to running back Christian McCaffrey skipped off the grass on fourth-and-1 from the Eagles' 48-yard line.
"Offensively, we just have to be better," said Newton, who finished 28-of-52 (a career high in attempts) for 239 yards in the 28-23 defeat.
That starts with protecting the football above all else. Who knows how the final minutes would have played out had Carolina not turned the ball over twice deep inside their own territory?
"Turning the ball over as many times as we did, giving them layups for scores," Newton said. "In order to win a game like that, you have to protect the football better – I am mostly talking to myself with that."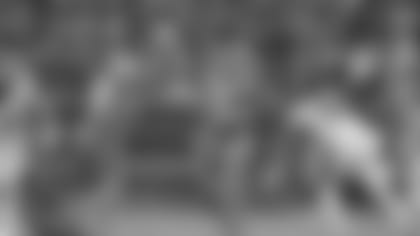 No one in their right mind would fault for Newton his first two interceptions, but he took accountability for them nonetheless.
The first one took place midway through the second quarter when Eagles defensive tackle Fletcher Cox forced his way into Newton's lap. Cox hit Newton's throwing hand and the ball fluttered into the hands of cornerback Rasul Douglas, who returned the interception to Carolina's 12-yard line. That set up an eventual 1-yard touchdown catch by Eagles tight end Zach Ertz to level the score at 10.
The next one occurred at the start of the second half. A quick flare pass to running back Jonathan Stewart went of his hands fell right into the possession of cornerback Patrick Robinson at the Carolina 17-yard line.
Two plays later, Ertz was celebrating a 17-yard touchdown catch to put the Eagles ahead. It was a lead they wouldn't relinquish.
"We went up 10-3, they got their touchdown on a turnover by us and that can't happen," Newton said. "We have to understand championship football at its finest. Learn from it and be better from it."
View the top photos from Panthers vs. Eagles by team photographer Melissa Melvin-Rodriguez and second shooters, Jamey Price and Andrew Dye.