CHARLOTTE – At his Wednesday press conference, Cam Newton spent considerable time reflecting on the concussion he suffered against the Falcons in Week 4, a moment that was clearly an eye-opening experience for the reigning NFL MVP.
"Concussions are real," Newton said. "It's a real issue."
Most of the time, Newton's three S's – size, strength and speed – make it look like he has nothing to fear when he steps between the lines.
At 6-5 and 245 pounds, he's so powerful and so dynamic. But he's not immune to the physicality of the game.
"This is a very physical sport, and it demands your respect on each and every snap," Newton said. "If not, then you will be reminded."
Newton was reminded when he approached the goal line in Atlanta. He slowed down and didn't see Falcons linebacker Deion Jones until it was too late to properly protect himself.
It was somewhat similar to the situation a year ago at New Orleans, when Newton didn't see a Saints linebacker as he neared the pylon. But this time, he paid a much steeper price.
"I didn't see him. I felt like I got sucker-punched," Newton explained. "I was trying to brace for the hit and before I could, it was just... bam – it happened."
Newton knew he wasn't right. He was immediately evaluated before entering the concussion protocol and missing the next game against the Tampa Bay Buccaneers.
"That was the only time that I can really say that I had a concussion," Newton said. "Part of me is happy for it, just to know and go through it. Part of me is like, that could have been preventable. Just run through the damn end zone Cam, and everything will be alright.
"When you put your guard down – as I did – I hope people learn from it. Lord knows I learned from it."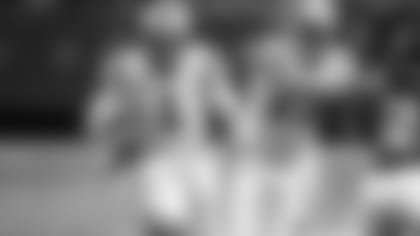 Newton discussed his experience at length, revealing how big an impact it's had on him. He can be better about protecting himself. He knows how serious head injuries can be, and he knows there are so many people – his young son included – who are counting on him.
That said, he also knows running the football makes him who he is.
"I know everybody watching is asking, 'How many times is Cam going to run?'" Newton said. "That's me. That's who I am. I know, as the Panthers, that's our edge.
"My edge is running the football inside the tackles. That's going to forever be my edge in this league. That makes defenses prepare for an extra thing. When you take that away, the defense is like, 'Yes, we don't have to get prepared for (a running) quarterback.'"
The 27-year-old Newton has 45 career rushing touchdowns to his name – the most by a quarterback in NFL history. He's carried the ball 630 times for 3,355 yards in five-plus seasons.
It's his edge, and it's also a fine line. And ultimately, it's his responsibility to know how to utilize that strength while respecting the danger that comes with it.
"I'm not perfect. The truth of the matter is I'm human," Newton said. "When you say how many more times am I going to learn from it – that's what life is all about. It's about learning."
View photos of the Panthers' week of practice leading up to their game against Arizona.