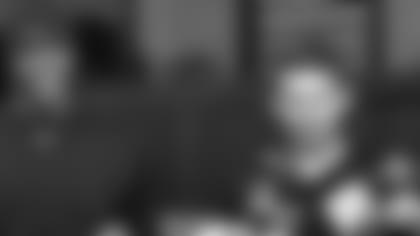 ](http://www.richmondfc.com.au/video/2015-07-07/newman-newton-press-conference-july-7th "Cam Newton meets Richmond Tigers")
MELBOURNE - While most Americans were focused on the 2015 FIFA Women's World Cup this weekend, Panthers quarterback Cam Newton had a different type of football on his mind: Australian Rules.
Newton joined the Richmond Tigers of the Australian Football League as part of Gatorade's Football Exchange Program and made an immediate impact on the club prior to Saturday's match against Greater Western Sydney.
"He spoke to the leadership group about his experiences, and it's been an eye-opener for us and something we've learned a lot out of," veteran defender Chris Newman told the club website.
Newton accompanied the club during meetings, practice and meals to get a better understanding of how AFL players train and fuel their bodies in preparation for competition.
"The Gatorade Football Exchange is a once-in-a-lifetime experience that provides athletes from American Football and Australian Rules Football an opportunity to immerse themselves in the training and culture of another footballer's sport," Gatorade head of sports marketing Jeff Kearney told Panthers.com.
"It allows the athletes to learn about the different forms of football played throughout the world and that athletes from these various sports all share the same formula for success: talent plus hard work plus the right sports fuel."