CHARLOTTE – Quarterback Cam Newton had the discussion he wanted to have with NFL commissioner Roger Goodell.
"It was a great conversation," said Newton, who didn't want to get into specifics. "I got my point across, he got his point across."
Newton's frustration with officiating boiled over Sunday, when he took a scary hit below the knee while delivering a throw from the pocket. The hit by Cardinals defensive lineman Calais Campbell was not penalized, and the league later admitted it should have been.
Newton insists his frustration stems from plays inside the pocket. He understands the rules for protection change when he scrambles and becomes a runner.
"It's funny how a lot of people have a lot to say, and I know the style that I do play. When I'm running the football, I'm on my own. I understand that," Newton said. "I'm not dumb or oblivious to the fact that I run the football more than probably any quarterback that's played this game. And I'm fine with that.
"In the pocket – that's all I'm asking for. The standard of every person getting the same calls, that's all."
Head coach Ron Rivera, who also spoke to the league, echoed that sentiment.
"At the end of the day, it's not about getting special treatment, it's just about being treated the same across the board," Rivera said.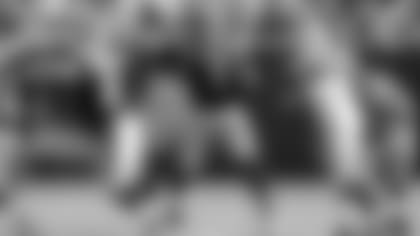 IMPRESSED WITH NEW CONTRIBUTORS:The center-quarterback relationship is an important one, and Newton has a lot of confidence in Gino Gradkowski, who filled in admirably for Ryan Kalil against Arizona. Gradkowski might be needed again this week if Kalil is still on the mend.
"He didn't blink," Newton said. "(Gino) understands his role, and he was ready to go. He did an unbelievable job stepping into Ryan's shoes when he was injured."
Newton also enjoyed watching cornerback Leonard Johnson, who brought a ton of energy to the field in his first game of the season. The quarterback revealed the nickname he's given to the defense's newest sparkplug.
"Jamie. That's his middle name, and the way he's playing, he's playing like a fox," Newton said. "I think I'm going to stick to Jamie Foxx. A nickel is that mischievous, savvy type of person. We good with that?"
RETURNING TO LA: Newton has never played a game in Los Angeles, but he has some experience working in the city.
Newton was there to work on his Nickelodeon series, "All In With Cam," and he visited the University of Southern California with his 7-on-7 all-star team.
"I took my all-star team to USC's campus. I was blown away by its lineage, prestige – how old it is. Obviously, No. 67 (Ryan Kalil) for our team always talks about how great it is," Newton said.
"I'm excited about playing in LA. I'm looking forward to seeing a couple people I haven't seen in a long time; reuniting with some people from the 'All In with Cam' show."
STAR-STRUCK? When asked if he's ever felt star-struck, the reigning league MVP offered two names.
"I think the first time I met Michael Jordan. And also Denzel Washington," Newton said. "Always trying to be of service to other people is what makes them great. Hopefully I can do the same."