CHARLOTTE – After almost seven minutes of questions regarding the headshots he took against the Broncos, quarterback Cam Newton was ready to talk about something else.
"Listen, I see where this is going," Newton said. "We're dwelling on something that I don't want to dwell on. My focus is on the San Francisco 49ers. I gain nothing by talking about the past. The NFL is going to do their investigation, and I know wholeheartedly that (head athletic trainer) Ryan Vermillion and his staff did an exceptional job protecting me, along with the other players."
Newton repeatedly said it's not his job to lobby for calls from the officials. He reiterated that his job is simply to win games.
"Winning football games, that's why I'm here," Newton said. "Simple and plain.
"Through all the hits, through everything, my job as a quarterback is to collect wins."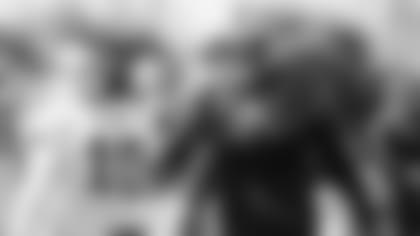 On Wednesday, Newton and the Panthers held their first practice in preparation for Week 2 against the San Francisco 49ers.
Newton participated fully, and head coach Ron Rivera liked what he saw from his star quarterback.
"Great," Rivera said when asked how Newton looked. "He practiced great, took all of his reps.
"He's a tough guy, he really is," Rivera added. "He put it all out on the line Thursday night. He left it all on the field. And I'm just glad he's on our team."
View photos from the Panthers' week of practice leading up to their game against San Francisco.