TAMPA, Fla. – For Cam Newton and the Panthers, a win over the Buccaneers to snap a two-game losing skid was one they had to have by any means necessary.
Mission accomplished with a 17-3 triumph at Raymond James Stadium.
"A lot of people may say it wasn't how they wanted it to turn out, but it was how we wanted it to turn out," Newton said after completing 18-of-32 passes for 154 yards and a touchdown and rushing for a team-leading 44 yards. "We got the win and we're expecting bigger things moving forward."
Bigger things are what everyone expects from the Panthers offense.
Sunday's game featured a first-quarter touchdown for Carolina, which hadn't happened since the season-opening win at San Francisco.
It was a 17-play drive that took 8:38 and required four third-down conversions before running back Jonathan Stewart soared over the pile for a 1-yard touchdown on third-and-goal – the first rushing score of 2017 for a Panther not named Newton.
"That's Panther football," Newton said. "That's us controlling the tempo of the game. That's giving our defense enough energy. As an offense, we gained momentum throughout the whole drive.
"That's just what we're capable of and we just have to have more of it."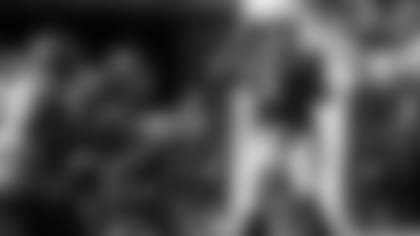 Instead of sustaining drives and building momentum, a combination of untimely penalties and negative plays kept Carolina from extending its lead.
"We can't self-inflict," head coach Ron Rivera said, "we've just got to be smart about that."
Newton was none too pleased after tossing an interception three plays into the second half. Russell Shepard's 33-yard kick return gave the Panthers terrific field position at their 47-yard line, but on third-and-5, Newton's pass for tight end Ed Dickson was off the mark and picked by safety Chris Conte. It was one of several instances where Carolina couldn't make the most of excellent field position.
"When you're getting the ball started at the 50, we're supposed to put more points up, but this is a good team. We know this is a good team. It's a division opponent. They know us, we know them," Newton said. "We just have to find ways to keep the ball moving forward."
The Panthers defense had Newton's back throughout the day, and early in the fourth quarter, an interception from safety Mike Adams spotted the ball at the Tampa Bay 48-yard line.
Newton and wide receiver Kelvin Benjamin turned that takeaway into seven points, connecting for a 25-yard touchdown on 3rd-and-16 to extend the lead to 17-3.
"Defense played exceptional," Newton said. "They just created a lot of turnovers that we needed as a team just for the morale."
A win is always good for morale in this league, but it's clear Newton craves more offensive production, and understandably so. He knows they'll need it to make a playoff push in the second half of the season.
"I'm not going to play Debbie Downer. I'm not going to allow anyone to play Debbie Downer for us," Newton said. "A lot of teams that wish they were 5-3. I said this before, the optimism of it is we are 5-3. The negative of it is that we are 5-3. With those games that we lost, we are well aware that we could've changed the outcome of that with better play. Offensively, (I'm) holding myself to a higher standard, but at the end of the day, you can't get that back."
View the top photos from Panthers at Buccaneers by team photographer Melissa Melvin-Rodriguez.